Millbrook Inn
South Pool
Near Kingsbridge
Devon
TQ7 2RW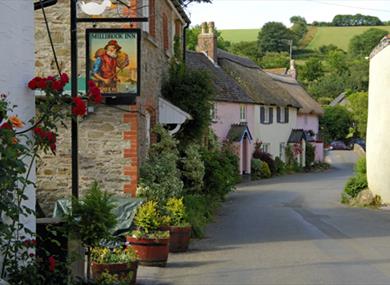 Millbrook Inn - as featured in The Timesonline "50 best paces to eat by the sea 2010"

Imagine a fantasy country pub in a tiny rural village at the end of an Estuary, reachable by water – jovial barkeep, friendly staff, interesting regulars, great range of real ales and ciders, open fire, beamed ceilings, stimulating conversation, the odd dog, fabulous idyllic surroundings, no distracting tv's, gaming machines, pool tables....got that ?

Now add a restauraurant (not just a pub restaurant serving the usual "countrified" gastropub fare) with a multi-award winning French chef creating a fusion of English and French country cuisine, seasonal dishes from a range of local produce and a quality slow-food ethos and atmosphere. On top to make the place extra special, sprinkle some magic dust so that everyone gets along together, is enthusiastic about what they are doing and wants you to have the best experience possible.

People often now describe The Millbrook as a "Gastropub". To us a gastropub is simply a place in which you can have a drink, but which also serves great food. We have not lost sight of the fact that we are still a proper English Pub.

Our style of cooking depends on good ingredients, but that doesn't require a Brigade of chefs to prepare it. It is elevated domestic cooking, the kind of stuff that should be done in a pub.

We offer our food to the widest range of people and believe our pub is the best place to do that. We are as happy to serve a steaming bowl of River Teign Mussels with frites with a pint of local Ale as we are are a three course dinner and a £40 bottle of wine. We do not just want to feed our customers, though. We want you to taste the countryside and the sea and to be surounded by the unique atmosphere of our pub that will help you enjoy your meal even more. It works; there are few places anywhere with as much heart and soul as The Millbrook Inn.
What's Nearby
A little to the south of East Portlemouth beach is Mill Bay, a privately owned beach popular with...

2.43 miles away

Opposite the town of Salcombe on the eastern side of the estuary is a long sandy stretch skirting...

2.54 miles away

For a taste of the West Country at its most rugged, wild and unspoilt, get yourself down to...

2.6 miles away
Close to Kingsbridge in South Devon, Beesands has got all the right ingredients for a great beach...

2.82 miles away

Crouched between two headlands in an Area of Outstanding Natural Beauty (AONB), the beach is rural...

3.03 miles away

A fine sandy family beach in an Area of Outstanding Natural Beauty (AONB), with excellent views...

3.2 miles away

Slapton sands is a beautiful pebble beach that stretched for almost two miles from Strete Gate to...

3.23 miles away

The coast line around Prawle must be amongst the most beautiful and spectacular in the south west....

3.65 miles away

A tiny remote sandy inlet set below the craggy black towers of Bolt Head. Access only on foot via...

3.91 miles away

The Start Point Lighthouse, which has guided vessels along the English Channel for over 150 years,...

3.94 miles away

At the very start of the long coastal bar that stretches to Torcross and beyond is this beautiful,...

5.06 miles away

This is a sheltered, sandy beach in a traditional fishing village in the beautiful South Hams. The...

6.19 miles away
Previous
Next