Quay Climbing Centre
Haven Road
Haven Banks
Exeter
Devon
EX2 8AX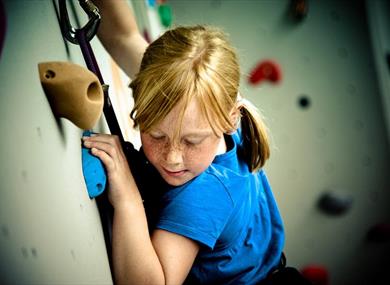 Enjoy climbing with your family or friends at the South West's largest indoor climbing wall. The Quay Climbing Centre is located in the heart of Exeter's Quayside in the Old Electricity Building. The building formerly house the generators powering Exeter's tram network and is now provides a majestic arena in which to climb.
The Quay is the perfect all weather destination, whether you are a committed outdoor sports enthusiast seeking shelter from inclement weather or simply seeking something different to do in the city. It is within walking distance of the city centre and quayside.
We run taster sessions for beginners and novices – they are a great way to have a go at climbing. Our instructors will guide you through the basics of climbing in our dedicated instruction zone – they will soon have you scaling your first wall. We run group sessions for larger groups as well as birthday parties - the perfect fun packed celebration.
For committed climbers we offer routes for all levels on our top roped and lead walls which range from 7 to 14 metres high. For those seeking the ultimate challenge bring your 50 metre rope – you will need it on the lead wall! If high walls are not for you, have a go at bouldering where you can climb without ropes on much lower walls. With two boulder caves, we have challenges for those who just want to give it a go and those who can't stay away from the rock.
The Workshop Cafe overlooks the climbing arena and is the perfect place to relax and enjoy the view of the action. We serve a range of hot and cold drinks, cakes and a daily menu of panini's, toasties and hot dishes.
Check online for details of special events, holiday sessions and competitions that run throughout the year or for more information on courses and taster sessions.
Quay Climbing Centre: opening times and prices
Monday to Friday 10am to 10pm
Saturday and Sunday 12.15pm to 8pm during term time; 10am to 8pm during school holidays
Taster sessions £12.50 for an hour session – open to anyone aged 7 and above
Induction courses £20 for an hour induction (including centre registration cost) – open to anyone aged 18 and above
Registered climbers can use the centre for as little as £5.80 (daytime/off peak rate) or £7.80 during the evenings and weekends.
A full price list for climbing, courses and gear hire is available on our website. Climbing rates available on our website – registered climbers can use the centre from as little as £5.80 (off peak) or £7.80 (evenings and weekends)
What's Nearby
Enjoy climbing with your family or friends at the South West's largest indoor climbing wall. The...

0.06 miles away

Enjoy climbing with a difference with your family and friends at Europe's first Clip 'n Climb....

0.08 miles away

Everything you need for a great day out in Devon is here. Lotstodo.co.uk is the website of the...

2.56 miles away
Voted Devon's best family attraction, don't miss the thrills and spills of Devon's Crealy.

With...

4.91 miles away

Bring out your inner ape and enjoy two to three hours in the trees - take on Zip Wires, Tarzan...

5.07 miles away

Welcome to Exeter Racecourse... the South West's most prestigious racecourse, sitting high on the...

5.24 miles away

A visit to Powderham Castle is an enchanting day out for all its visitors. Fascinating guided tours...

5.88 miles away

The Visitor Centre has a range of displays which tell you more about Dawlish Warren. A bird...

8.88 miles away

Dawlish Warren prides itself on being one of South Devon's top family beaches. Distinctive sand...

8.96 miles away

Dawlish Warren's most valuable ecological asset appears outside of the summer months - the descent...

8.97 miles away

The family beach resort with shops, amusements, go-karts, adventure golf, pubs and accommodation. A...

9.04 miles away

Within a short walk from the town centre, Dawlish Town Beach is ideal to escape the hustle and...

9.79 miles away
Previous
Next