Leadstone Camping
Warren Road
Dawlish
Devon
EX7 0NG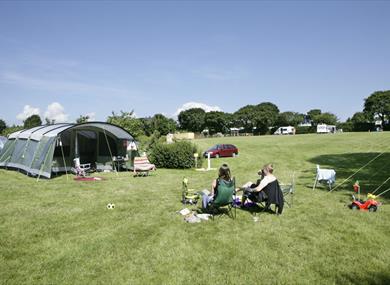 Leadstone Camping is situated in an area designated as being of outstanding beauty. The splendid sands and dunes of Dawlish Warren are only an easy and safe half mile walk away from our site - there is a family-orientated pub en route which serves excellent bar meals at mid-day and in the evenings. The pavements are wide and safe for children, prams, etc. The Warren is bounded by the Exe Estuary on one side and miles of golden sandy beach on the other, so there is plenty of room to 'get lost' or visit the bird watchers paradise which is in the Dawlish Warren nature reserve - 500 acres of natural beauty and flowering plants nestling in the centre of the Warren and open free to the public at all times. There are a number of shops in Dawlish town - only 5 minutes away by bus.
You will of course, want to see as much of Devon as possible and we are ideally situated for you to do just this. You will find that except for high season (Late July to the end of August) the roads are reasonably quiet and tourist attractions are not crowded.
Surely this is the best area in England for the variety of activities and places to enjoy-masses of free up-to-date literature and information available, with a smile, from reception.

Gradings
3 AA Pennants Holiday Park
3 Visit England Stars Camping & Touring Park


What's Nearby
The family beach resort with shops, amusements, go-karts, adventure golf, pubs and accommodation. A...

0.39 miles away

Warren Golf Club is a small piece of heaven situated in the mouth of the Exe estuary. We're very...

0.48 miles away

Dawlish Warren prides itself on being one of South Devon's top family beaches. Distinctive sand...

0.7 miles away
Dawlish Warren's most valuable ecological asset appears outside of the summer months - the descent...

0.7 miles away

The Visitor Centre has a range of displays which tell you more about Dawlish Warren. A bird...

0.78 miles away

Within a short walk from the town centre, Dawlish Town Beach is ideal to escape the hustle and...

1.07 miles away

Rock pools to explore, occasional sightings of dolphins, brightly coloured painted beach huts,...

1.56 miles away

A small cove situated at the base of the cliffs between Teignmouth and Dawlish. A small isolated...

2.28 miles away

Devon by Bike provides safe, flat, traffic-free, cycling holidays in Devon. We arrange B&B...

2.76 miles away

A visit to Powderham Castle is an enchanting day out for all its visitors. Fascinating guided tours...

3.4 miles away

A long sandy beach from the mouth of the River Teign east towards Dawlish. Free summer...

3.84 miles away

Situated to the north of the Teign Estuary, Little Haldon is particularly important for its large...

4.01 miles away
Previous
Next