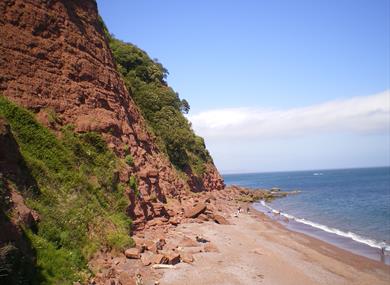 The Ness beach is known to have been used by smugglers in the past. Some think that the tunnel used to access the beach today was built by them, hence it's name Smugglers Tunnel, however another rumour is that it was actually created by the owners of nearby Ness House in the 1800's so that they could access the beach. Whatever it's oringinal purpose it's a wonderful way to get to the beach, with it's dark entrance and windy path through the heart of the cliff ending with a wonderful view down onto the beach as you exit at the other end.
Shaldon Tourist Information Centre near Ness Cove Beach is seasonal so check under Useful info, and tourist information for details on opening dates and times.
Ness Cove beach has steep steps at beach end so access for disabled is difficult.
What's Nearby
Shaldon Zoo offers a perfect place to visit for young and old alike. The Trust is home to a unique...

0.11 miles away

A mix of shingle and sand, the beach gently shelves towards the estuary mouth with views over...

0.24 miles away

Located on the estuary side of town, this charming beach takes you back to days gone by. Local...

0.56 miles away
A long sandy beach from the mouth of the River Teign east towards Dawlish. Free summer...

0.75 miles away

Devon by Bike provides safe, flat, traffic-free, cycling holidays in Devon. We arrange B&B...

1.84 miles away

A small cove situated at the base of the cliffs between Teignmouth and Dawlish. A small isolated...

2.34 miles away

Situated to the north of the Teign Estuary, Little Haldon is particularly important for its large...

2.52 miles away

Rock pools to explore, occasional sightings of dolphins, brightly coloured painted beach huts,...

3.03 miles away

Within a short walk from the town centre, Dawlish Town Beach is ideal to escape the hustle and...

3.52 miles away

This is a great beach for all ages! Sand castles and paddling for the young and a wide variety of...

3.54 miles away

East of Torquay lies Babbacombe Beach. A beautiful arc of shingle beach, this unspoilt coastline is...

3.87 miles away

Decoy Country Park provides an opportunity to enjoy exciting wildlife and beautiful countryside....

4.7 miles away
Previous
Next