Kingsbridge
Kingsbridge TIC
The Quay
Kingsbridge
Devon
TQ7 1HS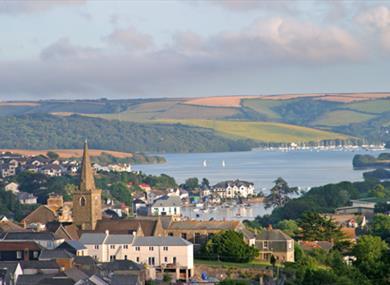 Hotels in Kingsbridge
B&Bs in Kingsbridge
Self Catering in Kingsbridge
Attractions and Things To Do in Kingsbridge
If you love the hustle and bustle of a traditional English market town, you'll love Kingsbridge. Situated in the South Devon Area of Outstanding Natural Beauty, Kingsbridge sits on its own estuary and is surrounded by lush, green rolling countryside, making it perennially popular for walking and sailing. The town attracts a lot of tourism yet manages to keep a tranquil charm and friendly atmosphere.
History
The town takes its name from an ancient bridge built to link two royal estates – Alvington and Chillington, and by 1219 was a market town. By the 18th Century milling was a major source of revenue for the town, and throughout the 19th Century Kingsbridge had an active coastal shipping trade, with thriving shipbuilding and tanning industries.
Things to do
From surf shops to vineyards, there's lots to see and do in the Kingsbridge area. The estuary provides plenty of opportunities if you're a water sports enthusiast, while the town has a thriving arts and crafts community for the more laid back visitor. Coast or countryside, Kingsbridge has a choice of scenic walking and hiking routes suitable for every level of ability. The Kingsbridge Farmers market offers you the chance to sample an amazing range of fresh vegetables, local meats and fresh fish on the first and third Saturdays of every month. Make sure you also check out the Dartmouth Steam Railway and Riverboat Company, who offer boat trips from the town.
Food and drink
Try the Art Café Ceramics Studio, where you can paint your own pottery and then relax with tea and cake in comfortable surroundings – ideal for the whole family to enjoy. The Seven Stars is a pub and restaurant typical of the area, with excellent home cooked meals made from the very best of South Devon's quality local produce.
Something a little different
If you really want to chill out completely, visit The Haven Space & Beauty Centre, where highly trained therapists offer a wide range of massages and beauty treatments. For water sports enthusiasts, stand up paddle boarding is a new and tranquil way to enjoy the water, and combined with bacon butties and tea at the Crabshell Inn, can even be done in the winter.
What's Nearby
Opposite the town of Salcombe on the eastern side of the estuary is a long sandy stretch skirting...

3.75 miles away

A little to the south of East Portlemouth beach is Mill Bay, a privately owned beach popular with...

3.76 miles away

Crouched between two headlands in an Area of Outstanding Natural Beauty (AONB), the beach is rural...

3.81 miles away
Thurlestone/South Milton Sands is owned by the National Trust and is within an Area of Outstanding...

3.87 miles away

A fine sandy family beach in an Area of Outstanding Natural Beauty (AONB), with excellent views...

4.02 miles away

Are the usual summer crowds driving you crazy when all you want to do is chill out and relax? If...

4.13 miles away

A beautiful large sandy beach ideal for watersports, especially surfing. Swimming is safe if you...

4.44 miles away

This is a sheltered, sandy beach in a traditional fishing village in the beautiful South Hams. The...

4.59 miles away

A tiny remote sandy inlet set below the craggy black towers of Bolt Head. Access only on foot via...

4.62 miles away

A stunning sandy beach in an Area of Outstanding Natural Beauty (AONB) joined by causeway to Burgh...

5.17 miles away

Burgh Island is an iconic landmark on the South Devon coast and it is separated from the mainland...

5.3 miles away

A sheltered cove with a fine sandy beach in an Area of Outstanding Natural Beauty (AONB). Great for...

5.34 miles away
Previous
Next