Buckfastleigh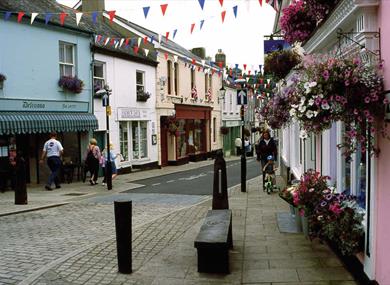 Vibrant, lively and with a touch of mystery surrounding it, you'll discover that Buckfastleigh is one of the most diverse towns in South Devon. The town is dominated by the Benedictine Buckfast Abbey and is a mix of ancient and modern attractions surrounded by miles of prime Devon countryside, wild moorlands and hidden valleys to explore.
History
Buckfastleigh came into its own in the 11th Century, when King Canute (the one that tried to order the sea to retreat – unsuccessfully) established the Benedictine Abbey in 1018. During the Industrial Revolution it transformed from a sleepy market town filled with pilgrims to a hive of activity driven by woollen, paper and corn mills. You can still see the original medieval layout of the old town today.
Things to do
Most visitors to Buckfastleigh head for the Abbey and its famous Tonic Wine, but for the little ones there's a chance to get up close with the animals at Pennywell Farm and Wildlife Centre. For those who love the romance of bygone ages, the South Devon Steam Railway puffs its way through the countryside, giving you a completely different view of this corner of Devon.
Food and Drink
Devon has a reputation for fresh produce that's in season, and you can't get much fresher than the food at Riverford Field Kitchen. This unique restaurant uses produce from its own fields and serves it up in a communal restaurant, where you can help yourself to a variety of dishes as they're passed around the tables. It's a different dining experience that showcases the best of Devon food. And don't forget to pick up a bottle of the Abbey's Tonic Wine, said to be good for both the body and the soul.
Something a little different
For the more active and adventurous (and a great way to keep energetic youngsters entertained), the Dart Rock Climbing Centre provides visitors with an adrenaline rush in a safe environment with a 10m high indoor climbing wall that's fun for all ages.
What's Nearby
The South Devon Railway is a seven mile steam railway running between Buckfastleigh and Totnes...

0.57 miles away

Large Benedictine monastery rebuilt on medieval foundations. Many art treasures in the Abbey church...

0.85 miles away

Hands on activities, shows and displays. The biggest farm activity park in the South West. Fun for...

1.66 miles away
Ashburton Cookery School offers a fresh approach to cookery with exciting cookery courses that...

2.75 miles away

Venford is one of the smaller reservoirs of Dartmoor, but also one of the prettiest. It has the...

4.56 miles away

The English Heritage castle is the focal point of the town, standing as a legacy to the once...

5.3 miles away

Photo Holidays UK is based in South Devon and provides friendly, fun, relaxed, creative, scenic and...

5.67 miles away

Set in beautiful woodland, the English Heritage castle is romantic and reputedly the most haunted...

6.84 miles away

For a fantastic selection of local produce, Fermoy's is hard to beat.

6.84 miles away

Hannahs at Seale-Hayne is in a beautiful setting in the heart of the Devon countryside. Entrance is...

7.06 miles away

Sharpham Vineyard is set in one of Devon's most magical locations. The beautiful 550 acre estate is...

7.57 miles away

Hound Tor is certainly worth a visit. It is reputed to be the inspiration for the Hound of the...

7.9 miles away
Previous
Next