Dartmouth
Dartmouth TIC
The Engine House
Mayors Avenue
Dartmouth
Devon
TQ6 9YY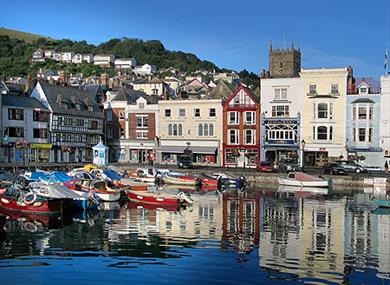 Hotels in Dartmouth
B&Bs in Dartmouth
Self Catering in Dartmouth
Attractions and Things To Do in Dartmouth
You have to go a long way to find a town as pretty as Dartmouth. Overlooking one of the finest natural harbours in the UK, Dartmouth has a strong maritime heritage and is packed with events and things to do throughout the year, from sailing to arts and cultural festivals. Lying in the South Devon Area of Outstanding Natural Beauty, the town has a vibrant, coastal charm and is well served by ferry and coastal path links.
History
With a long tradition of strategic importance for sailing ships, Dartmouth was the sailing point for the Crusades and has a long association with the Royal Navy. In modern times the town was a base for American forces and was one of the departure points for the D Day landings. Many medieval and Elizabethan streetscapes have survived in Dartmouth and give the port a distinctly ancient flair.
Things to do
As one of the West Country's best sailing ports, Dartmouth has a great range of facilities if you're a water sports enthusiast. Sailing fans will love the Dartmouth Regatta - a spectacular weeklong celebration of the town's maritime links. But you don't have to have saltwater in your veins to enjoy Dartmouth. The town has many events geared around the arts, with a diverse range of exhibitions in the many galleries. Exploring further field, you can hop on a steam train at Kingswear and ride up the glorious English Riviera in real style.
Food and drink
From bistros to a 100-year-old barge, from the bustle of the waterside to fine dining and traditional pub grub, there's a huge variety of food and drink outlets in Dartmouth for you to choose from, all supplied the best top chefs in the UK. Try the Devon fresh crab – a Dartmouth speciality.
Something a little different
Resnova is a floating restaurant, slap bang in the middle of the Dart estuary, and its not just the view that's novel. They serve outstanding and flavoursome dishes, with luscious local meat and farm produce combining to create a unique menu. If all you want is a laid back coffee and a Danish pastry, head to Alf Rescos.
What's Nearby
One of the country's prime destinations for 'Green Tourism', the Dart Estuary aims to give visitors...

0.12 miles away

Britannia Royal Naval College, home of RN Initial Officer training, is open for guided Historical...

0.28 miles away

One of the most picturesquely- sited fortresses in England. For over six hundred years Dartmouth...

1 miles away
A small green door hides a forgotten world which is today coming back to life. Overlooking...

2.76 miles away

Superb stretch of golden sand and shingle in a sheltered, unspoilt bay with turquoise blue sea and...

2.76 miles away

Brixham is an historic and quaint Torbay port within easy reach of Dartmouth/Kingswear. The home of...

4.11 miles away

Woodlands Family Theme Park, Dartmouth is a unique combination of indoor and outdoor attractions,...

4.29 miles away

At the very start of the long coastal bar that stretches to Torcross and beyond is this beautiful,...

4.59 miles away

Canoe Adventures offer guided canoeing in Longbow 9-seat and 12-seat canoes on the River Dart....

4.61 miles away

Make a big splash at the UK's largest outdoor waterpark. Choose from 8 tumbling, twisting slides...

4.84 miles away

Close to Paignton is the long, sandy stretch of Goodrington Sands. With a Quality Coastal Award,...

4.88 miles away

Sharpham Vineyard is set in one of Devon's most magical locations. The beautiful 550 acre estate is...

5.05 miles away
Previous
Next