Guest Blog Post - Milly Cooksley
If there is one thing guaranteed when holidaying in England it is that the weather cannot be relied upon to cooperate with your plans. Although many of us like to think we are able to get up and get on with it when faced with the cold and rain, there are times when we'd rather just put our hands up and admit we want to just stay inside. Luckily, there are plenty of things to do in South Devon if you do decide you want to keep dry, and most of these come with the opportunity to boast about how culturally proficient you are.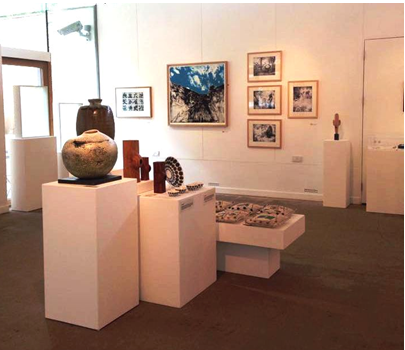 Located in Bovey Tracey, The Guild is a space in which different craft and design works are displayed, with the exhibition changing fairly regularly. There is also a gift craft shop, a cafe, and an outside seating area in addition to the exhibition. The Devon Guild is an appealing attraction for a number of reasons especially in that it's free entry. Ergo, you can stay for as long or as short a time as you wish. Often with exhibition type places which charge entry, you feel compelled to stay and act interested even if you realise it's not really your kind of thing. Thankfully, visiting the Guild is without this pressure.
I visited during the '60 years of the guild' exhibition and on display were some beautiful pieces of art, sculptures, textiles and jewellery ergo, something for everyone. The craft shop stocked some lovely pieces and ranged in price which makes it a lovely place to buy presents or souvenirs with a unique charm. Not only is the Guild a lovely place to visit, but it also means you can have a mooch around Bovey Tracey, which is a pleasant little town with a fabulous park suitable for a wander.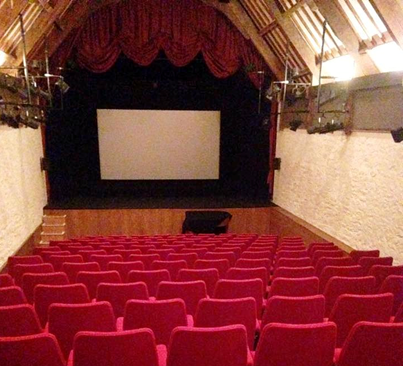 I am an unashamed film fanatic so maybe I am a little biased, but there is something about visiting an independent or art house cinema that greater encapsulates what it means to actually go to the cinema, and enhances the experience to a far greater extent than visiting an overpriced cinema that is part of a chain. Also, the cinema may not seem like an obvious choice for a holiday activity, because of its familiarity, but on a rainy day and in an idiosyncratic cinema, it can make for a lovely way to spend your time.

Located within the Dartington Hall Estate, the Barn Cinema presents a range of films; documentaries, foreign language, indies and mainstream. Thus there is a great variety from which to choose, so you may leave having found a new favourite genre of film should you decide to pick something other than your usual choice. The auditorium is literally in an old barn so it has a lovely authentic quality, and the price for the tickets (remember your student cards) are far more favourable than that of its chain cinema counterparts. A visit to The Barn cinema means you find yourself within the appealing Dartington Hall gardens which are suitable for a pre or post viewing wander, so it's a trip worth making.
If you are staying closer to or within the Dartmouth area, another option is The Flavel Arts Centre which has a cinema as well as hosting live music and performances. Located in the centre of Dartmouth it is another good option for a rainy day or for a break whilst exploring the beautiful town centre and harbour of Dartmouth.
Both The Barn and The Flavel Centre have what's on guides that can be found on their respective websites, so you can plan in advance what you wish to see!
About me:
My name is Milly, I am 22 years old and I am about to enter my final year of my undergraduate Sociology degree at the University of Warwick. Writing has always be an activity I enjoy, especially when it involves voicing my opinion and recounting notable past-times. Alongside this, I have always loved to travel, my passion for which was furthered during and since my year abroad in Copenhagen. Therefore I jumped at the chance to combine both these elements; to explore South Devon, write about the adventure I embarked upon and share with others. My blog posts aim to both entertain but more importantly, enlighten young adults about the fun, charm and memorable experiences that South Devon has to offer.
Related
0 Comments