Guest Blog Post - Campsites.co.uk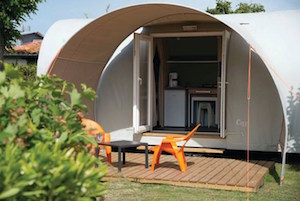 Almost unheard of just 10 years ago, glamping has now made it into the mainstream and was even included in the Oxford English Dictionary for the first time this summer. To celebrate, Hannah Smith, of glamping experts Campsites.co.uk, has prepared her glamping A to Z.
A: With their sleek, silver exterior, Airstream caravans are retro classics that add swagger to any staycation.
B: Their history dates back to the Wild West, and Bell Tents have now become one of glamping's most recognisable sights.
C: Glamping has celebrity fans including supermodel Cara Delevingne, One Direction's Niall Horan and Hollywood star Gwyneth Paltrow.
D: So you want the joys of the great British countryside and the luxuries of a nice hotel – well glamping is deluxe camping and gives you the best of both worlds.
E: Bed linen made from Egyptian cotton was once the preserve of high-class hotels - now we're seeing it at glamping sites that want to highlight their plush credentials.
F: Glamping has been given extra cool thanks to its popularity at festivals - from Glastonbury to Bestival, the trendiest music events offer some of the most glamorous camping.
G: Tents with extra rooms? Yep, geodomes have a main dome with a couple of smaller domes providing extra bedroom space.
H: Staring at the stars from your camping chair is so passé, the latest trend for glamping sites is private hot tubs alongside their already amazing tents.
I: What better way to wow your family and friends on social media than with a stylish snap of your snazzy accommodation - instant Instagram cool.
J: Imagine a wonderful countryside view and a babbling brook providing the soundtrack to a warm evening, with barbecued food and a jug of your favourite cocktail as you remember a brilliant day with friends and family.
K: We're British and we love a cup of tea to kick-start our days, so the ability to plug in a kettle is a lifesaver. Yes, glamping tents have electricity - and well-equipped kitchens.
L: Glamping's must-have accessory this season is the Lazy Lounger, a blow-up recliner that inflates with a couple of mid air swooshes to create an instant settee, which can then be deflated and rolled up into a tiny carry pack.
M: What makes camping glamorous? Our glamping must haves include a supply of electricity (for plugging in our mod cons), comfy beds, bunting and fairy lights, a coffee maker, wine cooler, barbecue and wood burning stove!
N: It's great when you can turn up at your site and get down to the task of holidaying straight away, without the stresses of putting up your tent. So here's to glamping, and no tent hassles.
O: Small really can be beautiful with rustic Shepherds' Huts, one of glamping's biggest hits. Typically sleeping just two people, most Shepherds' Huts are simple, rustic and off-the-grid, making it easy to switch off from life's stresses.
P: For the cosiest glamping, look out for camping pods that are popping up all over. They've got all the fun of camping and a touch of luxury. Check out the new Coco Suite glamping pods at Ladram Bay [http://www.campsites.co.uk/go/17264] in Otterton.
Q: What's the quirkiest accommodation you can find? We've seen buses, helicopters and even tents in trees.
R: Glamping is camping without all the uncomfortable bits. For lots of sites that means real beds with comfy mattresses and a great nights' sleep.
S: For something a little bigger, Safari Tents have led the charge for glamorous camping.
T: Who wants to camp on the ground when you can stay among the treetops? Choose a treehouse for a truly memorable camping experience.
U: Glamping is camping with lots of mod cons and a great way of getting you out into the countryside and away from your always-on lifestyle. We do it to unwind.
V: There's something very retro about glamping. Look out for vintage caravans, which have been lovingly refurbished to make them cosy and welcoming without losing their eye-catching original features.
W: For funky camping pods that promise all the benefits of countryside camping but without the hassle of packing away your tent, plus little luxuries including lightings, electricity, heating and decking, try Whitehill Country Park [http://www.campsites.co.uk/go/17248] in Paignton.
X: It's undeniable, glamping's got the x-factor. If you want to wow the kids with a holiday they'll never forget, a tipi, safari tent, wigwam or hobbit hut is just the trick.
Y: The world's best campers are the nomadic tribes of Mongolia, so it makes sense that we've adopted their accommodation. Yurts are big, comfortable and really stylish.
Z: With all the comforts of glamping, you're guaranteed a night full of zzz's…
Related
0 Comments