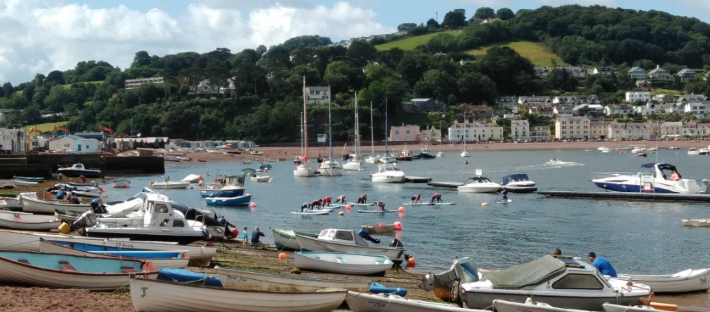 Stand Up Paddleboarding (SUP) Yoga is a yoga class where all the participants are on Stand Up Paddleboards and as SeaSports South West start their classes again for the summer season I was invited to come and give this a try.
SeaSports South West hold their SUP Yoga during the summer months on the Back Beach at Teignmouth, where there's a relaxed feel, calm waters and beautiful views across the estuary to Shaldon.
The idea is not to end up in the water so there is no need for a wetsuit or other specialist clothing, just normal gym wear. My class started just after 11 and after being kitted out with a lifejacket we headed down to the shoreline to collect our paddleboards.
I've done yoga quite a few times before, so I was pretty confident I would be able to keep up with class, but I've never been paddleboarding. The boards are bigger than I imagined and I found them surprisingly sturdy.
To ensure we didn't drift away and that we can always see the instructor, Amy, we attached our boards to ropes and buoys which were positioned a few meters from the beach.
All your movements with SUP Yoga are slow and steady – so no major wobbling! And as the class went on I found myself growing in confidence and trusting my balance and the board.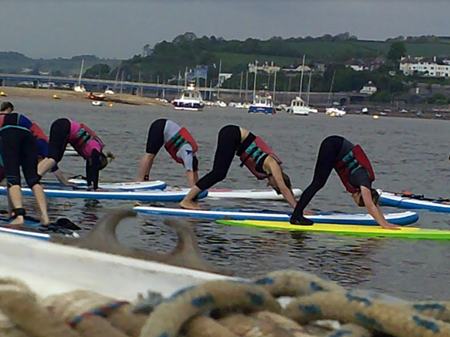 We worked our way through a routine that grows gradually more adventurous doing positions including the Mermaid and Boat, which were very fitting for our location. The hardest part of the class was the Sun Salutations, a sequence of positions including standing, lunging and almost laying on the board.
This continuous movement meant you really had to focus on your position on the board, the movements you were making and your balance. But after finishing this section I felt a real sense of achievement for having remained on the board whilst completing the routine.
Amy talked through all the moves, making sure everyone was happy before moving on. So no matter how much experience you have of SUP or yoga it never felt like we couldn't complete a move.
As a yoga fan I found the class very enjoyable, the added excitement of the paddleboard made this a fantastic class and ensured my muscles got an extra workout. The estuary location, beautiful views and friendly and knowledgeable staff makes it the perfect activity for the summer months.
Despite all my previous expectations of spending a lot of time in the water, I remained on the board throughout, in fact no one from the class fell in. Although you get a little wet from the water lapping the edge of the board this was all part of the fun.
SUP Yoga classes are held during the summer months on a Sunday morning, the class is an hour long and no previous knowledge or experience is need.
To find out more and book a place, visit the SeaSports South West website here.
SeaSports South West offers an amazing range of courses, classes, taster sessions and equipment hire, with everything on offer from sailing to windsurfing or kayaking or SUP. Full details what's on offer can be found here.
Related
0 Comments