Guest Blog Post - Clare Dalley
Clare Dalley is the Town Clerk for Crediton Town Council, to go to the Crediton Town Council website, please click here.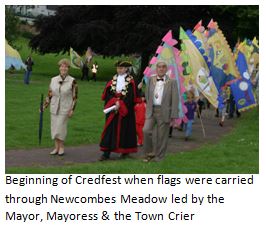 It never fails to amaze me how Crediton stands apart from other towns and communities - we really are buzzing the whole year round. There's always something to see, do and get involved with.
Of course, this is only my humble opinion and I know you'll say I'm biased being the Town Clerk, so I thought I'd give you some examples to substantiate my claims.
Firstly, there are our festivals:
CredFest, a bi-annual summer event, organised by Crediton Town Team, which is an extravaganza of music, dancing, arts, crafts, exhibitions and much more.
Crediton Food & Drink Festival, which showcases the town's food and drink producers and retailers, including cookery demonstrations and tastings!
The annual Flag Festival, when the High Street is adorned with beautiful handmade flags.
Holy Cross Church Flower Festival showcases the talented flower arrangers in our community
Holy Cross Church Christmas Tree Festival sees more than 70 trees decorated in their own individual themes by local community groups and organisations.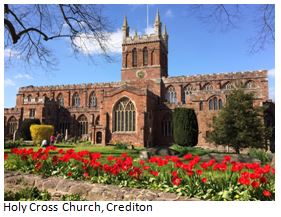 Then there are Crediton Arts Centre's well known and ambitious community arts events, which include numerous theatre productions, Crediton Twinning Association's Annual Boules Tournament in the Town Square and the Christmas in Crediton Parade and Light Switch-On, when the town glitters with Christmas lights and local musicians and dancers entertain everyone on the Town Square.
If you fancy a bit of retail therapy, there is a range of independent retailers and local food producers ready to cater for all your needs and wants, as well as the Farmers' Market on the 1st and 3rd Saturday of the month.
For history buffs then you can't miss a visit to Holy Cross Parish Church with its history of at least 1100 years! Or, Crediton Museum and Heritage Centre providing the history of the town, exhibitions and regular talks and activities organised by the history society and local history group.
If you fancy some fresh air then you could always pick up a 'Redvers Ramble and Other Walks' leaflet and take a walk in the beauty of the surrounding countryside, or visit one of our delightful parks, which change throughout the seasons with year-round planting.
If you would like further information about what's happening in the Town, or would like to get involved in some of the amazing things that are being achieved, please take a look at the Town Council's website www.crediton.gov.uk.
Clare Dalley
Town Clerk, Crediton Town Council
Photos courtesy of Crediton Town Council
Related
0 Comments