Guest Blog Post - Torbay Airshow (2nd - 3rd June)
Torbay Airshow, the newest event on the British airshow calendar, will once again see two days of spectacular aerial entertainment in the skies over Paignton. The free festival, which attracted 150,000 spectators last summer, will take place over the weekend of June 2nd and 3rd. With a mix of military and civilian air displays, Torbay Airshow provides the perfect setting for an event of this kind; as the bay acts as natural amphitheatre that is ideal for aerial displays.
For fans of military aircraft, there's plenty to look forward to. The RAF Red Arrows, Typhoon Display Team, Battle of Britain Memorial Flight and the RAF Grob Tutor will be flying across both days of Airshow. The presence of so many legendary military aircraft will be all the more special this year as the RAF celebrates its 100th anniversary.
Torbay Airshow 2018, which is run by Torbay Council, will host the year's first public display for the Red Arrows, who will be bringing a never before seen routine in the skies above Devon. Joining the Red Arrows across both days will be the RAF Typhoon Display Team, the spectacular power, speed and agility of this awe inspiring jet never ceases to amaze.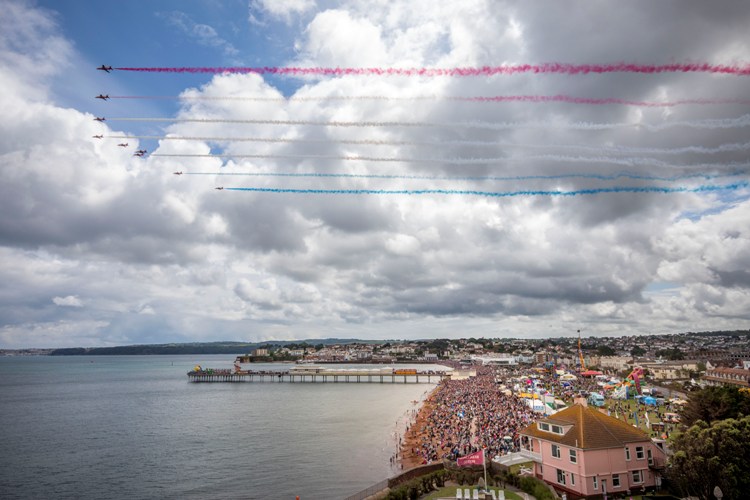 There will also be lots of civilian aircraft to entertain the crowds. For the first time ever, Torbay Airshow will play host to the unique Vampire Pair, two de Havilland Vampire Jets owned and operated by the Norwegian Airforce Historical Squadron. The de Havilland jets are some of the earliest examples of British designed jet aircraft,
Ever popular aerobatic team The Blades will be appearing on both Saturday and Sunday, displaying a brand new close formation aerobatic routine. This elite display team has a number of former Red Arrows pilots amongst its ranks, so Airshow fans can expect a dynamic and cutting edge display.
Visitors to Torbay Airshow can also expect plenty of fun on the land with entertainment at the Event Village on Paignton Green. Throughout the event weekend the Torbay Airshow Event Village will feature exhibition stands, an Armed Forces village, bars, food stalls, display teams, activities for all the family and a fairground.
The 2017 Airshow was a resounding success and has now claimed the Tourism Event of the Year Award at the English Riviera and South Devon Tourism and Hospitality Awards 2017, South Devon's largest tourism awards.
Related
0 Comments