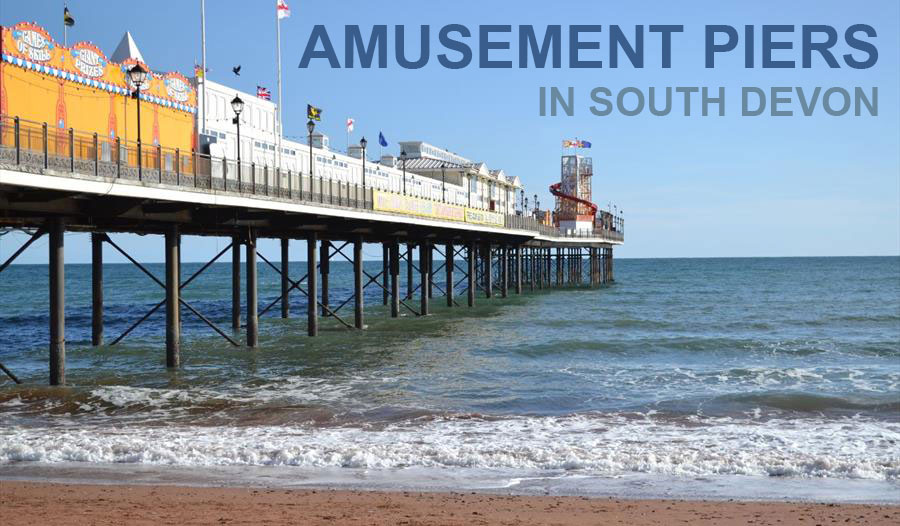 They're as much a staple of a traditional seaside holiday as enjoying fish and chips, visiting a pier when you head to the coast is something enjoyed by holiday makers now just as it was in the Victorian era. In Devon we're lucky enough to boast two amazing piers, both within South Devon, that offer amusements, refreshments and plenty to see and do. As well as these, there are other piers (depending on your definition of a pier!) in the region such as the Princess Pier in Torquay where visitors can enjoy a walk a long the promenade out over the water.
Find out more about the amusement piers in South Devon below.
Built in 1865 by Joseph Wilson who was an engineering consultant from London, when built the Grand Pier in the coastal town of Teignmouth was 212 metres (700 feet) long. To begin with, the pier was a landing stage to enable steam boat passengers to reach the shore. As early as 1817, Teignmouth became a popular seaside destination for the Victorians. As the pier became more frequently used as a promenade it became apparent that entertainment would be a fantastic addition so amusements and refreshment spots began to be added. Nowadays visitors can enjoy plenty of traditional games alongside new ones and great activities for the whole family to enjoy. Its central position means you're not far from all the other local amenities that Teignmouth has to offer aswell. During the storms of February 2014 the pier suffered terrible damage, it was strengthened and reopened the following year, but the wider end deck remaining closed. Sadly at the start of 2020 it was announced the pier would be shortened. Discover more about the bustling resort of Teignmouth here.
Paignton Pier can be found on the English Riviera (also known as Torbay) on the sandy beachfront of Paignton. It first opened in 1879 and stretches 240 metres (780 feet) out into the waters. The pier was designed by the Victorian architect George Soudon Bridgman, who also designed Oldway Mansion which is located outside of the centre of town, and financed by local barrister, Arthur Hyde Dendy. Sadly in 1919 the pier-head and buildings were destroyed in a fire. The pier that you can visit today began a major transformation in 1980 with lots of great additions. Visitors can enjoy a whole host of excellent attractions from coin machines to trampolines as well as a popular chippy! Find out more about Paignton by clicking here.
Keep up to date with all things South Devon by signing up to our e-newsletter here and make sure you're following us on Facebook here. We'll keep you posted with all the latest blog posts, competitions, events and more!
Related
0 Comments