Guest Blog Post - Milly Cooksley
Having spent the last year living in Denmark's capital Copenhagen, well known for being a city in which everybody cycles, it would not be a silly assumption that I was well prepared for my bike ride along the Exe Estuary. However, it actually served to confuse me more than anything! I am used to back wheel breaking, only having three gears and cycling on the right hand side of the road. This meant I spent the first ten minutes of my ride working out why I was struggling to stop, and slightly disorientated about the direction of the cars. I soon settled in though and unless you too have spent the year cycling in a different European country, you will escape the initial confusion I faced.
I was lucky in the first part of my journey that as I went to set off, I asked the shop owner of Braking Winds for directions and ended up following a local cyclist who was heading the same way. Even though the Exe Estuary is easy to find, I wasn't going to turn down having a guide, even if I did have to cycle fairly quickly to keep up with him. He gave me a concise set of directions when our paths split, the route is so clearly signposted I would be more impressed if you did manage to get lost! The route proved to be popular, playing host to a number of cyclists, ranging from families, older couples, younger couples and fellow soloists. The variety of people I came across goes to show how just about anyone can enjoy this particular activity! There was also a lot of people walking the route, so if cycling really is not your strong point, or maybe you have a dog, there is an alternative way to enjoy the scenery of the trail.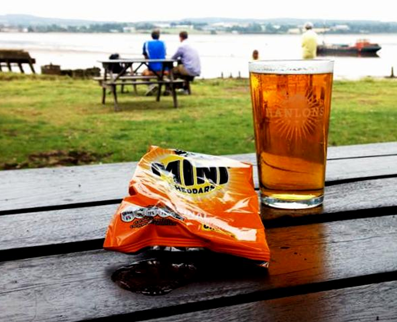 The Turf Hotel is one of the most popular stops along the route, as it comes at a nice distance into the ride, or for the more determined, a nice break on the way home after racking up a fair few miles. There are lots of local beverages on draft to try, especially if you want a more authentic Devon experience. There are of course also many choices of soft drinks and other lagers, ciders, wine etc. if ale is not your go to. Essentially, it's a pub, you know how a pub works, it has a drink for everyone. Keeping in line with its pub characteristics, it also serves food and snacks, so whatever you desire you shall find. The staff were super friendly, and the outside seating provides a lovely view whilst you enjoy your stop off.
Overall, going for a bike ride was a great way to spend a decent portion of the day. The weather was mild, which was preferable to the scorching sun, the route was easy enough to ride and follow, and has beautiful landscapes on both sides. The price of the bike was more than suitable for a student budget and the pubs along the way make for an enjoyable break.

Here are some tips of things that worked well for me, and some I learnt after making the mistakes:
Ask for directions if you're stuck, you never know who might be around to help you out!
Wear suitable trousers with enough stretch for the cycling motion.
Try to cycle as light as possible, i.e. water is necessary, two books are not.
Keep your mouth closed when you cycle as there are a fair few unsuspecting insects flying around.
Remember it's not a race (unless you have competitive friends), but a leisurely cycle, so although you can go at whatever pace you wish, another way to avoid a sweaty back and appreciate the surroundings is to just calm down the furious pedalling.
However, it is just a bike ride and I am sure you are all more than capable of sussing it out yourself and having an absolutely fabulous time whilst you do.
Related
0 Comments