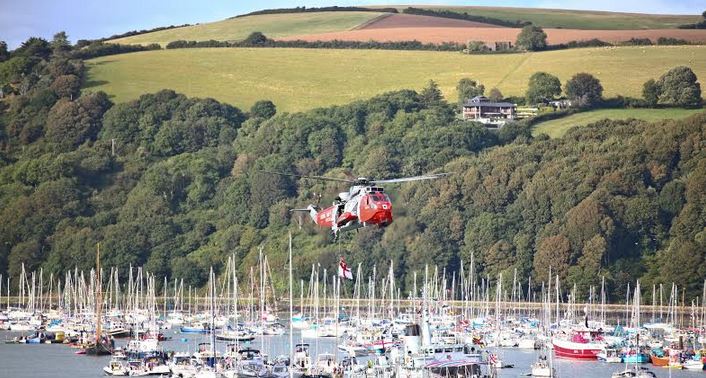 An Interview with Gina Coles
One of the highlights of the summer here in South Devon is the Regatta held every summer in the harbour town of Dartmouth. We asked Gina Coles, Events Manager for Dartmouth Regatta, what the regatta is all about and why you should visit this year.
What is your role?
My name is Gina Coles and I am the Events Manager for Dartmouth Regatta. My role is to oversee the whole event and to organise and manage landside events. The waterborne events are organised by the experts!
What is Dartmouth Regatta and when is it on?
Dartmouth Regatta is second only to Cowes as far as sailing events go and Henley as far as the rowing events. But, the difference with Dartmouth Regatta is that we do BOTH events, not just the one! The three-day event is always held over the last Friday of the month so this year it is the 27, 28 and 29th August. Although it is traditionally a three-day event, it has grown over the years and now starts on the previous Saturday with a fete in Royal Avenue Gardens and the sailing and rowing heats are held from the Sunday onwards.
Tell us a bit about the history of Dartmouth Regatta?
It was first held in 1822 and has been run every year since with the exception of during the war years. The 2015 Regatta is the 171st. It started off as a few rowing boats competing and was one of the first Regattas to be held. In 1856 Queen Victoria, who was in the area sailing in the Royal barge, pulled into Dartmouth to shelter from bad weather the day before the Regatta was due to be held. She stopped over, was made a fuss of by the local mayor and gentry, and when she left she bestowed the title of 'Royal' on the Regatta. The Regatta, nowadays run by a small committee, has grown to be one of the largest events in South Devon. It is run by a small committee of local people.
What would you say are the five top things to see and do at the Regatta?
It's impossible to prioritise them but the most important is the waterborne events, which are definitely world class or very close to it. So many different boats, with different size crews battle it out either rowing or sailing. Mostly, it is very serious but there are the occasional lighter moments. It's what Regatta is all about.
Then, in no particular order, the air displays are superb. We usually get the Red Arrows and no matter how many times you watch them, they never disappoint.
Or, there is so much for our younger visitors to do. From the pavement artist and fancy dress competitions to the street entertainers and fun fair there is enough to keep them occupied and happy for many hours.
Also in the running are the music events. Regatta Shindig, which is for families, is a barn dance-based evening. Regatta Rock is still very popular with all ages, our Regatta Ball has been running in one form or another since the first Regatta and is still highly popular and our new addition Regatta Jazz. Something for everyone? Definitely!
Next has to be the fireworks. We offer two displays, on Thursday and Saturday at 9pm. They are totally beautiful to watch and the Saturday display is usually accompanied by music, which makes it really atmospheric.
What else can people enjoy when visiting the Regatta?
They can stroll around our shops. We have an amazing eclectic mix of original shops and you can buy fashion, art and many other things that you won't find elsewhere. You can sit in Royal Avenue Gardens and listen to the music in the Bandstand. Every afternoon from noon until late at night music from every genre will entertain you. Or, you can go to the fun fair – relive those childhood memories!
Why do you love Dartmouth Regatta?
I love it for several reasons. It is wonderful being such an integral part of it. Bringing so many people into town, watching them enjoy themselves, is a great feeling. It does bring a big boost to the majority of traders, which is good for the town. I love organising the music. I have been involved in music, either as a promoter or manager or PR, for almost 50 years so it's good to keep that tradition up! I love being involved with so many really lovely people, both on the committee and in town. In fact, there is nothing that I don't love about Regatta!
Why is the regatta so important to Dartmouth and South Devon?
It brings in so many people to the area. It is impossible to put a definitive figure on it, but we have worked out that we probably attract between 80,000 and 95,000ish every year over the Regatta period. This is an awful lot of people wanting to be fed and watered and many will be needing places to stay. But, the immediate effects aren't as important as the number of people who come to Regatta and are impressed with the town and surrounding area and then come back – sometimes for many years afterwards. Because Dartmouth and the South Hams is arguably one of the most beautiful and picturesque areas you can find, the world-wide coverage it gets attracts even more visitors.
Where can we find out more information about Dartmouth Regatta?
Visit www.dartmouthregatta.co.uk or 07778 110488.
The majority of Regatta entertainment is totally free, you are able to help support the regatta and ensure it continues by making donations during the events into one of the collecting tins found throughout the town. The regatta receives no council or government funding and it will cost around £250,000 to stage the Regatta this year.
Related
0 Comments