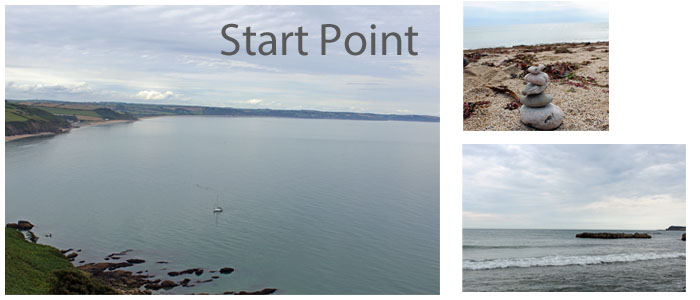 Guest Blog Post - Jonas
Meanwhile the second week has begun, and half of my time here in England is over. The weather during the week has rather an 'English style', but today it's better again. The sun shines and a lot of people have visited the shop and the café of the Devon Guild of Craftsmen here in Bovey Tracey.
Work
In my work I have been researching the local Devon artist Michael Honnor. We will provide information for his new exhibition 'Michael Honnor – painter, printmaker' (opening on 19th September) here at the craft centre. It's my job to find information about him and his work. We compare him to other artists who work with nature and we consider how to give the best education about the exhibition by putting him in the tradition of landscape artists who use light and weather as their subject, for example Turner and Monet.
During the weekend I was with my family at the 'Lost gardens of Heligan'. There is a big area full of plants, exotic flowers and gardens. After that excursion we visited a tiny, but busy village called Looe, where we ate fish & chips.
On Tuesday, I had to change my family and move to another in a small village near Bovey Tracey called Lustleigh. It's also nice there, but I am already very sad to leave my family in Ashburton.
Devon is a very peaceful and calm region. It's nice for people who are looking for countryside recreation, relaxation and want to escape from a busy everyday life in the city, and it's a nice place to spend their holiday time. And it seems that there is a lot to do in Devon, like walks on Dartmoor, cycling, sailing, visiting the seaside, many Festivals and lovely country pubs.
On Thursday, I found out some facts about another local artist Jude Freeman who lives between Italy and England. She works with mosaic and has a small Exhibition at the Devon Guild of Craftsmen until 12nd October. Each of her pieces needs days to produce and is totally unique. I helped the Marketing Department publish news about Jude's art on Facebook and also made a short film about the mosaics, to promote her show.
In the evening, I went with Anna, who is responsible for me at the Guild, to visit her brother's family in Totnes. Totnes is a very beautiful and picturesque small town in South Devon. I had a very nice evening there - and we ate sushi!
Family
At the weekend, I went with both my families 1 and 2 - to the coast and a beach: Start Point, which is the Southernmost point of Devon. Start Point has a very beautiful coast, with rock and cliffs. We had there a nice picnic and walked around a bit. On Sunday, we went to the cinema in the nearby town of Exeter and saw the film 'Mission Impossible', which was quite action packed and exciting!
If you want to find more about Devon Guild click here: www.crafts.org.uk/
A bit more about me: My name is Jonas, I am 17 years old and I come from the south of Germany. I am going to finish school in the next two years and then I would like to study at University. I spent my free time playing piano, reading and being head boy - which means representing students' opinion.
Related
0 Comments