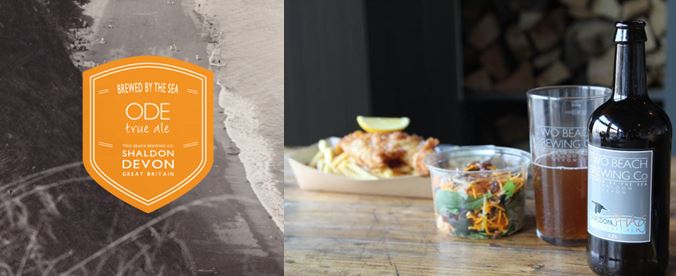 Guest Blog Post - Tim Bouget, ODE - true food
When Clare and I opened ODE almost 10 years ago to the day I wanted to create a drink that would be great with food but also something to drink that was refreshing and chilled for an after service drink to share with the chefs and front of house team.
Early 2007 I approached Geoff Phillips a retired physics teacher who was running Ringmore Craft brewery at the time, located in the village of Ringmore just up river from Shaldon, to ask whether we could work together to create something truly unique.
ODE ale was born that same year, a craft ale, 4.2% amber in colour with hints of elderflower and summer fruits.... to be enjoyed by males and females, refreshing and light.. to be drunk on its own and even better with a meal.
Some 3 years ago Geoff decided to hang up his brewing boots and retire... my first thoughts were purely selfish OMG what about our ODE ale!
Over many a late evening and early morning with an ale of course I decided that I should ask my friend, fellow beer lover and retired banker Andy Cope, to see if he would like to partner and make a friendly takeover bid for the brewery.. as Andy and I had no experience other than consuming we very much hoped the deal would include some on job training! Thankfully it did and as they say the rest is history!
Two Beach Brewing Co was founded... named after the two beaches (river and sea) in Shaldon.
We re-located the brewery to its new home at cafe-ODE, Ness Cove where you can watch Andy brew and bottle behind a glass viewing window which was one of the rear stable door openings.
Our craft ales are OARsome, Shaldon Shag and of course ODE, Seasonal ales also feature and right now Andy in producing YULE-fuel.. a whopping 7% to get you in the festive spirit..
Both Cafe-ODE and Two Beach Brewing Co are in the CAMRA good beer guide and have quickly gained a great reputation locally and nationally capitalising on the recent trend of micro breweries and interest in craft brewing.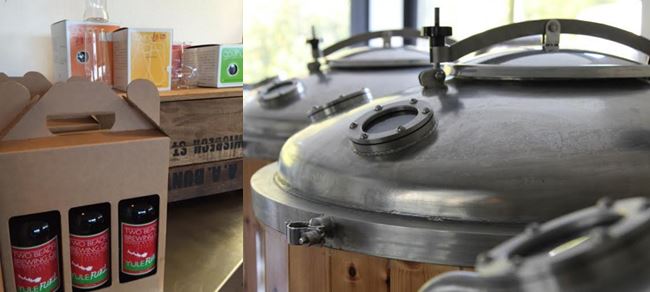 Today the brewery operates at capacity and is a great example of a sustainable business, produce from just up the road at Tuckers Maltings in Newton Abbot, handmade and bottled on site by local staff...supplying local pubs, farm shops, deli's and beer festivals in and around the area with draft keg ales as well as bottles. We have had requests for our ale from pubs and restaurants as far north as Edinburgh to London in the South.
Every time we sell a bottle of ale or pint in the local pub we promote our business and of course Shaldon, an amazing place to visit, whether for food or drink, the wildlife trust or one of our two beautiful beaches.
We now have taken the produce to a new level, not just pairing ale with food but using it to cook, both sweet and savoury dishes... imagine ODE ale ice cream, rich with malted barley and caramel, steamed Teign mussels with OARsome have all featured on the menu... the cafe-ODE brewers breakfast has to be the best weekend indulgence... our own sourdough loafs with spent hops from the brewery... grilled and served with amazing local bacon, sausage, organic egg and house-made baked beans... yum, now that's a brunch!
For more information and locations visit www.odetruefood.com
Follow us on Facebook or Twitter @ODETRUEFOOD
Instagram; cafeode and odedining
John, a regular loves it so much he wrote this ODE to ODE (NESS)
AN ODE TO ODE NESS
All hail to the ale that is brewed in the park
Let's all go to Shaldon for a lark
And sit on long tables to feast on fine food and sample the real –ale that is real – aley good -
Were all getting ODE, yes even you – half the village is past 92
But with ale in our veins our ailments are few
You may think us vile and horrible too
But we are "ere" for the ale, the girls and the view
(girls; for a sail, the boys and the view!)
Original by the ODE codger fishing for a pint on the beach in Shaldon
John Woodford 2013
Matt Bellamy of MUSE is a fan, Matt Bellamy and Tim Bouget enjoying a pint of ODE ale
Related
0 Comments