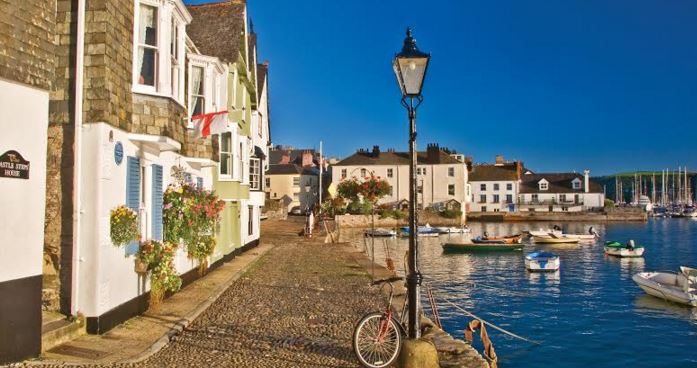 Guest Blog Post - Coast and Country Cottages
From stunning sights to heavenly bites, the most memorable holidays serve up a little bit of everything. That's one reason why Dartmouth, a little harbour town in the South Devon Area of Outstanding Natural Beauty, has remained such a popular tourist destination for so long. It's a town that can stimulate and satisfy all five senses, leaving those who come here with warm, everlasting memories of their stay. Let's have a look at how a Dartmouth holiday will delight every one of your senses and leave you feeling refreshed and renewed.
A feast for the eyes: the Dart Valley
Hire a boat or take a cruise up the River Dart to get the best views of the Dart Valley, with its wooded banks and patchwork fields, along with its medieval forts, quays and settlements. Continue all the way to Totnes or stop at the delightful riverside village of Dittisham for a bite by the water, or hop over to the opposite bank for a stroll around Greenway Holt, the beautiful, evocative former home of Dame Agatha Christie, which is now lovingly maintained by the National Trust.
The magic touch: plenty of pampering options
Unwind at one of Dartmouth's luxury spa facilities, such as Dart Marina or the nearby Dartmouth Hotel, Golf Club and Spa. Whether you're looking for some 'me' time or some 'us' time, a full body massage or a quick facial, or even something more unusual like a spot of mud bathing or an aromatic body polish, you'll be impressed at the range of pampering options offered in this little town.
Be scent back in time: familiar holiday aromas
Smells can provoke feelings of nostalgia like nothing else. Holidaymakers often return to Dartmouth to recapture their childhood memories, finding that the delights of fish and chips by the water, freshly baked Devon scones and indulgent clotted cream fudge are as enjoyable as ever. Add to that the irresistible aroma of artisan coffee that now wafts from Woodroast on Smith Street, or the scent of freshly-baked bread from Saveurs and Dartmouth Bakery, and there's enough to make any mouth water. Above all, the fresh sea air, carried into this sheltered harbour on the breeze, is what will switch you straight into holiday mode from the moment you arrive.
Feast your ears: when Dartmouth ups the decibels
Small, Dartmouth may be, but sleepy it certainly isn't. There's regular live music in pubs and restaurants like the Harbour and Galleon Bars at the Royal Castle Hotel, the Windjammer, Radio Dart Café Lounge and Anzac Bistro. And that's just on a typical week – Dartmouth also has a packed social calendar in which music features strongly. On 13th to 15th May 2016, the Dart Music Festival will feature over 100 live performances in this hugely popular annual event. There's also live music at the annual Regatta, Delicious Dart Trail, Candlelit Dartmouth and the Dartmouth Food Festival.
A matter of taste: welcome to foodie heaven
Led by Mitch Tonks' famous Seahorse restaurant which sits on the Embankment, Dartmouth has an extensive and still-growing range of excellent places to eat. Start your day with a hearty meal at breakfast-specialists Café Alf Resco or opt for something more continental at Saveurs, the authentic French patisserie. Cream tea options for lunch abound, including the stylish Bayard's Cove café and the popular Smith Street Delicatessen, or perhaps you'll choose a local crab sandwich by the water. For dinner, we have it all, from fish and chips and traditional pub grub to sophisticated seafood dishes. Also be sure to visit Kendricks, a lively and laid-back restaurant with a tasty Tex-Mex-inspired menu.
So that's Dartmouth in five senses. Can you hear your sixth one nudging you to pay a visit?
Coast and Country Cottages feature over 400 self catering holiday properties throughout South Devon, including Dartmouth, Salcombe, Kingsbridge and the beautiful coast and countryside between. Coast and Country Cottages have holiday accommodation to suit every taste and budget.
Related
0 Comments