Dartmouth Food Festival (21-23 October 2016)
Back for 2016 the Dartmouth Food Festival is the highlight of Devon food events throughout the year. If you love local food, there is no better time to visit Dartmouth and experience the atmosphere, and get involved with cookery demonstrations, drink seminars, workshops and over 120 exhibitors and tastings. It's the best opportunity to taste the best of Devon and South West produce around.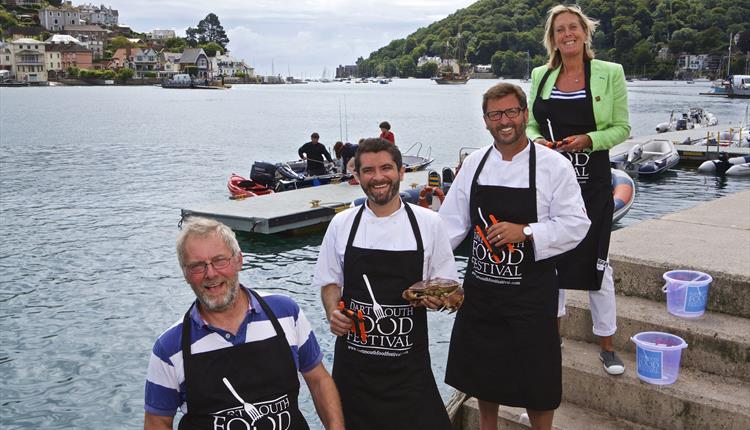 Family friendly, dog friendly and adult friendly, the programme for the weekend is packed – there are celebrity chefs and local cooking hero's performing demonstrations and talks, there are children's events to keep the young ones entertained – and a bar on the embankment to try local beer, ale and wine. And the best part about the festival? Most of it is free!
For a full programme of events, visit www.dartmouthfoodfestival.com but we have highlighted the main things you need to know – and the main events below.
TIMINGS
Embankment, Boat Float and the Royal Avenue Gardens
Friday 21st & Saturday 22nd October: 10am – 5pm
With extended hours on Saturday, 10am - 8pm, within Royal Avenue Gardens for all Catering Exhibitors
Sunday 23rd October: 10am – 4pm
Festival Bar on the Embankment
Open until 8pm on Friday & Saturday, and Sunday until 4pm
Market Square
Saturday 22nd October: 10am – 5pm
Sunday 23rd October: 10am – 4pm

HIGHLIGHTED EVENTS
Mitch Tonks & Tom Parker Bowles Royal Avenue Gardens Friday, 10:30 – 11:30 am
Watch a free demonstration from Mitch Tonks, the celebrated chef behind Rockfish and the Seahorse, two of Dartmouth's most popular restaurants. Mitch, who is also a founder and patron of the festival, will be joined by food critic Tom Parker Bowles.
David and Holly Jones Royal Avenue Gardens Friday, 3:30 – 4:30 pm
Based over the Dart Estuary in Kingswear, David and Holly Jones from Manna from Devon cooking school will be demonstrating their considerable skills – both in the kitchen and in educating others on how to boost their own proficiency. This is a free event.
Crab cracking with Holly Jones Royal Avenue Gardens Friday, 10:30 – 11.15 am
Since brown crab is a South Devon speciality, Dartmouth is the perfect place to learn how the professionals break into the shell and extract the meat. You'll also find out how to prepare it with home-made mayonnaise.
Fudge Making Demo Rolys Fudge, Community Cafe Saturday 10.30 – 11.30 & Sunday 11.00 – 12.00
Ever wondered how fudge is made - come and see it being cooked, poured and shaped and then get to taste some too. This demonstration is free to attend, but places must be booked by calling 07794 521194
Pizza Making Workshop Kernow Forno Royal Avenue Gardens Friday – Sunday 10am – 10.45am
Love a wood fired pizza? You can learn to make your own with Simon of Kerno Forno at the wood-fired oven. This is a ticketed event and can be booked online.
Related
0 Comments