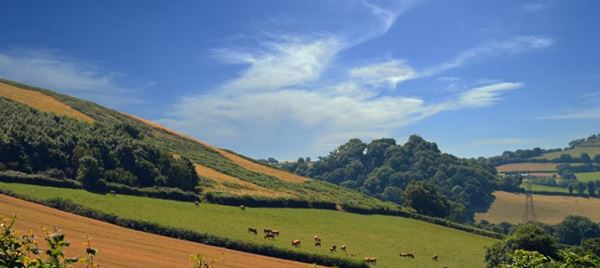 Guest Blog Post - Coast and Country Cottages
For many people, South Devon conjures up the image of a sedate pace of life – a place where visitors and residents alike wish to dispense with the rat race in favour of relaxation and revelry in life's simple pleasures. But there's another side to our region that's often overlooked. The West Country, and Devon in particular, has a high proportion of start-ups and microbusinesses compared with the rest of the UK, meaning our region is home to a wide range of enterprising individuals and firms. Just like our sunny weather, beaches, countryside and sumptuous accommodation, these businesses play a big part in making the area such a joy to visit.
Nowhere is this more evident than in our food economy. Coast & Country Cottages has recently produced The South Devon Cookbook, a free ebook which pays tribute to our region's best-loved food and drink producers. It contains original recipes, in-depth interviews and a directory to help visitors find their way to our region's best bites.
Here are five fantastic producers which are highlighted in the publication. Download your copy of the South Devon Cookbook for inspiring interviews with the passionate people behind these brands. You'll also receive 21 original recipes from local producers and chefs including Jane Baxter and Mitch Tonks, a seasonal food calendar and more.
The South Devon Chilli Farm
As a producer of a wonderful variety of chilli-infused sauces, jams and jellies, chocolates and more, the South Devon Chilli Farm counts Jamie Oliver amongst its legions of fans. Its products fill the shelves of many delis in our region and beyond, but for the best experience you need to pay a visit to the farm and its gift shop and café, set in stunning countryside just outside Loddiswell.
It may be surprising to learn that the South Devon Chilli Farm, despite its strikingly distinctive brand, actually came about mainly through the trial and error of a pair of hobbyists. Heather Waters, one of the directors, said:
"My husband and his friend both had an interest in growing chillies in the greenhouse in our garden… and then an opportunity came up to rent some poly-tunnels. They thought, 'Well we've grown all these varieties so why not try it on a bigger scale?' It was really successful, and then they were stuck with all these chillies, wondering what to do with them…"
Sharpham Vineyard
On the south-facing slopes of the River Dart, rows of Madeleine Angevines are nurtured by a winning combination of our balmy microclimate and the expertise of people like Duncan Schwabb, Sharpham's Head Winemaker. Sharpham has gained over 200 blind taste awards for its 15 varieties since 2010 alone, winning applause for its light and fruity wines whose low alcohol content makes for refreshing afternoon drinks. Stop by the estate, located just a few miles from Totnes, to tour the vineyard, taste some wine and enjoy a meal at the Anchorstone café, where the menu has been created to complement the drinks.
Duncan has been at Sharpham almost since the beginning, and is justly proud of the vineyard's role in raising the profile of the wines we produce on this side of the Channel.
"Especially on the awards front, English sparkling wines are going up against Champagnes and beating them in competitions. People that come here to taste a few wines and leave with a crate having absolutely loved it. So I think English wine is definitely separate – people ask is it like French or German wine and we say, 'No, it's not. It's an English wine with its own character.'"
Riverford Organic Farmers
A renowned producer and innovative distributor of tasty organic produce, Riverford has grown from its humble roots in Devon 25 years ago to national acclaim today. At its heart is Riverford's 'veg box' scheme, but it's well worth a visit to Riverford Field Kitchen at Wash Farm, where you can enjoy innovative dishes prepared with organic, seasonal and mostly locally-sourced ingredients.
Spend some time on Riverford's website and you'll quickly see how committed the company is to transparency – one of its great attractions. Ed Scott, the Assistant Harvest Manager at Riverford, said: 'Guy [Watson, the founder of Riverford] is very open and he couldn't fudge anything. He's more likely to over-inform rather than under-inform, which is brilliant actually."
The Well Hung Meat Company
Similarly, consumers who like to be able to trace the food on their plates back to its origins love the Well Hung Meat Company for its transparent, ethical approach to farming. Situated near Buckfastleigh, the Well Hung Meat Company earns its name for the way their meat is hung for much longer than the industry standard – as long as 21 days in the case of beef, which means the full flavour can come through. Like Riverford, the Well Hung Meat Company supplies consumers directly via boxes you can order online.
Thomas Bourne, Managing Director of the Well Hung Meat Company, believes the desire to 'eat clean' is their biggest draw – something that many South Devon producers would agree with, because of the region's speciality in high quality, ethically-sourced produce.
Tideford Organics
There couldn't be a more fitting base for Tideford Organics than Totnes, which is known all over the world as a centre of sustainable living and ethical consumerism. Tideford was embraced in Totnes from the beginning because of commitment to organic produce, but the company has recently taken another bold step and become 100% vegan across the company's entire range. Their soups – probably their best known products – are cooked slowly, sometimes over several hours, in order to release the natural sweetness in the vegetables.
As Lynette Synclair, the Managing Director of Tideford Organics said, "There is no need to add lots of salt, thickeners, stabilisers, or artificial preservatives when you are cooking like you would at home."
Look out for their products in Waitrose supermarkets across the country, as well as local South Devon stores like Green Life and the Happy Apple in Totnes.
Visit South Devon to see for yourself why our region's reputation for delicious food and drink continues to grow every year.
Related
0 Comments