Guest Blog Post - The Barn Cinema
Visit one of South Devon's most unique cinema venues – the Barn Cinema, set in the beautiful Dartington Hall estate near Totnes. We interviewed Isabella Garcia from the Barn Cinema to find out what makes this place so exceptional, from the history of the building, to the performances, and the Outdoor Cinema. Read on to find out more.
History of the Barn Cinema, Dartington South Devon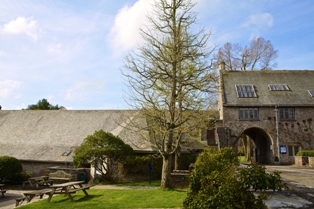 The Barn Cinema is an independent cinema situated in a renovated 15th century barn, within the grounds of the beautiful Dartington Hall estate, near Totnes. The Barn runs a wide-ranging film programme, including independent arthouse, world and mainstream cinema, live event cinema, outdoor cinema, and special events, seven days a week.
The barn's exterior was reconstructed under the supervision of William Weir during the early 1930s, and between 1933-38, Walter Gropius and Robert Henning converted the building into a theatre, which went on to host a variety of national and international productions. The Barn began operating as a cinema in the 1970s; in 1996 it was completely refurbished, with new seats installed in April 2014.
What is it that makes the Barn Cinema so special?
The unique setting alone makes the Barn Cinema a very special destination. The building itself is very picturesque, and steeped in history, and the magical setting of Dartington Hall makes this so much more than your average cinema experience. It's hard not to fall in love with the Barn's beautiful location, and special atmosphere.
Why should people come to the Barn Cinema?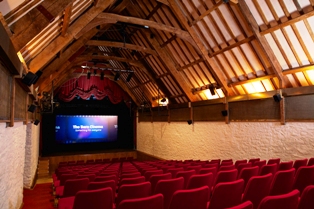 At the Barn, we believe in the magic of cinema, and care deeply about providing our audiences with a special experience. Many of our customers feel as passionate about the Barn as we do; their needs are very important to us, and we pride ourselves on our close relationship with our audiences. We are continually developing our programme of films and special events, to give our customers an exciting choice of culture and entertainment - and a great night out!
Visitors to the Barn have a choice of places to eat and drink, with the Roundhouse Café next to the Box Office, the White Hart bar across the courtyard, and the newly opened Green Table café. See our website to find out more.
Pre-Cinema Menu
If you're attending an evening film at the Barn Cinema, take advantage of our great value pre-cinema menu – and we'll make sure you get to your film on time. Call 01803 847150 or book online now (please quote 'pre cinema' in the special request section of the booking process).
Available Sunday to Thursday from 5.30 pm;
Two course dinner for £15.00 per head;
Tickets to 8pm screenings must be booked separately;
Reservations recommended – we ask you book your table for no later than 6.30pm.
What sort of films/performances do you show?
As well as an exceptional mix of independent, arthouse and world cinema, we show the best of mainstream cinema for adults and children, including our 3D and 2D BarnKids screenings during holidays and weekends.
In addition to our film programme, we show a wide variety of Event Cinema, broadcast live by satellite from world-renowned arts venues, such as the National Theatre, New York's Metropolitan Opera, the Royal Opera House and the Royal Ballet, Glyndebourne, and the British Museum, to name but a few.
Throughout the year we also run a number of special events, often including Q&A's with special guest speakers, or live by satellite from around the world. In recent years we have run a variety of unique events, such as our Facebook Film Nights, a natural history film festival, and an award-winning outdoor film premiere on Dartmoor. We are always looking for new and interesting cinema experiences to offer our customers.
What is the Outdoor Cinema and how can I find out what's on? What do I need to bring to the outdoor cinema?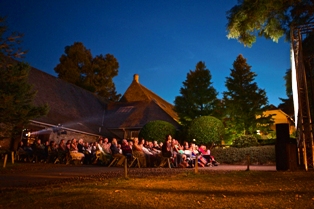 The Barn's Outdoor Cinema is something different, and it's a lot of fun! Throughout the summer, under the stars, we show a programme of old favourites and new releases, in the beautiful grounds of Dartington Hall. The screenings are on a massive 40ft screen, next to the Roundhouse Café, which sells refreshments on the evening. Chairs are provided, with atmospheric music and lighting to complete the scene; the audience bring blankets, picnics, and a party atmosphere to these very special screenings which take place as soon as the sun goes down. Warning: fancy dress and spontaneous dancing in the aisles may occur!
The Outdoor Cinema programme usually takes place in July and August; as with our regular programme, details and booking are available on our website, and through the Box Office and monthly Cinema brochure.
Are there any big/special events coming up this year?
In May, we have a special screening of The Lost City of Z, in collaboration with Torquay Museum. The Museum has a permanent exhibition about Percy Fawcett, the film's hero. They will bring a display of artefacts, such as an old map book that was used in the film, and will provide a special introduction to the screening. See our website for more details of this special event, and to take advantage of our Torquay Museum Offer throughout May & June.
On 17th May, to celebrate Deaf Awareness Week 2017 (15th-21st May), we are screening Power In Our Hands, a ground-breaking documentary that combines archive footage with present day interviews to reveal the secret history and heritage of the Deaf community in the UK. It contains newly digitised archive footage available to the public for the first time. Visit our website for further information and resources, and to book online.
How can I find out what's on? And how can I book?
Our monthly film programme, and forthcoming season of Event Cinema can be found on our website. We publish a monthly film brochure, available in the Barn, by post, and at a wide selection of local outlets. Customers can also sign up online for Dartington's weekly E-newsletter.
A special low price for all our Monday Movie Night films. Don't forget to pick up a BarnKids loyalty card to take advantage of our BarnKids offer.
Customers can book their tickets through our website, or by visiting or phoning our Box Office on (01803) 847070, between 12.30-7.30pm, daily.
Join us on Facebook & Twitter to keep up-to-date with all that's happening at the Barn.
Related
0 Comments