Guest Blog Post - Ewan Davy
New adventures and discoveries are the staple diet of great childhood holidays. But when you're on a budget where's good to go?
Well, one such place is the smugglers' tunnel in Shaldon, South Devon, which leads through to Ness Cove beach, a sliver of iron-red sandy beach backed by towering Jurassic cliffs that hem this dramatic stretch of coastline against the shoreline.
Hidden behind Shaldon Zoo, the darkened entrance gives little away, other than a blast of sea air that barrels its way through the dank subterranean chambers.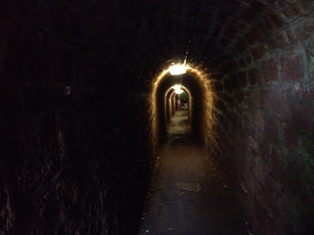 Descending hundreds of feet, hewn directy through the rock face, the tunnel takes you on a journey of imagination and discovery.
Echoes of crashing waves can be heard as you enter, providing the perfect setting for tales of smugglers, pirates, treasure and derring-do.
The deeper you go the more exciting it gets, passing a darkened recess (beware an ambush from wannabe swashbucklers!) before turning a corner and dropping down towards the ever-increasing thunder and crash of waves.
Keeping in close formation so as not to lose any stragglers, you turn a final corner and there before you comes the blinding light of day and a further blast of crisp, salty sea air.
To your left the beach stretches out to a craggy outcrop of hard rock where you'll find some fabulous rock pools. Clamber far enough and you'll even see the nearby town of Teignmouth with its grand pier.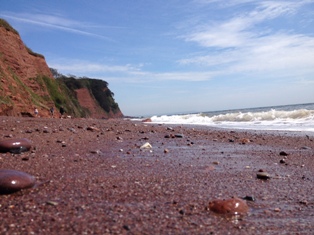 To the right stretches almost a mile of sand, which is perfect for kids. Here you'll discover driftwood stripped bare and bleached by the sea. You'll also discover something much more exciting – sea glass, a treasure in its own right. The beach is often littered with orbs of glass that have been shaped and sculpted by the waves crashing onto the shore – we have a bottle at home that we're slowly filling, ready to be transformed into the base of a nautical lamp that we have planned.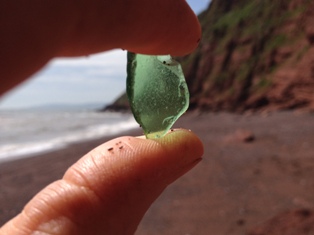 Winter or summer, we take all the kids; three girls aged 3, 11 and 13. In the winter we watch the storms lash the coastline, sending spray high into the air as the waves crash in. In the summer we make a day of it.
Our youngest adores it, especially when we take an old boy scout's tent and a picnic. Many hours are spent playing pirates, raiding imaginery enemies, before returning to the tent for a well-earned sarnie and slice of cake. We love it!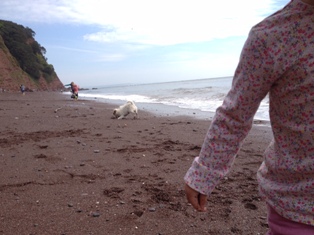 Yes, the smugglers' tunnel may be a romantic notion, but it conjures up tales of swashbuckling that you just can't help getting caught up in with the kids. Best of all, it's free, it's innocent and its proper old school entertainment.
Give me tales of buried treasure and shipwrecks any day!
Ewan Davy lives in South Devon. He works for Absolute PR and Marketing.
Related
0 Comments