Guest Blog Post - Good Hotel Guide
Bracing walks along the clifftops, hearty meals made from local produce, warming evenings by the fire and plenty of places to buy Christmas presents with a hand crafted twist. Devon is a beautiful place for weekend away, so here are nine hotels for South Devon winter mini breaks…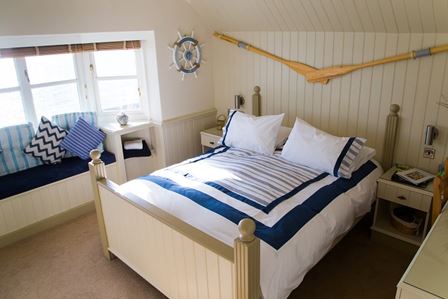 The Cricket Inn, Beesands
Well placed for walkers on the South West Coast Path, this 19th-century fisherman's inn faces the beach on Start Bay. Popular for its pub grub and warm welcome for all guests including families and dogs. Fresh seafood is the order of the day and the hotel is within easy reach of festively lit Salcombe, Kingsbridge and Dartmouth.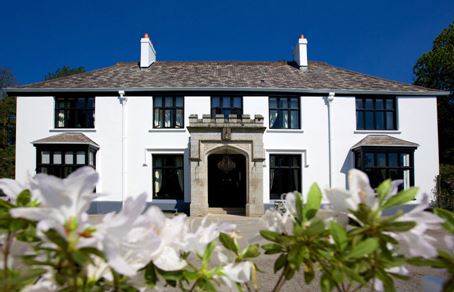 Glazebrook House, South Brent
For a little escapism on Dartmoor - away from the rush of Christmas shopping, wander through National Parks and little villages. Visit little shops teeming with curiosities and vintage pieces whilst staying in this 19th-century manor house. Drums, hats and old street signs adorn the walls; chandeliers and a stuffed flamingo decorate the hall. Bedrooms take style inspiration from Alice in Wonderland and local beers and speciality cocktails are central to the experience.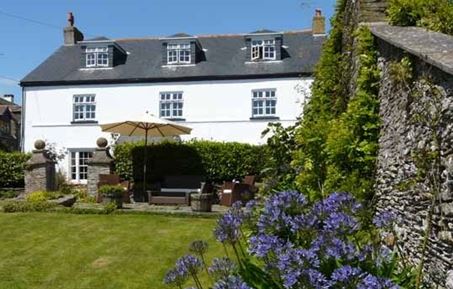 Strete Barton House, Dartmoor
In a village on the South West Coast Path, Stuart Litster and Kevin Hooper run their modern B&B in a 16th-century manor house, with a welcome slice of home-made cake at the ready in true Devon style. Most rooms have views across the garden to the sea - the perfect view as you sink into squashy sofas in the drawing room by the fire.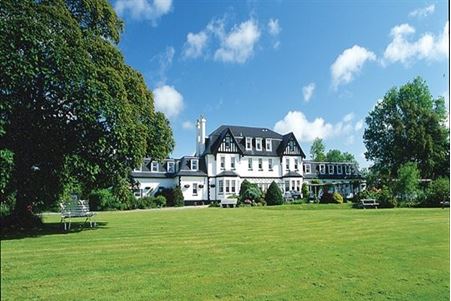 Ilsington Country House, Islington
In a beautiful location with stunning views of Hay Tor and Dartmoor, Ilsington Country House gives its guests another aspect of what it is to be welcomed to South Devon. Views across the moors and big comfy beds are part of the experience alongside warming food from the local area, including perhaps the most perfect smoked haddock risotto.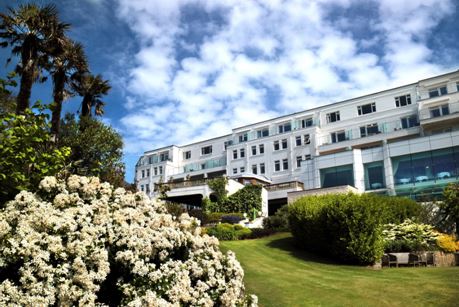 Thurlestone Hotel, Thurlestone
An elegant hotel just a short walk from the beach and has been in the same family for generations. There is a genteel, old fashioned nature to the hotel as you sip tea in fine china, tuck into scones with oodles of cream and jam, or play croquet in the grounds should you visit in the summer months. The hotel has a spa and plenty of leisure facilities but also serves as an ideal place to simply sit and watch the crashing waves by the fire.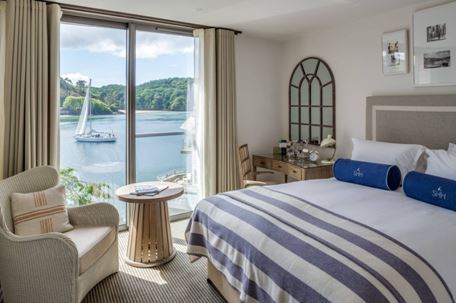 Salcombe Harbour Hotel, Salcombe
Central to the famous seaside town of Salcombe - a place of confection coloured sweetshops, artisans selling their wares, world famous ice cream and a penchant for sailing, Salcombe Harbour Hotel is a glamorous and contemporary hotel that overhangs an outstandingly beautiful estuary. Ideal for a romantic weekend away with a few spa treatments thrown in for good measure, it is perfectly located for wandering from shop to shop and cafe to cafe.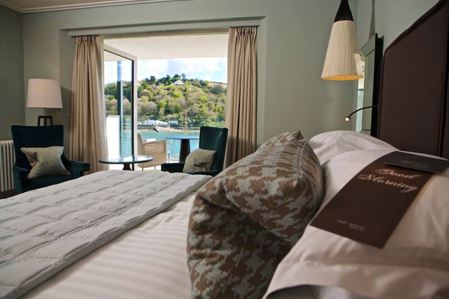 Dart Marina Hotel, Dartmouth
Crumbly scones make this chic, river-facing hotel probably the best tea place in town, but it's also a lovely setting for good food and well-appointed accommodation. A little paradise in a magical town that's brimming with history and characterful shops, pubs and cafes, Dart Marina Hotel's rooms all enjoy views of the water as well as contemporary furnishings and lots of creature comforts.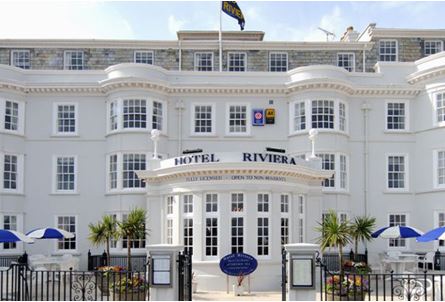 Hotel Riviera, Sidmouth
Old-school service and attention to detail come to the fore at this splendid place overlooking Lyme Bay. A traditional hotel that's proud of its service and attention to detail, Hotel Riviera features a showbiz style bar with a grand piano, a timeless dining room with a highly reputed five course banquet and an enjoyable position with beautiful views.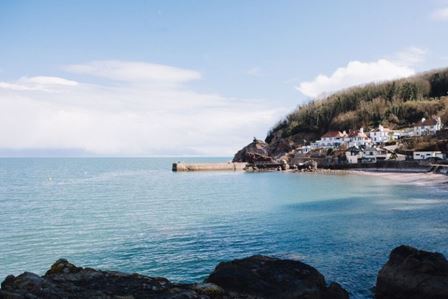 The Cary Arms, Babbacombe
Step out of your yacht and onto the private jetty at Lana de Savary's cliff-face hotel, on a secluded cove; the rest of us will descend the winding road and admire the wide vista over the Teign estuary. The Cary Arms is contemporary in style, seasidey in location and welcoming in demeanour. Dogs are lavishly catered for and food is always local.
From a selection of hotels in Devon from the Good Hotel Guide.
Related
0 Comments