Guest Blog Post - Buckfastleigh Town Council
This blog post and images are courtesy of Buckfastleigh Town Council, if you wish to find out more about the Town Council and Buckfastleigh, please click here.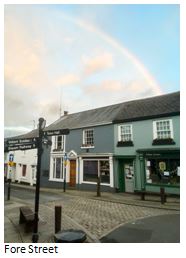 Nestled on the edge of Dartmoor, the small town of Buckfastleigh combines a rich historical legacy with a lively community that has lots to offer both residents and visitors. In the past, it was an important market town, centre of the Devon wool trade, and later the three rivers that run through it powered seven mills that produced woollen cloth and corn. The buildings from this prosperous era still line the main street, Fore Street, and these include the unique Valiant Soldier - the pub "where time was never called". It closed its doors in 1965 and was left untouched for decades. Now it's open to the public as a time capsule of life in the post-war years. Another fascinating link to the past can be found up Church Hill where the graveyard of the ruined church houses the extraordinary tomb of Squire Cabell whose wicked life inspired Conan Doyle's most famous novel Hound of the Baskervilles.
The most well-known historic building of all is neighbouring Buckfast Abbey, which this year celebrates its Millennium. The Abbey was founded in 1018 during the reign of King Canute, destroyed by Henry VIII and then painstakingly re-built hundreds of years later by a small group of exiled French monks, who finally completed the main structure in 1938. Many events are planned in the Abbey and its beautiful grounds during its Millennium year including festivals of choral music, storytelling, sacred art and drama - so there couldn't be a better time for visiting this corner of South Devon.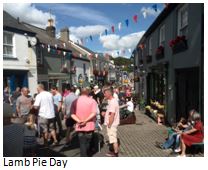 And it's not just at the Abbey that community activities take place. Year-round, Buckfastleigh has a lot going on for such a small town. On the first Saturday of every month, the Town Hall hosts a popular, award-winning Community Cinema, complete with cocktails and humorous local business commercials. The heated open-air pool opens for "tropical" swimming sessions on Boxing Day, runs a fancy dress "Ice Gala" in the (unheated) pool in February and opens for public swimming throughout the summer. On July 21st, the traditional Lamb Pie Day takes over the town with stalls, activities and music all day and into the evening.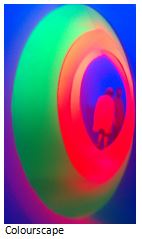 Buckfastleigh is also a great centre for outdoor activities: it sits on the Dartmoor Way cycle route, the River Dart offers many kayaking opportunities (and a popular Raft Race at the end of September) and there's excellent walking both around the town and on nearby Dartmoor. In 2018 Buckfastleigh Rangers Football Club's Fun Days of sporting activities (July 14 and 15) will be enhanced by a return visit of the fabulous Colourscape who last year attracted crowds of locals and visitors to enjoy their unique mix of colour, light and music within a labyrinth of tented tunnels. Visit this thoroughly modern attraction, then stroll over to experience one thousand years of Abbey life and you'll get a good introduction to the vibrant combination of old and new that makes Buckfastleigh such a special place to live or visit.
To find out more about things to do in Buckfastleigh, please click here.
Related
0 Comments