Guest Blog Post - Fay Frost (BMAD)
It started in 2002 with an idea by the founders of Bikers Make A Difference – BMAD, Kelvin and Jayne Halloran. That idea was to have a social gathering of bikers on Paignton Seafront in Devon and to raise valuable money for local charity. BMAD is now, probably, the biggest biker, music and beer festival in the South West of England. We also have regular Bike Nights running from the beginning of June until the end of September on Wednesday evenings from 6pm.
Paignton Bike Night finally saw its birth in 2003 and has gone on to become the longest running largest regular social gathering of bikers in the South West of England. Each year on Paignton Seafront we regularly have a mile of bikes parked side by side.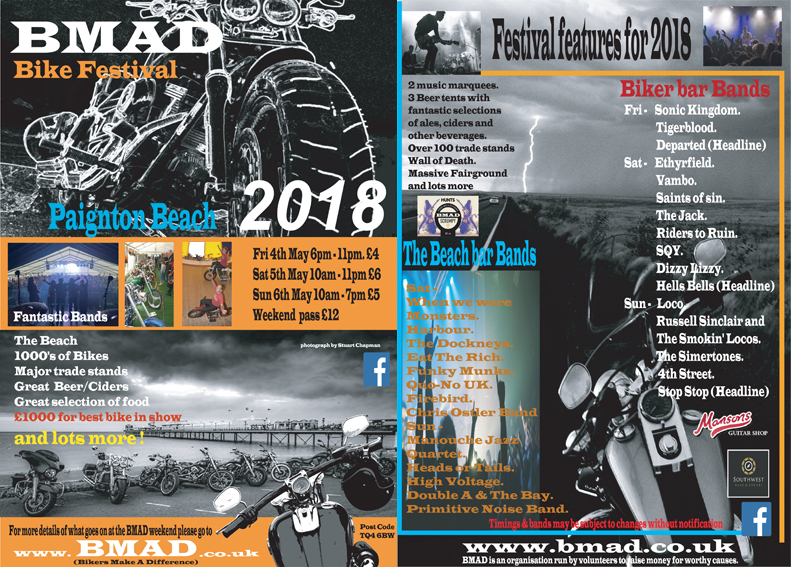 Due to the success of Paignton Bike Nights and the original festival we now organise a Bike, Band & Beer Festival weekend called The BMAD Bike Festival which is held on Paignton Seafront. Our first Festival was in May 2005 and proved to be a total success not just for our charities but also for all concerned including the many sponsors and traders that attended.
We have raised over 400 thousand pounds for charity groups and individuals since being set up. Charities such as St John Ambulance, Devon Air Ambulance, Devon Freewheelers (Blood bikes) and Torbay Young Carers have benefited from our fundraising, along with smaller local groups that support youngsters with autism and individuals who need specific equipment, such as, trikes, specialised seats and also for those children with life limiting diseases and just need to make memories with their families.
We are always looking for more local sponsorship for the annual festival as well as volunteers for the festival and weekly bike nights.
During the winter months, we meet socially and anyone is welcome at The Spinning Wheel Inn each Wednesday from 7pm. We are a friendly bunch of people from all walks of life, but all with a keen interest in bikes of all shapes and sizes.
You can learn more about BMAD on their website here: www.bmad.co.uk
Related
0 Comments