Guest Blog Post - Salcombe Crabfest
Salcombe Crab Festival - or Crabfest - returns on Sunday 6th May featuring a cracking line-up of celebrity chef-led cookery demos, quality food and drink stalls, a classic car show, live music and fun culinary competitions.
The family-friendly festival was first established three years ago in honour of the famously flavoursome brown crab caught off the South Devon coast. Since then it has grown into a much anticipated annual celebration of the local fishing, food and tourism industries.
Entry to Crabfest is free with funds raised by the festival donated to local charities and good causes. This year's principal charity is Hope Cove Life Boat.
Festival events take place in and around Island Street and at various other locations across Salcombe. This year the popular Chefs Demonstration Marquee is located at Creek Car Park and will feature seven mouth-watering events with eight world-class chefs.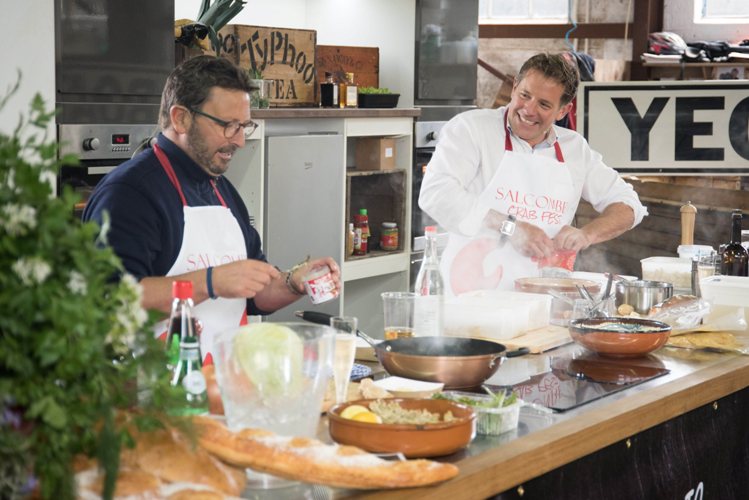 Mitch Tonks & Matt Tebbutt. Photo Credit: © Norsworthy Photography
Celebrity Chef Matt Tebbutt (BBC's Saturday Kitchen, ITV's Save Money: Good Food and Channel 4's Food Unwrapped) will open the festival at 10am and later team up with local food heroes Mitch Tonks (The Seahorse and RockFish) and Jane Baxter (Wild Artichokes) to prepare some of their favourite seafood dishes. Joining them on the bill are Jane Devonshire (MasterChef Champion 2016); Freddy Bird (The Lido, Bristol, and Thames Lido); Allister Bishop (South Sands Hotel); Joseph Robinson (Wild Artichokes) and Andy Richardson (The Oyster Shack).
Festival-goers looking for further culinary inspiration will be able to take home a series of brand new seasonal crab recipes created exclusively for Favis of Salcombe.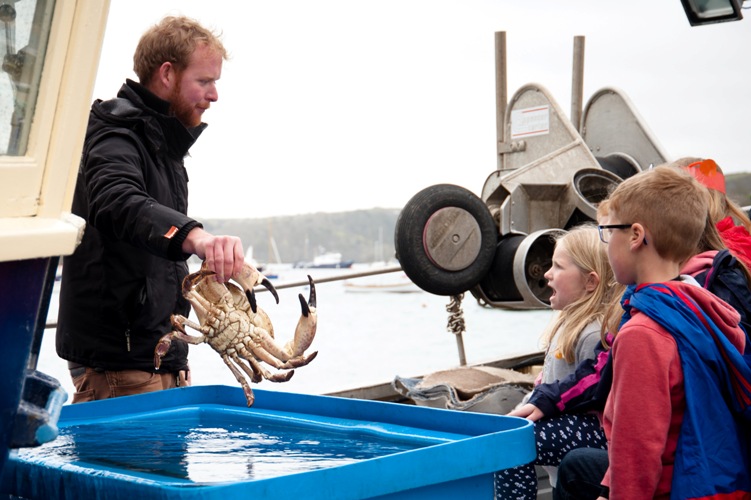 Kids meeting the catch onboard Favis of Salcombe's crabber the Emma Jane. Photo Credit: © Norsworthy Photography
If baking is more your thing, be sure to enter Salcombe Holiday Homes' Great British Bake Off style competition for a chance to win a 3-night holiday in Salcombe or a £50 food hamper. Amateur bakers are invited to create a 'show stopper' cake celebrating Salcombe and the sea. The competition is open to adults and children and will be judged on the day by celebrity chefs Matt Tebbutt and Jane Devonshire. Download an entry form via the Crabfest website.
Families with young children will find a range of fun activities awaiting them at the Coast and Country Cottages stand. And don't forget to enter the 2018 Salcombe Crabfest Competition while you're there!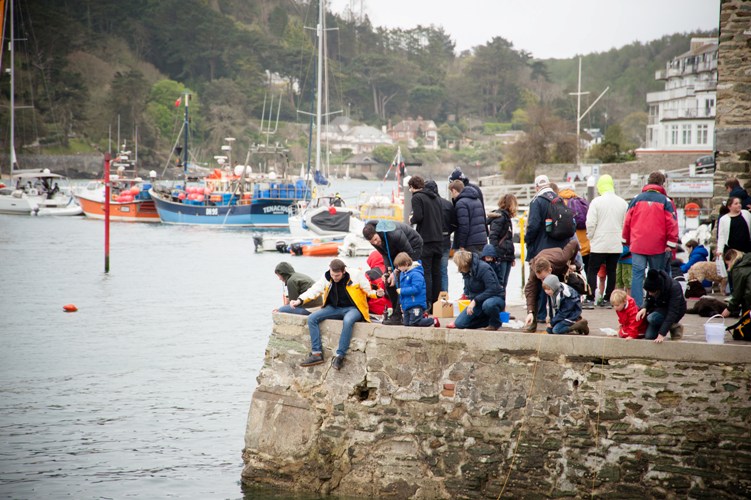 Kids crabbing off Victoria Quay during Salcombe Crab Festival. Photo Credit: © Norsworthy Photography
Festival-goers can take home a unique memento of this year's festival - a special edition Crabfest 2018 Gin, the first in a series of Victuallers Edition Gins by Salcombe Distilling Co. Distilled with locally foraged botanicals to create a gin that is smooth and spicy with a delicate saline finish, Crabfest 2018 Gin will be available from the newly opened Salcombe Gin Victuallers on Island Street with £5 from each bottle sale during the festival donated to the Rotary Club of Salcombe.
Getting to the festival couldn't be easier with a park and ride bus service that will drop festival-goers at the heart of the festival. The Rivermaid will also operate a special ferry service between Kingsbridge and Salcombe throughout the morning with at least two trips in each direction.
Festival-goers might like to join Crabfest mascot Charlie the Crab on board the Rivermaid's 9am departure from Kingsbridge. On arrival in Salcombe, Charlie will be met by celebrity chef Matt Tebbutt and the pair will then head to the Chef's Demonstration Marquee at Creek car park to open the festival together at 10am.
For more information visit salcombecrabfest.co.uk
Related
0 Comments