Guest Blog Post - Si Ford (Organiser of Chagstock)
Chagstock... well it started in Chagford so what else could we call it?
Originally this was a private event for less than a hundred people. A few friends started in 2003 by inviting a load of people down to Devon and holding a micro-festival in the garden.
This was all very home grown and cobbled together with string, gaffer tape and rusty scaffold poles but we managed to create something rather special and overall it was good to see so many people chilling in the big outside, sharing music, dance and space.
We did this three years running and got bigger and better at it. We then took a year out in 2006 in order to start planning the next step.......going public!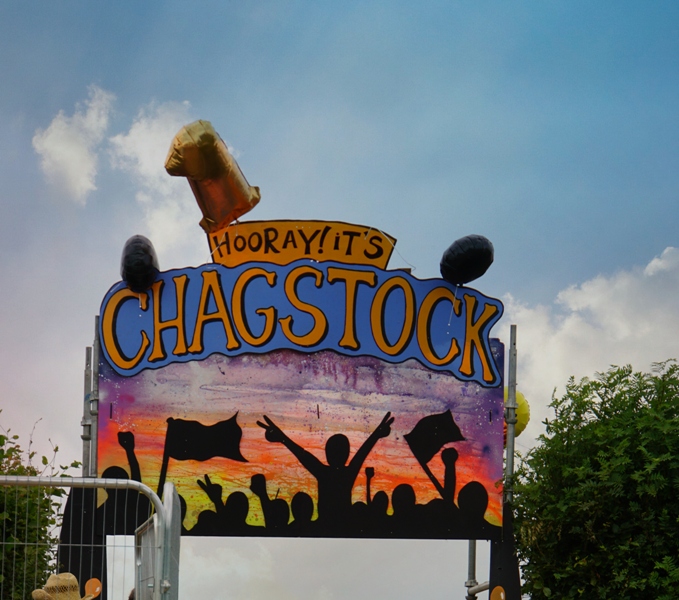 Photo Credit: Dean Holden
A site was found, and after many weeks of meetings, form filling and phone calls, Chagstock '07 took place. The chosen site is at Whiddon Down and covers about 70 acres of farmland with glorious views over the northern edge of Dartmoor. We hoped to transfer some of the feel of the original event to the new site and judging by feedback from those of you who attend we believe this is achieved. The idea has always been to provide space for good energy and entertainment without getting too commercial, and we aim to stay true to this philosophy as the event matures and establishes itself over the coming years.
We support The Devon Air Ambulance Trust and have helped to raise many thousands of pounds over the years for this very worthy cause.
Over the last few years we have learned a lot and made changes and made improvements as and when we are able. The first year was just one day. We then added the second day and moved the outdoor stage to the corner of the main arena where it has stayed ever since. As the number of people attending has grown, we have had to add more fields for camping and parking and have now separate fields for tents and live in vehicles. We have also had to grow and develop, along with the ever-increasing red tape in the form of Health & Safety and Environmental Health issues. We have kept to one bar for the last few years but have dramatically increased the size of it to accommodate the growing crowd.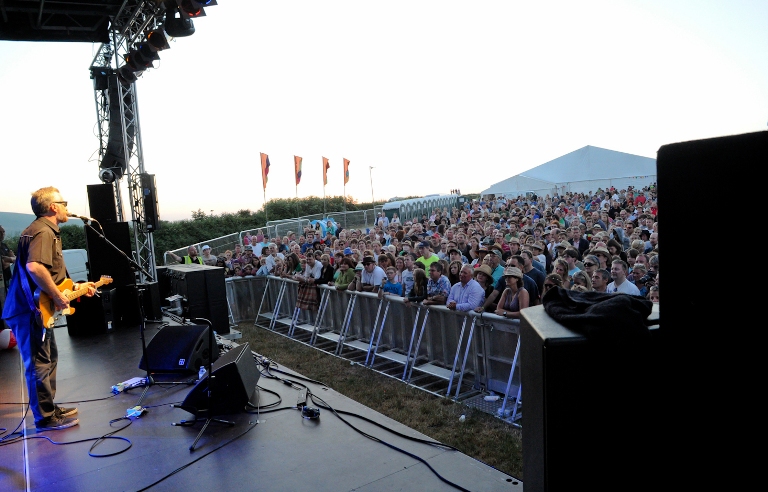 Photo Credit: Anthony Stanley
We are now a sell out 5,000 capacity festival! It has been quite a journey. We've made it past our 10 year anniversary and have become a regular part of many people's summertime tradition. There are even second generation Chagstock-goers attending now, which is lovely to see!
I am really excited about this year's event – if it all goes to plan (!) we are set to deliver what I believe will be the best Chagstock ever!
Taking place on our traditional 3rd weekend in July (Friday 20th and Saturday 21st ) 2018, we will once again be showcasing the very finest music, food and entertainment from the Westcountry and beyond.
Friday night's fantastic line up includes Xylaroo, The Correspondents, King King, Martin Harley, Hunter & The Bear and main stage headliners, Buzzcocks.
Just some of Saturday's amazing musical highlights include The Grahams, Devon's own Show of Hands, The Luka State, The Wood Burning Savages, The Hot Sprockets and to round off the festival, the incredible Imelda May.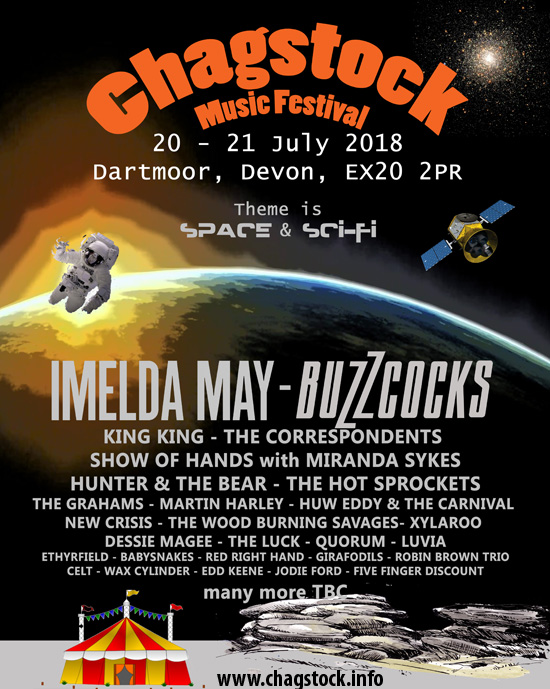 This year's fancy dress theme will be Space & Sci-Fi! Every year we are amazed by the time, effort and creativity that many of our attendees go to! I can't wait to see all the weird and wacky costumes they will come up with - no doubt going boldly go where no one (costume) has gone before...!
We do everything we can to keep our ticket prices are as low as we possibly can, and we pride ourselves that even in 2018 an adult ticket still costs less than £100, and a family ticket is just £275. Both include all live music & entertainment, weekend camping and car parking. All accompanied under 12's are free. We also have day tickets, group and youth discounts available.
Please check out our website for the full line up, all ticket prices and loads more info. You can find us at www.chagstock.info, or at https://www.facebook.com/Chagstock/
My team and I look forward to welcoming you to sunny Chagstock in July. See you at the bar!
Related
0 Comments