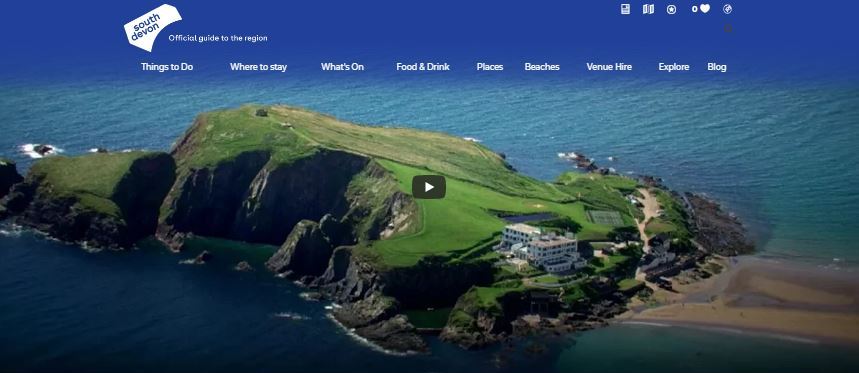 You may have noticed that here at Visit South Devon we have recently launched a brand spanking new website! Our new site has plenty of awesome new features for you to enjoy whilst browsing for your perfect South Devon holiday. We aim to offer all the resources you may need before and during your stay; whether that's helping you find the right area to book your trip, assisting with choosing the ideal hotel or other accommodation and showcasing the very best attractions and things to do once you have arrived.
Perhaps you're staying in a town you're unfamiliar with and are looking for a beach to enjoy your picnic? No worries, we've got you. Or if you are trying to find the perfect restaurant for that romantic date you have this evening, you can easily find one using our new search tool. Whatever you need to know about South Devon, we've got it covered all in one place!
If you haven't already been convinced to visit South Devon by the stunning images and amazing range of cool things to do, our new website includes top quality videos to help you explore the region even further. From 360 VR adventures to an overview of what this stunning part of the country has to offer, you're sure to find our new videos useful and enjoyable.
The main new video, aptly named; 'Visit South Devon' is displayed on our homepage and covers the vast area that South Devon is. From Seaton to Burgh Island, Dartmoor National Park to Bickleigh, the video is simply a snapshot of lots of the wonderful places that South Devon has within its region.
Our 'Visit South Devon' video has also been featured in Travelmag.com's videos of the week in their 'Travel Videos' section! Travelmag.com showcases the best destinations around the world helping to inspire people from each corner of the globe to get packing!
You can watch our 'Visit South Devon' video on our homepage or on YouTube here.
Our second video 'Food & Drink in South Devon' provides a visual representation of how much fresh local produce is right on your doorstep when visiting the region. Including vineyards, farmers markets and freshly caught seafood, you can't go too far wrong when eating out or shopping for food whilst you're in the area.
You can watch our 'Food & Drink in South Devon' video on our 'Food & Drink' page or on YouTube here.
One of our new 360 VR videos is of Haldon Forest near Exeter. The piece takes you through a short journey of the gorgeous landscape as if you're there yourself. 'Journey through Haldon Forest' allows watchers the chance to immerse themselves in the tall wooded trees and peaceful atmosphere, but of course we'd recommend getting down here so you can see for yourself!
You can watch our 360 VR 'Journey through Haldon Forest' video on our 'Cycling' page or on YouTube here.
The second new 360 VR video which is presented on our 'Watersports' page is 'Kayaking/SUP-ing on the River Exe'. This video once again offers the viewer an experience of what it's like to be on the river enjoying some of the popular watersports. Featuring EXE Adventures, the film is taken from the perspective of a person kayaking with a Stand Up Paddle Boarder in front. Watersports are of course extremely popular all over South Devon and such a great way to make the most of your unique surroundings.
You can watch our 360 VR 'Kayaking/SUP-ing on the River Exe' video on our 'Watersports' page or on YouTube here.
So with great new features across the site for you to explore and four exciting new videos to watch, what are you waiting for? Peruse our gorgeous new website and book your trip to South Devon now!
Don't forget to tag us in your photos on Instagram using #southdevon or @visitsouthdevon – we love seeing your pictures and we might just feature your image on our page!
Related
0 Comments