Guest Blog Post - The Contemporary Craft Festival
When is the Contemporary Craft Festival?
June 8-10 (open 10am-5pm every day)
Where is the event taking place?
The Contemporary Craft Festival is held in a beautiful park, Mill Marsh Park in the centre of Bovey Tracey. The Festival presents 200 of the UK's finest contemporary craft makers selling directly to the public. We are currently Gold Festival of the Year and the Winner of Winners at South West Tourism Awards 2018.
How much is it to go?
Day tickets are £9 or £8 if you are an OAP, Student, in receipt of benefit. Accompanied under 18s are Free. Weekend Super Saver 3 day ticket £17/£15
Who organises the event?
The Event is organised by Made by Hand Events Ltd AKA Sarah James, Nina Fox, Kate Martin and Fran Moorhouse and we are based in Bovey Tracey.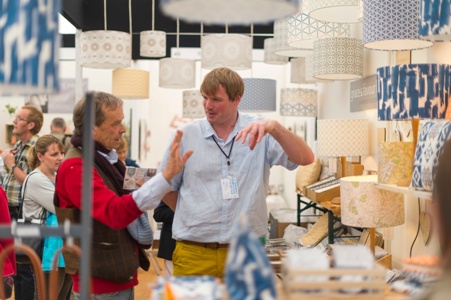 How did it all begin?
The Contemporary Craft Festival came about when three Bovey Tracey craft businesses joined forces and formed a non-profit making company with the aim to bring a large craft Fair to Bovey Tracey. For the first 3 years, the Fair was initially supported European LEADER funding. The aim of the Fair was to showcase the very best in British craft and the create a new, sustainable and strong market place for contemporary craft but also to bring greater prosperity to the town of Bovey Tracey. The town has a long history of making and at one point up to 15 commercial potteries were running in the area.
Is there anything new this year at the Contemporary Craft Festival?
We love to bring new things to the Craft Festival every year. This year we have 2 new areas to introduce to you.
The Den
As The Craft Festival is well into its teens, celebrating 15 years this year, and we wanted to celebrate the many visitors that have grown up with the Festival and dedicate an area just for Teens. From this year, accompanied children Under 18's are free to enter the Festival. The Den will be open on Saturday and Sunday only.
A design brief was given to the Year 12 Graphics students at The Atrium Studio, which is a college situated on the grounds of South Dartmoor Community College in Ashburton. Having collectively agreed on a name, The Den, 4 teams presented their designs to Sarah James, The Craft Festival Director, who chose the winning design. Congratulations to the winning team of Peter Rolls, Cary Gardner and Ned Powell. We loved the paired-down and contemporary design that would appeal to the young adults whilst reflecting the overall brand of the Craft Festival. Great job!
The next thing to plan was the content of The Den. It will be part making space, part relaxing and playing space. On Saturday and Sunday only, drop in Workshops have been developed by Fab Lab Plymouth, Made by Mez and by South Dartmoor Community College.
Personalise your wheels with Fab Lab Plymouth
Fab Lab Plymouth will be running a design and make your own skateboard / bike / scooter stickers activity in The Den. Design your own graphics, download images or choose from an image bank, then cut them out using a CNC controlled Roland Vinyl Cutter. Many colours of vinyl available! FREE DROP IN WORKSHOP
Print your own T-Shirt with The Atrium & South Dartmoor
Year 12 students from The Atrium and South Dartmoor Community College will be on hand enabling you to have a go at screen printing. Print onto T-shirts and paper, creating your own designs using laser cut stencils courtesy of Fab Lab or cut your own paper stencils. DROP IN WORKSHOP, SMALL CHARGE FOR OPTIONAL T-SHIRT
Make your own jewellery with Made by Mez!
In preparation for summertime, swing by Made By Mez Jewellery workshops and create your own brilliantly bright festival piece. With everything from pom pom earrings and bohemian necklaces to festival headbands, drop by to design and take home the perfect unique accessory.
These workshops are free and will be running all day on Saturday & Sunday over the weekend, so there will always be a good time to sit and make wonderful things with a very colourful Mez.
Risk Makers: A Maker Space by madebyhandonline.com
We are delighted that curated craft website, madebyhandonline.com has brought together a group of leading makers to challenge, collaborate, and take and make risks with their work. The first stage of this exciting project is being launched at The Festival with an exhibition and an interactive display space that will also provide materials, tools and guidance for visitors to take part in collaborative play. The exhibition and activities will be presented in a beautiful yurt from Yurts for Life.
Festival visitors are invited to be the first to see the exciting collaborations developing between these exceptional makers.
Come and meet the makers, explore their creative processes and share ideas with them and the madebyhandonline team. You can also watch demonstrations, including one with Dionne Swift who will be sharing her techniques and discussing the importance of drawing as a crucial way to enable risk taking in her textile work.
Visit the madebyhandonline blog to find out more about the development of this project and the makers taking part.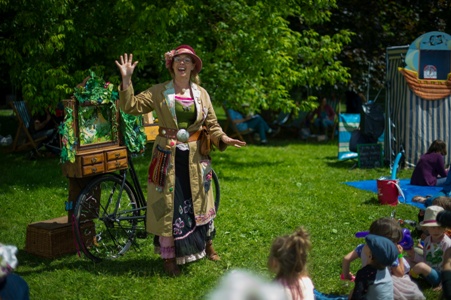 What can people do there? Are there any hands-on activities to get involved in?
There is so much to do! As well as meeting over 200 makers, we have a huge Children's Craft Tent which is aimed at ages 2-14. It's fully booked on Friday June 8th with schools from the area. It's free over the weekend and bursting with drop in craft goodness provided by the Devon Guild, Plymouth College of Art, Devon Weavers Workshops, Leg Brick Ideas, Met Office, Stover School and The Creation Station.
We also have loads of 2 hour craft workshops for adult to book, but don't hang about as over half have sold out. You can choose from stone carving, jewellery making, printmaking, feltmaking and willow weaving. You can book these workshops via our website are just £18 each. CLICK HERE TO BOOK.
We also have a great selection of makers demonstrating their craft from boat builders, blacksmiths, silversmiths to basket weavers, spoon carvers and surfboard makers.
Will there be food and drink stalls?
You can enjoy great music whilst you eat and drink the wide variety of locally sourced food and ales on offer from wood fired pizza, waffles, falafels, pulled pork to salads, crepes, vegan and meat burgers.
Musicians include La Vie En Rose gypsy jazz, Baron Brady folk duo, Cosgrave & Banks contemporary folk, Annika Skoogh & Matt Carter Jazz duo, Harbottle & Jonas, Joshua Wheaton, Louise Parker Jazz Duo, Becky Brine Duo, The Liberty Sisters, Kindred Spirit & Bovey Tracey School Choir.
Jackie Juno is The Wandering Poet - request a poem just for you! Choose what mood or style of poem from the options and enjoy your very own one-off performance!
Jackie is a multiple slam-winning poet, including Glastonbury Festival Slam 2017!
On Saturday & Sunday, children and adults will be entertained by The Puppetree Company, walkabout theatre by Jonty Depp and Story Telling by Isabella's Story Bicycle. The children's area also includes facepainting, play tent and sandpit.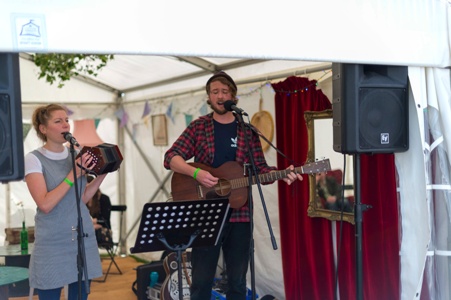 Is there anything else we should know about?
There is so much to do at the Craft Festival!
We love The Pottery Throwdown and it will be returning to the Festival. We are delighted that the stars of The Pottery Throwdown will be joining us again. You can meet them throughout the weekend, buy the ceramics they make and challenge them in our Festival Throwdown. During the Throwdown, daily challenges will be set to test visitors' skills with clay and potters' wheels, which have been generously supplied by Potclays from Stoke on Trent.
Our beautiful Craft Cinema, will be returning to Bovey Tracey presenting a lively programme of vintage and contemporary short films on craft and design.
The cinema is hosted in a magnificent 1967 bus, originally commissioned as a mobile cinema by Tony Benn, then Minister of Technology, to travel the country showing films of the latest technical advances to the factory workers of Britain. Walk the red carpet and enjoy a genuine cinema experience in a gorgeous mobile cinema.
In celebration of our woodlands, skilled wood workers and basket makers we present Out of the Woods with Hilary Burns & Friends.
Hilary Burns, highly acclaimed willow artist and basket maker is one of the UK's leading basket makers and willow expert. She will be joined by basket makers Andrew Kirby, Richard Lewis, Josey Good, spoon carver Felix Kary and sculptor Artisan Willow.
Andrew Kirby will be inviting visitors to pound a fresh, large ash log to separate the growth ring layers. This is commonly done for basketry in the US but is relatively unknown in the UK.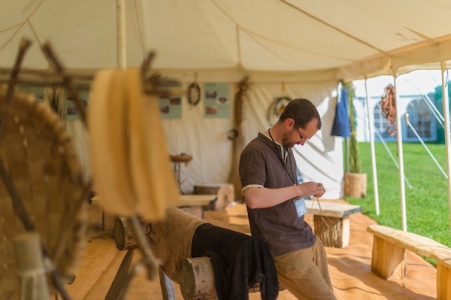 See you in Bovey Tracey!
More information about the Contemporary Craft Festival can be found on their website here.
Related
0 Comments