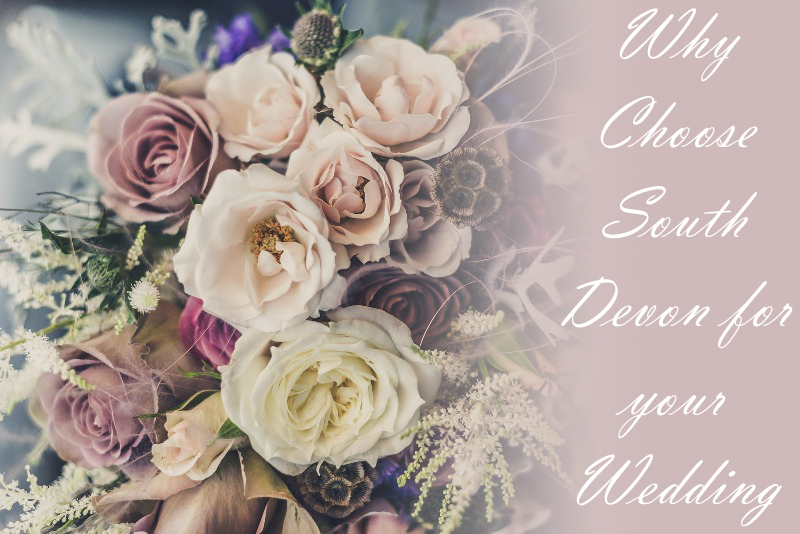 South Devon is part of one of the most picturesque and inspiring counties in England, it has miles of spectacular landscape and dazzling scenery, world class food and accommodation as well as a fascinating history. So if you're looking for a wedding destination away from home, where all your friends and family can enjoy the celebrations with you, then why not see what South Devon has to offer as a wedding destination.
Below we've listed some of the top reasons to pick South Devon for your wedding.
Capture the day with stunning pictures!
What do sea view hotels, countryside retreats, splendid country houses and historical locations all have in common? Well, two very important things when it comes to planning a wedding. Firstly they all provide the perfect backdrop to any marriage ceremony and celebration, giving you wedding photos that will be admired and enjoyed for years. And secondly they can all be found in South Devon.
Stretching along the coast past rugged cliffs and sandy beaches, and inland across rolling hills, farm land and moors, the region's landscape is so varied that you'll have a plethora for settings and backgrounds to choose from for your wedding images.
And if you're visiting South Devon from other parts of the country, whether you pick coast or country, you'll guarantee that none of your friends will have the same wedding day pics as you.
Wow your guests with great food!
South Devon is well known for its food and drink; South Devon crab and fresh seafood, locally brewed beer and cider and rich ice creams and sweet fudge are just a few of our favourites, by including any of these delicious treats in your wedding breakfast menu you can truly give your day a Devon feel. And by choosing a local delicacy you can give your menu that wow factor which will keep your guests reminiscing about your day for years.
Whatever your food tastes, the regions chefs can bring it to life using the best of Devon's produce on your special day. From cosy village pubs, fine dining with a view or a Michelin Star restaurant, if you want to serve your guests a 5 course banquet or traditional afternoon tea; you can in one of our fabulous wedding venues.
Getting here is easy!
The rural landscape and picturesque beaches can give a great sense of isolation, but Devon is much more accessible than you might think and travelling to the region for your wedding can be easy.
South Devon has a number of main line rail stations and local services connecting to coastal and countryside towns from all parts of the UK. Catching the train from London or Birmingham to Exeter can take under 2 ½ hours, meaning your guests can join you for your big day in no time at all.
If you would rather fly, many flights from across the UK operate into Exeter Airport from cities including; London, Manchester, Newcastle, Edinburgh, Glasgow, Belfast and Norwich.
The M5 and A30 both give direct road access in to Devon and connect on to the A38, which runs the entire length of the county, providing marvellous road access to all parts. If your chosen wedding venue is more rural, then there might be a few country lanes to travel down, but don't worry country lane driving isn't as tricky as you might think and you are often rewarded by stunning vistas and wildlife. We're sure you'll agree that the views and wedding pictures that can be captured are worth the winding last leg of your journey. If you're not used to driving in country lanes, check out our guest blog post on South Devon lanes here for 5 top tips.
Find out more about getting to South Devon here or for more information on travelling to and around the region without your car read our Car Free Travel in South Devon blog post here.
What a choice of venues and accommodation!
South Devon has a fantastic mix of cities, towns and villages all with either coastal and countryside backdrops, which means the choice of wedding venues available for your big day or overnight accommodation for your guests to enjoy is just as varied.
If you're looking for a venue where you can celebrate your marriage, party the night way and have all your guests staying overnight, then South Devon has a massive range of wedding venues which also offer over night accommodation. From hotels to self catering complexes and holiday parks, the choice of wedding venues and places to rest once you're partied out can be found here.
But if you would rather keep the partying separate, and have your celebrations in a venue without rooms, then South Devon can provide that too. Racecourses, animal attractions and a Grade I listed manor house are all available for the happy couple to celebrate their love, just take a look at the non-residential options here.
Create great memories!
Weddings create the best memories, not only for the happy couple, but for all the invited guests. Everyone's having a great time and celebrating the couples love, partying the night away and laughing at the speeches. But a destination wedding, with everyone staying in the same place for a number of days, means you can enjoy the good times a little longer.
A destination wedding, with all your friends and family all around you, can be a truly amazing time. Without the distractions of everyday life and with everyone feeling like they're on a mini holiday you all get to relax, enjoy each other's undivided attention and experience the magic of the wedding day together.
With no need for passports, money to exchange or lengthy flights, but with great British food and the stunning Devonshire landscape, a destination wedding in South Devon could be the answer you're looking for.
The ideal escape for a Stag or Hen Party
Even if you're not looking to have a destination wedding or are looking to enjoy this great county before your big day, everything that makes South Devon perfect for weddings also makes it the ideal place to spend your hen do or stag party.
By enjoying your stag do or hen party in South Devon your closest friends and family get to see what's so amazing about the region and will know instantly why you picked it for your special day.
From spas to afternoon cream teas, adventure sports and outdoor pursuits whatever kind of stag or hen party you're planning, South Devon is the ideal destination.
Browse all our wedding venues in South Devon here. And don't forget to follow us on Twitter here to keep up-to-date with all the latest South Devon news.
Other Posts You Might Like
Related
0 Comments