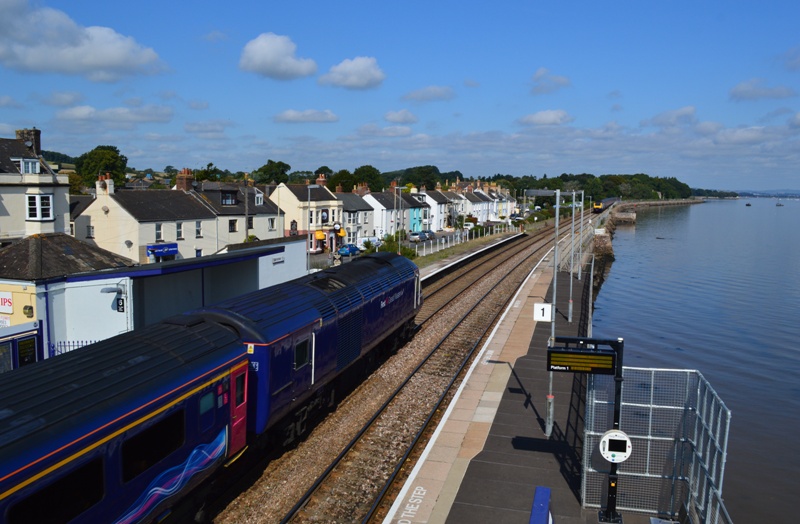 Whether you're looking to leave the car at home, want to find a relaxing way to start your holiday, are after a greener way to travel or just don't drive, there are lots of ways to get to South Devon, or enjoy a car free trip around the region, without the hassle of driving.
You can catch a coach or bus and sit back whist someone else does the driving or hop on a train and enjoy wonderful coastal and countryside views. You could start your holiday by taking to skies and visiting us via Exeter Airport or catch one of the many day cruises available, taking you from coastal towns on sightseeing trips along the coast.
Why leave the car at home
South Devon is easily accessible by public transport. So whether you're travelling to the region by train or plane, or are catching the bus from your holiday accommodation for a great day out there are many reasons why public transport is great.
Here are our top five reasons to leave the car at home
Enjoy the scenery; Travelling by bus, ferry or train lets you sit back and enjoy the wonderful South Devon countryside and coastline passing by. There's no need to concentrate on the road ahead or stare at the car in front, public transport lets you sit back whilst someone else takes you to your destination.
Travel in comfort; train, boat and plane travel give you the opportunity to move at will, there's no need to wait for the next service station for a toilet stop or to grab a bite to eat and stopping to stretch your legs won't add extra time to your journey.
Avoid the country lanes; by leaving the car at home and hopping on a bus or the train, there's no need to worry about driving in Devon's country lanes or trying to follow the sat nav. And once you reach your destination you can just start your adventure, there's no need to be concerned about where you're going to park.
Eco-friendly; other then walking and cycling, rail travel is considered the most environmentally-friendly way to travel, by choosing to travel by rail over car or aeroplane you'll be enjoying a greener trip and cutting your holiday emissions.
Enjoy time with loved ones; whether you're travelling in a large group which would be split across several cars or it's a couples getaway where one would have to drive, a ferry ride, plane journey or coach trip lets you start your holiday a little earlier and appreciate quality time with your loved ones.
One for luck!
Save time; travelling by plane or train can sometimes be a quicker mode of transport than driving, allowing you to get to your destination and start your holiday sooner.
Where to Stop
South Devon is well connected with a large number of train stations littered across the region.
There are several main stations throughout South Devon in towns like Tiverton, Honiton, Exeter, Newton Abbot, Totnes and Plymouth which provide connections and links, via local services, to branch line stations in towns such as Exmouth, Teignmouth, Dawlish, Dawlish Warren, Torquay, Paignton, Ivybridge, Crediton and more.
With services coming in to the county from London, Bristol, Birmingham, Cardiff, Sheffield, Newcastle, Edinburgh and Glasgow, train travel makes visiting South Devon easily accessible to all.
Catching the train throughout South Devon means journeying through some of the most picturesque English landscapes, passing by rolling hills, stunning estuaries and along tracks with wide open sea views and the waves just meters from the line.
For more information on train travel in South Devon click here.
Devon's airport is located on the outskirts of Exeter, and has great transport connections with the rest of the region.
Exeter Airport is a short taxi or bus ride away from a number of railway stations, where trains can be caught to South Devon's coastal and countryside towns, or you can catch a connecting bus from Exeter bus station.
You can fly in to Exeter Airport from many UK cities including; London, Manchester, Newcastle, Edinburgh, Glasgow, Belfast and Norwich as well as Jersey, St Mary on the Isles of Scilly, Guernsey and many international destinations.
To find out more about reaching South Devon by air and other ways to get to here click here.
For the most flexibility on where you start or finish your journey, coach and bus travel is the answer.
With stops in all the key towns, catching a coach to South Devon allows you to be picked up and dropped off closer to your home and holiday accommodation than any other public transport method. And with an extensive range of routes and operators running services across the region catching a bus for a day trip is the ideal hassle free transport option.
One of the main bus operators in South Devon is Stagecoach, for more information on their services please click here.
Crossing the many rivers and estuaries of South Devon as well as offering coastal excursions are numerous ferries and boat trips.
Most of the counties ferries are foot passenger only, like the ones crossing the rivers mouths from Exmouth to Starcross, Salcombe to East Portlemouth and Teignmouth to Shaldon, this ferry is believed to be the oldest passenger ferries in Britain. Car ferries and passenger ferries operate between Dartmouth and Kingswear providing a choice of routes across the estuary. If you're coming in to the region by foot between Cornwall and Plymouth, the Torpoint Ferry takes pedestrians and cyclists.
As well as the commuter ferries, there is a wide range of day trips and boat tours operating out of almost every coastal town in South Devon. You can enjoy a trip exploring the Jurassic Coast from Exmouth, travel from Totnes to Dartmouth down the beautiful River Dart or experience the sights of Plymouth from the sea.
If you're looking to visit Devon from overseas, ferries from France and Spain dock at Plymouth. Plymouth as well as Dartmouth, Torbay and other coastal towns often host cruise ships during the summer months, where passengers can enjoy excursions to a number of the area's towns and villages.
To find out more about ferry travel or other ways to travel around South Devon, click here.
Coming to South Devon is made easy with all of these travel options, and leaving the car behind is a great way to travel more sustainably and reduces the stress.
Keep up to date with all things South Devon by liking us on Facebook here, and make sure to follow us on Twitter here so you can find out what's going on in the region during your stay.
Related
0 Comments