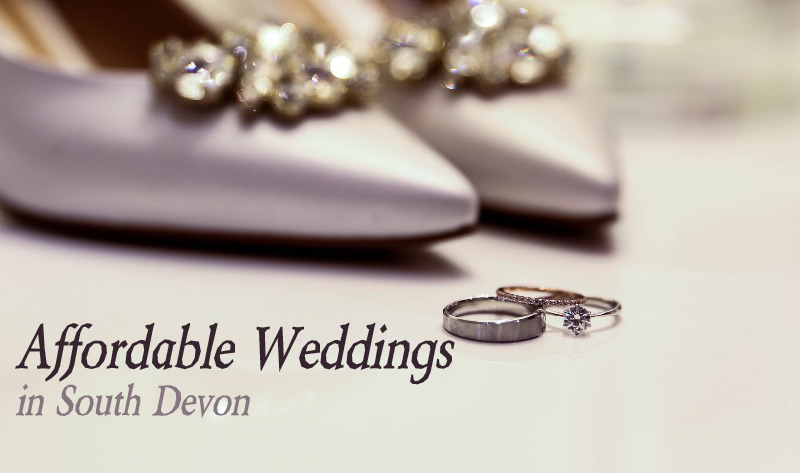 With the average UK wedding costing more and more each year, planning your big day can put a real strain on the bank balance. Your wedding is such a special day that we know you want everything to be just right, but that doesn't mean you have to pay over the odds for it.
To help you have a day to remember, but without blowing the budget, we've put together a few tips and handy ideas to help keep the cost down and let you have a magical but affordable wedding in South Devon.
Book a Package
Many wedding venues offer packages that come with set menu choices, have chair covers, arrival drinks and flowers or sometimes entertainment included, these are often based on a set number of people attending and can offer a real cost saving over sorting the individual elements yourself. Not only do you have a price upfront and know what you're budgeting for, but opting for a package can take a lot of the stress out of all those wedding related decisions.
Here are some of the wedding venues in South Devon who offer wedding packages which will help keep you under the average wedding cost.
Nestled on the edge of Dartmoor, Dartmoor Lodge's wedding packages start from £3,995 for 55 wedding breakfast guests and up to 80 in the evening. http://www.dartmoorlodge.co.uk/weddings.php
Set in 19 acres of woodlands with views of the South Devon coast a wedding package at the Langstone Cliff Hotel starts from £42.50 per person. https://www.langstone-hotel.co.uk/weddings/wedding-packages/
On the eastern edge of Dartmoor National Park the Moorland Garden Hotel offers a wide range of packages starting from £41.50 per person. https://moorlandgardenhotel.co.uk/be-moor-devon-wedding-package
With 8 stylish venues to choose from on the English Riviera, wedding packages at TLH Leisure Resort start from £2,600. https://www.tlh.co.uk/weddings-and-functions/weddings/menus-and-packages#tlh-wedding-package
Many wedding venues have special offers on weddings which are out of the main wedding season, mid week or last minute, so it's always worth checking, click here to see more wedding venues in South Devon.
Seasonal & Local
We're sure you've heard us say it before, but it's one of Devon's real selling points, so we can't talk about affordable weddings without talking about local and seasonal produce.
Creating your wedding menu around seasonal fruit, veg and meat not only gives you some of the best flavours, but it can also be cheaper. Seasonal food is anything that is grown, picked or produced at the time of year when it would normally grown, think spring lamb, strawberries and cream in the summer and roasted root vegetables in the autumn. Seasonal food is also normally local which means your food hasn't been flown thousands of miles but picked right here in the UK, often days or hours before it's needed. As you're cutting down on travel and seasonal food is normally in plentiful supply, it can sometimes lead to cost saving and with it be fresher and tastier, we think this is a win win.
Think Intimate
Big weddings are great fun and we know the invite list can sometime be a touchy subject and has been known to lead to a few heated discussions, but smaller intimate weddings can be just as enjoyable. If you have a long list of people you would like to share your big day with, don't forget the 'evening do' is the perfect opportunity to invite those extra guests, whilst keeping the day guests and related costs down.
Do It Yourself
Get your girl friends round for drinks and a chat or get the boys to pitch in and get the glue gun and scissors out, making elements of your wedding day to do list can be both fun and rewarding. We're not talking making your own wedding dress or hosting the reception in your back garden, although both would be great ways to have an affordable and personal wedding if you have the skills and space. But all the little things add up, have a look at creating the invitations yourself, have a night in with a film and make the favours, even doing the wedding flowers or yours and the bridesmaids own hair and makeup can help to shave some pounds off the final wedding bill.
Think Outside the Box
If you're looking for an affordable wedding setting to host your reception, have a think about alternative venues. The bigger hotels and specialist wedding venues can often be your first thought when researching where to get married, but they can often be the more experience choice too.
If you don't have your heart set on a particular venue and are looking to make your wedding day stand out from the crowd, have a think about a smaller or unusual venue. Do you have a favourite pub you and your partner like to visit or is there a restaurant where you had a special date. Do you support a football or rugby team or is there an attraction which relates to a hobby or passion you have? Do you have fond memories of a village hall or can you turn your garden into your dream reception space? As well as making sure your wedding is completely different and unique from all your friends, alternative reception venues can often be cheaper.
Many of these settings don't have over night accommodation or won't be licensed for the ceremony so it would involve travelling between the registry office or church, or holding that part of the wedding on a separate day. This could add an extra expense, but we think you'll find it really does open up the choices and option, as well as possible cost savings, to make your day truly personal.
One great alternative wedding venue is Old Forde House, in Newton Abbot, the listed building has a choice of ceremony spaces and is a wonderful setting for photos after you say 'I Do' and before you move on to your reception venue. Explore getting married at Old Forde House here.
Please note: prices and information is correct to the best of our knowledge at time of publication.
Keep up to date with all things South Devon by giving us a like on Facebook here! We'll let you know about our amazing competitions, latest articles and of course what's going on in the region all year round.
Other Posts You Might Like
Related
0 Comments