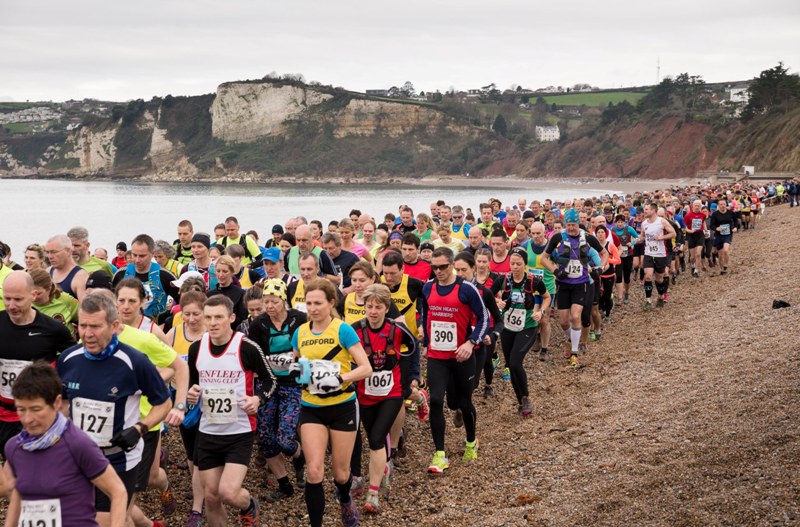 Guest Blog Post - Seaton Town Council
Sitting at the heart of the Jurassic Coast World Heritage Site, Seaton is a beautiful seaside town that is the perfect destination for you and your family this Spring.
Amongst the stunning coastal scenery, abundance of wildlife, countryside views and quaint independent shops and eateries, once a year Seaton makes way for complete madness!
On the weekend of Saturday 9th March, Seaton will be kick starting its Spring celebrations with the return of its epic Grizzly race.
Now in its 32nd year, the Grizzly is a running race like no other. With more than 3,000 feet of ascent in its 20 miles, runners will have to face two energy-sapping bogs, two gruelling beach sprints, the infamous "Stairway to Heaven", not to mention the steep, slippery descents. The Grizzly is not for the faint hearted, yet each year hundreds of runners return for the experience. This year it is happening on Sunday 10th March.
Unfortunately, the Grizzly ballot has now closed. However, if you are itching to be involved, grab your running gear and head to Seaton on Saturday 9th March and take part in Grizfest! There are races organised for all ages throughout the day, click here for more details: http://www.axevalleyrunners.org.uk/grizzly/race_info
If you aren't taking part, there's no need to miss out because you can head to Seaton for the ultimate weekend of spectating!
The best points to spectate the Grizzly in Seaton are the start and finish line at the Esplanade or on top of the town's Roman Station, Moridunum.
In between cheering on the competitors and watching the heroes cross the finish line, the Seaton Artisan Market will also be returning to Windsor Gardens with a Grizfest special on the Saturday. Pop along to the market and you will find the best arts, crafts, upcycled and unique products from Devon, Dorset and Somerset.
You can then refuel at one of the many Seaton independent eateries that will be open across the weekend. From a hearty Sunday roast at The Old Picture House, an Italian inspired lunch at Le Pisani, or the finest battered fish from Frydays Fish and Chip Restaurant. Be sure to also pay a visit to Seaton's newly opened Passiflora Wellbeing, a plant-based eatery. The team will be serving their daily buddha bowl as a "Grizzly Bowl" special – filled with all of the nutrients you could possibly need to run (or watch) a gruelling race!
To keep up to date with Spring in Seaton visit our website here: https://www.seatondevon.org/ or follow our social media channels below:
Facebook: @VisitSeatonUK
Twitter: @VisitSeatonUK
Instagram: @visitseaton
Related
0 Comments