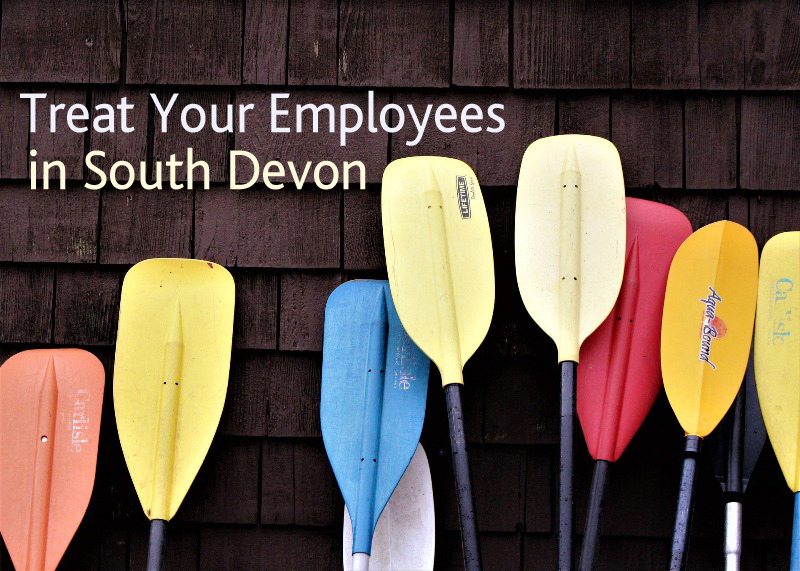 Whether you're local to the area and looking for a great place to treat the team for a day out, or you're planning an overnight trip somewhere new, South Devon is an incredible place to head to give your employees an enjoyable time.
Keep reading below for some great ideas on how you can reward your employees from incredible events and entertaining days out to award winning food.
Rewarding Activities
There's a spectacular array of activities on offer across the region which will give your team an action packed and exciting day out.
If you would like to plan a sporting activity to treat your employees, South Devon has everything from championship golf courses to pitch and putt, so your team can test their golf swing and putting skills on the green. But if you're looking for something more adventurous you'll find climbing walls, canoeing and kayaking as well as sailing on offer across Devon and along the coast. Or to thank those high achieving teams and members of staff, you could take to the skies in a hot air balloon ride and enjoy stunning views over the Devonshire countryside.
Not all South Devon activities are sports based, with some of the country's best food and drink on offer it means that there are a range of activities with a gastronomic twist available for you to enjoy. From vineyards and wine tours to breweries, you and your employees can explore how these culinary delights are made as a special thank you and well done.
Spread throughout the county you'll find an array of historical sites and cultural attractions. These are perfect for a more relaxed and often educational trip or would make an excellent addition to a bigger day out.
Entertaining Events
As well as activity providers and attractions, the county plays host to a fantastic assortment of events. From craft making workshops, musicals, shows and comedy nights, to horse races, rugby matches, one off events and regular features, all provide a great setting for a team day out or staff party.
Whether its spring, summer, autumn or winter there are seasonal and themed events to commemorate the ever changing seasons. From Christmas shows and markets to Easter celebrations and autumn food festivals, with such an amazing array of events and activities to choose from we're sure you'll find one to suit your occasion and budget.
Amazing Overnight Stays
If you're looking to visit the region, are planning a jam packed day and evening or want to reward your employees over 2 or 3 days, then you'll probably be looking for somewhere for you all to stay. Here in South Devon you won't be disappointed in the range and choice of accommodation available.
With boutique coastal hotels and large countryside estates to choose from, with on site activities or close to cities, towns or stunning landscapes, South Devon's hotels offer you everything you could want for an away day, staff party or team outing.
World Class Food
We've already mentioned food and drink in with our great activities, but there's so much to choose from and so many places to enjoy it that we needed to talk about it separately. As well as attractions where you can watch and enjoy fresh produce being made you can sit back, relax and enjoy dinning on the best South Devon has to offer.
From rustic cafés serving up homemade cakes to traditional pubs with history dating back hundreds of years and Michelin Star restaurants with elegant and innovative dishes, whatever your staff's culinary desires, you'll find it in a pub, café, bar or restaurant in South Devon.
With our spectacular coastline fresh seafood is in abundance and is served in all the best places. The county's outstanding chefs combine this local produce with the finest vegetables often grown just miles from the kitchen. You and your employees can then follow your savoury course with tantalising local ice creams, fudges or fresh berries all served with wine, beer or juices grown and manufactured in the region.
To find out more about team building in South Devon, please click here.
Don't forget to like our Facebook page here and follow us on Twitter here where we'll keep you updated with all the upcoming events, news, our latest blog posts, competitions and more.
Other Posts You Might Like
Related
0 Comments