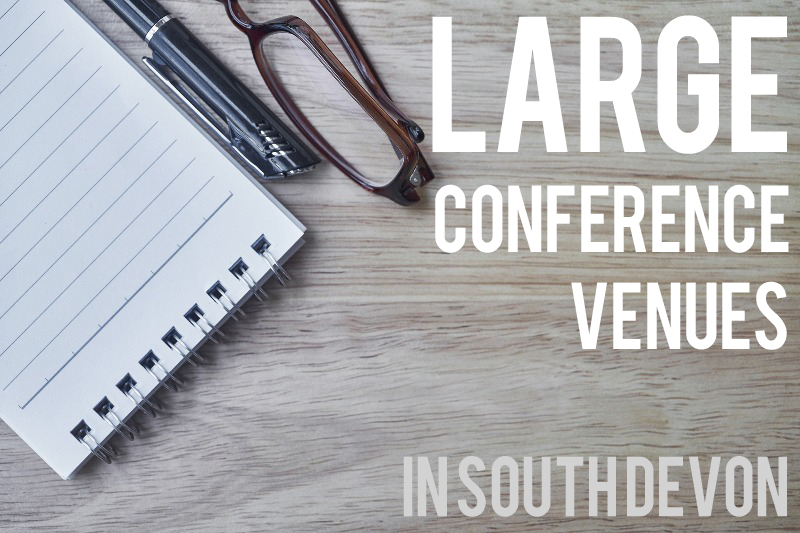 South Devon is home to lots of fantastic venues to host your business event, so it's really not hard to find a large conference venue in Devon. Whether you'd like a country hotel with views of rolling Devon countryside or a sports venue home to a top team, finding your perfect large conference venue in Devon couldn't be easier.
Picking the right venue for your conference or business meeting is key, not only does it set the feel and tone of your meeting; formal or relaxed, affect the style of event you plan to host; workshop, exhibitions or seminar, or influence the types of food you serve; seafood which was caught on the door step or fresh veg from farms within walking distance, but it can affect the numbers that you can invite.
So when you're planning your conference this is often one of the essential starting points. Once you've worked out the numbers you would like to invite or registrations you would like to receive, you can start searching for a large conference venue in South Devon which is suitable and can fit everyone in.
This is why large conference venues are great, they often have a range of room options which provide the flexibility to host some of the biggest events. Not only do they have room types suitable for all formats of meetings; from large exhibitions to workshops with break out rooms, but they also offer the scale so the success of your event isn't limited by numbers.
To help you plan your next large conference in South Devon we've listed below some of the regions bigger venues, which can host 100 delegates or over.
Non-Residential
On the edge of Newton Abbot, Newton Abbot Racecourse can cater for up to 200 attendees in a range of layouts and meeting rooms with stunning views of the racecourse.
For the ultimate in large venues, just a stone's throw from the centre of Exeter, the University of Exeter can host up to 1,400 delegates in The Great Hall or over 400 in their state of the art auditorium.
The region's largest exhibition and conference space, Westpoint is located a short distance from Exeter, it offers you 4,590m2 of column free arena space for exhibitions of up to 7,500 standing. Westpoint also offers flexible ground floor conference rooms for up to 300.
Exeter Racecourse is situated a short drive from Exeter and can accommodate up to 300 guests theatre style in the Denman room or over 100 delegates in 4 of their other conference rooms.
Deer Park Country House is a dedicated wedding and events venue in the heart of the East Devon countryside. The house is set in 80 acres of magnificent grounds and The Orangery can welcome up to 220 guests seated theatre style.
With a choice of four conference suites which can host over 100 delegates, Sandy Park in Exeter is a versatile space for any meeting or conference. The Exeter Suite, the largest of their rooms can accommodate up to 825.
With Overnight Accommodation
City Gate Hotel in the heart of Exeter has The Cellar Bar which is a great space for an unconventional meeting and can host up to 120 standing. They also have The Secret Garden which can host up to 120 seated.
The Langstone Cliff Hotel, with views of the coastline just off Dawlish Warren, has a range of flexible meeting rooms which can be arranged to meet your event needs. Their largest room, the Washington Suite can sit 400 in theatre style and The Lincoln Suite can hold 250 for a reception.
On the edge of Dartmoor National Park, Holne Park House offers a tranquil setting for meetings of up to 150 surrounded by 90 acres of grounds and gardens.
Situated on the banks of the River Teign, a short drive from Newton Abbot, the Passage House Hotel can accommodate up to 200 delegates in the Templar Suite with a theatre layout or 120 in classroom style.
In the heart of Dartmoor National Park, The Two Bridges Hotel lets you host your business meeting for up to 180 people in elegant surroundings.
Also in the heart of Dartmoor National Park, close to Moretonhampstead, you'll find Bovey Castle. This hotel can host meetings of up to 100 theatre style in the Dartmoor Suite and also offers an 18 hole championship golf course and relaxing spa.
The Dartmoor Lodge Hotel in Ashburton provides two flexible conference and meeting rooms for up 100 delegates with easy transports links via the A38.
Surrounded by 550 acres of countryside and an exceptional golf course, Woodbury Park Hotel & Golf Club offers six function suites, with the largest catering for up to 250 delegates in theatre style and 180 banqueting.
The Atrium with its glass roof and lots of natural sunlight, the largest of the Hartnoll Hotel function rooms, can hold up 100 guests. The hotel is close to Tiverton offering great transport links.
If you're looking to host your event in the English Riviera, THL Leisure Resorts have a wide selection of rooms across their sites. You can choose from The Chatsworth Suite and Arlington Room at the TLH Toorak Hotel, Richmond Lounge and the Warwick Lounge at the TLH Victoria Hotel, or the Riviera Lounge at the TLH Carlton Hotel which can hold between 100 and 250.
In the beautiful coastal town of Sidmouth with panoramic sea views is the Sidmouth Harbour Hotel. Their Connaught Suite can hold 100 in theatre style and 120 for a reception.
If you're looking to visit the north of the county then the Highbullen Hotel Golf & Country Club in Umberleigh could be your answer. The Palazzo, their largest room which features classical Italian architecture, can welcome up to 400 guests.
Another option to the north of Devon is the Arundell Arms, with three meeting rooms on offer they can host conferences of up to 100 guests, as well as providing a range of country pursuits for your delegates to enjoy in their downtime.
On the edge of the city of Exeter, the Exeter Court Hotel is conveniently located with great road links. They can host conferences of 130 theatre style or 100 cabaret.
A short drive from Plymouth and on the edge of Dartmoor, the Crystal Room at the Moorland Garden Hotel can accommodate up to 170 delegates in theatre style or 200 for a reception.
Another hotel a short distance from Plymouth is Boringdon Hall Hotel, this Elizabethan manor house can sit up to 140 in the grand Elizabethan Suite or host 100 for cocktails.
Something a bit different
Crealy Theme Park & Resort has everything you need for your next corporate event. Their onsite Clubhouse can cater for up to 250 people and your delegates can also enjoy access to the theme park.
With breathtaking views of the Exe Estuary, Powderham Castle is a majestic setting for any conference. The stately home is set amidst a beautiful Deer Park and gardens and can host up to 140 in the Music Room.
The Kitchen at The Donkey Sanctuary, in Sidmouth, offers stunning views of the sanctuary and rolling Devon hills. It's a great choice for a conference, training or seminar of up to 100 delegates.
To view all conference venues on offer in South Devon, please click here.
Other Posts You Might Like
Related
0 Comments