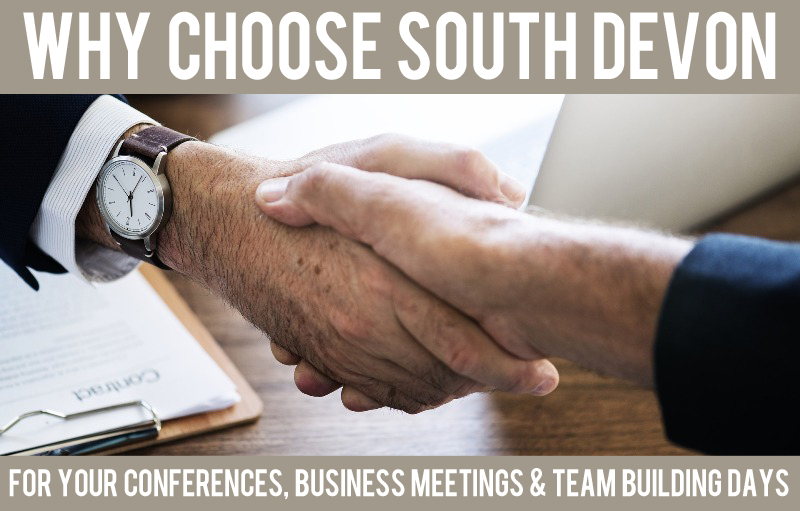 We're sure you'll agree that if we cater to thousands of visitors a year for their holidays, South Devon's got to be a pretty special place. So if it's good enough for a holiday it's got to be good enough for business right?
We think people should enjoy this stunning region regardless of whether they're here for business or pleasure, that's why we've put together a handful of reasons why you should be putting South Devon at the top of your list when it comes to arranging work events.
We've got venues of all sizes
Across the region, South Devon has venues suitable for conferences, team building and meetings. Whether you need a large venue to cater for big conferences or networking events, or somewhere a little special for an important business meeting, we have the right venue for you. From racecourses to rugby stadiums, animal attractions to plush hotels, whatever the style you're looking for, South Devon can provide it.
For team building activities there is a variety available, whether you're looking for a weekend stay or just a day trip. We have active days out such as high ropes courses and even a waterpark, or for residential stays, relaxing retreats with plenty to do on site and within the area.
Enjoy business with a view
The South West and Devon in general are known for their amazing scenery; think endless rolling hills and jaw-dropping coastline, and this can be enjoyed whilst you mull over that proposal with a big client or pull together influential players for a big networking event – choosing the right setting for your business meeting is just as important as who's coming.
You could use a sporting venue for a conference that looks out onto a stadium or racetrack and on to the surrounding countryside or a waterfront hotel to wow your guests as they arrive, South Devon can cater for all.
There's plenty of accommodation
If you're holding a conference or hosting a team building activity in South Devon, you won't be short of accommodation options for your colleagues and guests.
For larger groups we have plenty of hotels, many of which you can have your conference too, making it super easy for those coming to your event. Most venues have nearby accommodation as well if staying on site isn't an option. Being a popular tourist destination, South Devon has a wide range of places to stay dotted across the area, so wherever you choose to hold your meeting, there'll be something close by.
Getting here is easy
Getting to South Devon from across the UK is easy too; we're easily reachable by rail, air and road, meaning there's really no excuse!
Hopping on a train from any major city in the UK down to us is simple and we have a number of main rail lines which then fan out to local stations in many of the towns. Reaching South Devon by air is also convenient with Exeter Airport in the heart of the region and lots of flights available from various airports up and down the country including London, Manchester and Edinburgh.
By road the region is well connected with the M5 and A30 bringing you straight to Devon and on to the A38 which spans the length of the county. Find out more about getting to South Devon here.
There's lots to do in your down time
We know you're coming to the region for business or work but that doesn't mean you can't have a little fun too!
With three AONBs, a national park, numerous nature reserves, plenty of attractions and staggering coastline, there's so much to do in your spare time. You could walk part of the South West Coast Path, try your hand at a new watersport or check out the historical architecture in one of the cities or towns, the possibilities are endless!
Hopefully we've managed to convince you that we have plenty of reasons to hold conferences in South Devon, catch up with some clients or treat your staff to a team building day. To find out more about venues that are on offer, please click here. And keep up-to-date with all that's going on in the region by signing up to our e-newsletter here.
Other Posts You Might Like
Related
0 Comments