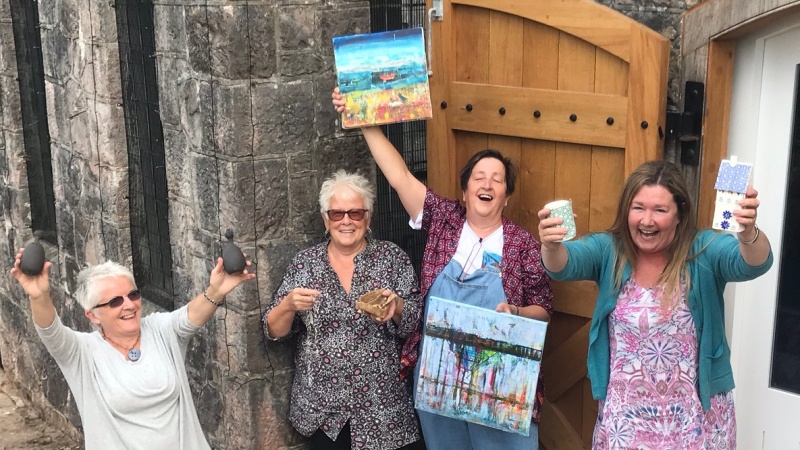 Guest Blog Post - Alison Miles
Shaldon's Homeyards Castle hosts its first group show for Devon Open Studios 2019!
As 200 artists and artisans across Devon prepare to open their studios to the public this September, four South Devon artists have teamed up for a Devon Open Studios event with a difference. They'll be holding a joint exhibition in the historic surroundings of Homeyards Castle in the stunning setting of Shaldon Botanical Gardens.
Instead of going it alone this year, Alison Miles, Cyan Saens, Val Wilkie and Tina Hill-Art will be joining forces to show and sell their creations to visitors. Devon Open Studios runs from Saturday 7th to Sunday 22nd September and 'Artists at Homeyards Castle' will open 11 am - 5 pm, Thursdays to Mondays, during the event.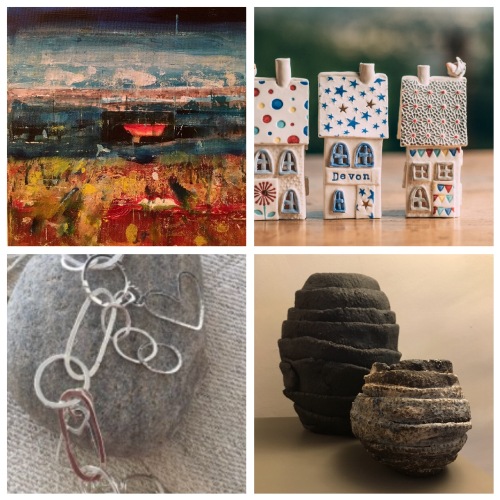 The four artisan makers will be running short workshops at the weekend and teas will be served. All donations will go to The Friends of Shaldon Botanical Gardens. Each artist is also donating a piece to be raffled for the Friends.
The artists each have very different specialisms and styles, although they all take inspiration from the sea and the natural environment of South Devon.
Alison Miles is an established ceramicist, who works in porcelain. She is known for her delicate, hand-painted tea light houses, inspired by the pretty and characterful homes near her studio in Shaldon. She has recently launched a new range of scented Candle Vases, which have a beautiful translucent quality when lit. Once the candle has burnt down, the porcelain vessels in shades of blue, green and grey becomes timeless vases to cherish forever.
Cyan Saens produces mixed media paintings. Based in Buckfastleigh, following a move from London, she takes inspiration from the Teign Valley and estuary. Her work features familiar structures, landscapes and natural features with the Teign Bridge and Teignmouth Pier sometimes making an appearance.
Val Wilkie creates silver jewellery and pottery. Val is based in Bishopsteignton and loves working with sterling silver wire to craft pieces that have movement and joy. Often organic in style and decorated with colourful gemstones, her creations reflect the earthy textures and colours of this coastal location.
Tina Hill-Art has a studio beside the estuary in Shaldon, a setting which inspires her silvery 'ebbing tide' glazing style. Tina creates sculptural and figurative items, vessel forms and jewellery in organic and rugged finishes, taking her design cues from natural influences and seascapes.
For further information and to book a workshop, go to https://www.facebook.com/Artists-at-Homeyards-Castle-574132933087934/
You can pick up a free Devon Open Studios event guide from libraries, Tourist Information Centre and from arts and community venues across the county.
Other Posts you Might Like
Related
0 Comments