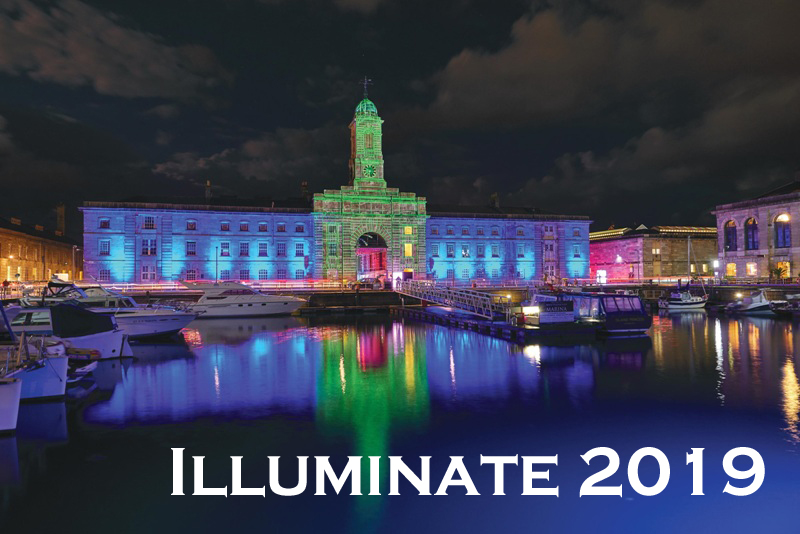 Guest Blog Post - Illuminate
Illuminate, the first event of the Mayflower 400 year, marks the start of the 2020 commemorative programme. We catch up with Cat Edwards, Marketing Coordinator at Real Ideas Organisation, who reveals more about this year's Illuminate in Plymouth.
When is it taking place?
Illuminate takes place from 28 November until 01 December 2019 and is free for all the family.
What can people enjoy at Illuminate in Plymouth?
From 5:30pm each night, illuminate welcomes you to immerse yourself in stunning projection mapping, interactive pieces and playful light art installations at the historic Royal William Yard. New for 2019, audiences are also invited to discover additional installations at the Barbican and Mount Edgcumbe.
How can people get involved?
In the run up to the festival, Illuminate is hosting an exciting programme of Future Make interactive workshops designed for children and families in the Saturdays leading up to the main event. Future Make, a programme delivered by the Real Ideas Organisation, is collaborating with Illuminate to run full day clubs in immersive media for 7-11 year olds and family activity sessions.
How did the idea of combining Mayflower and Illuminate come about?
Illuminate has been happening in Mayflower locations for several years in the lead up to the 400th anniversary year and was inspired by a quote from William Bradford, one of the leading Pilgrims who travelled on the Mayflower who said: 'Just as one small candle may light a thousand, thus the light here kindled hath shone unto many.'
Over two years ago, Real Ideas Organisation, University of Plymouth, Plymouth College of Art and Plymouth Culture took on the event and it evolved into a contemporary light festival. This provided a platform for artists and students, and raised the profile of Plymouth as a cultural city.
When did the planning start? How long has it taken to plan?
Here at RIO, we started planning Illuminate 2019 in December 2018 - right after the last year's Illuminate festival finished.
Taking a year to plan and deliver the festival, the delivery team act as curators and producers who agree the shape of the event, with input from stakeholders and wider partners including the Mayflower 400 project team as Illuminate marks the start and finish of the Mayflower commemorative year. We then open a call for proposals from artists and brief students on their involvement. There is a lot involved logistically and is a bit like putting together a big jigsaw puzzle, where pieces keep changing!
Illuminate light festival is now in its third year, growing for each festival last year's event welcomes over 28,000 visitors.
Where can people find out more about Illuminate and the Mayflower 400 Programme?
Find out more about Illuminate light festival here: https://illuminate-festival.co.uk and the wider Mayflower 400 Commemorative programme here: https://www.mayflower400uk.org/events/
Why is the event important to Plymouth?
Illuminate will open the Mayflower 400 commemorations in November 2019 during Thanksgiving and close them in November 2020. The project is a signature event in the Mayflower 400 programme and connects the partner destinations across the UK and internationally.
What does being involved in Mayflower mean to you?
Mayflower marks a significant time in our history and means a lot to this city. We're part of something bigger and Mayflower provides an opportunity to make and strengthen connections that will last beyond 2020. It's a moment in time for us to commemorate and honour history while looking forward to what's possible in the future.
For more information about Illuminate 2019, please click here.
Other Posts You Might Like
Related
0 Comments