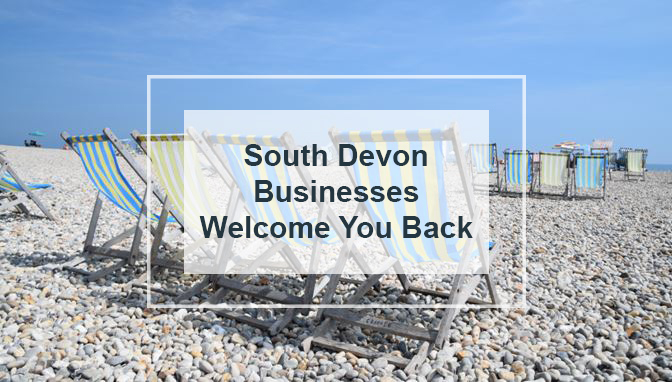 As we start to ease out of lockdown and restrictions begin to be lifted, South Devon's amazing hospitality businesses are starting to reopen or are busy putting in place plans for when they can start welcoming you all back to this stunning region.
Shops
All shops in England are able to reopen from the 15th June, and they have all been busy putting the correct measures in place so they can welcome you back safely.
Many of Devon's wonderful shops have reopened their doors, with the rest set to do so over the coming days and weeks. Below are details of some that are looking forward to seeing you again.
House of Marbles
Open 15th June - a takeaway service is available in the restaurant and will return to normal working hours from this date onwards. Teign Valley Glass glassworks & shop will not re-open until 1st July. The games garden play area will be closed for the time being to protect staff and visitors.
Sharpham Wine
The winery shop is open again.
You can now visit Mon - Fri between 11am - 4pm to purchase your favourite wine and cheese or even walk the vineyard trails. Tours, tastings or the restaurant are still currently on hold.
Princesshay
In the heart of Exeter the shops of Princesshay have reopened their doors from the 15th June. An enhanced cleaning regime, including regular cleaning of all key touch points and a full suite of social distancing signage has been created to help advise, remind and reassure visitors of the government guidance while in Princesshay.
The car parks are open but toilets are closed, however disabled toilets and baby changing facilities can be opened upon request.
Fleet Walk Shopping
With new safety measures in place and in line with Government guidance, non-essential stores will begin to re-open at the centre from the 15th June. The shopping centres car park is to reopen fully from Saturday 13th June 2020.
Whilst each individual store at the centre will have their own safety measures in place, there will also be other precautionary measures around the centre. Toilets, baby changing facilities remain closed to the public and excluding those that offer hot and cold food that can be consumed off the premises; cafes and restaurants will remain closed until further notice.
Newton Abbot Market
Now that the government is allowing markets and non essential retail to trade, the Indoor Market and the food hall are open Monday to Saturday from 8am to 4pm.
The Lyme Bay Winery
Beginning Thursday 2nd July, initially they're reopening their Winery Shop in Shute, near Axminster, on Thursdays, Fridays, Saturdays 10am-4.30pm.
Dartmouth Visitor Centre
Following government guidance, the Dartmouth Visitor Centre will be re-opening on Saturday, July 4.
Dartmouth Old Market
The Dartmouth open air market square is open Tuesdays and Fridays.
Market shops are open Monday – Saturday, there are currently no health and beauty or close contact business's to comply with current government guidelines.
Accommodation
There is no confirmed date for accommodation providers to reopen, but the Government has stated this will not be before the 4th July*. Many providers are planning on opening from this date or shortly after, providing they have the right measures in place and the Government gives the go ahead. Below are the details of some of the wonderful hotels, holiday parks, B&B's and self catering accommodations who are getting ready to open.
Ilsington House
Ilsington House are planning to open on Thursday 16th July and have issued a statement on their website.
Sandays
Will reopen Sandays at the first opportunity, hopefully July 4th.
The layout of the building provides different routes to the front door, the breakfast area is large enough for whatever the social distance is deemed to be and they are in complete control of hygiene and cleaning measures which will be stepped up to include things like key fobs and all surfaces.
Pennymoor
It's hoped Pennymoor will be able to open to holiday visitors on 4th July but this obviously depends on Government guidelines and advice.
Bovey Castle
Bovey Castle will be opening their Lodges on 4th July and the Hotel for residential guests and Smith's Brasserie for dining on 9th July. Enjoy a relaxing break away, reunite with your loved ones and escape with confidence at Bovey Castle.
Galmpton Touring Park
Galmpton Touring Park Covid Secure Statement is now available to view online.
This statement outlines the enhanced cleaning protocol along with guidance and amended procedures for guests staying with them in 2020. They will only be accepting bookings for self-contained caravans & motor-homes only, for dates from the 4th July 2020, however they are still waiting on a Government update on the exact permitted opening date for the industry.
Langstone Cliff
Langstone Cliff Hotel are currently plan to re-open on Saturday 4th July and are now taking bookings by telephone or via the website for bookings from this date.
Welcome Family
Welcome Family Holiday Park are planning to open their doors and welcome back guests as soon as possible. Throughout the last few months the onsite entertainment team have been putting on a regular live shows which can be viewed on their YouTube channel.

Find out more.
Wall Park Touring and Centry Road Camping
Wall Park Touring are opening on the 4th of July including the shower and toilet facilities, unless they're told different by the Government.
Dart Marina Hotel and Spa
Following government guidelines Dart Marina Hotel and Spa are taking room bookings from the 4th July onwards.
Barn and Pinn Cottage
From the 4th July Barn and Pinn Cottage will be reopening and are looking forward to welcoming back guests.
Alpine Park Cottages
Following the Government's announcement they are delighted to say that we shall be reopening from the 4th July 2020.
Lynton House
Lynton House in Teignmouth will be reopening from the 4th July.
Andrewshayes Holiday Park
Andrewshayes Holiday Park have completed the Visit Englands Good to Go certificate and will be opening on 4th July.
44 Devondale Court
44 Devondale Court is open for bookings and guests from the 4th July.
Things to Do
Depending on the type of attraction some of the areas fun, informative and action packed attractions have started to re-open. The rest are getting ready to throw open their gates and welcome you all back soon. Below you'll find details on the places which are currently open and the details on when others will be.
Wildwood Escot
From 15th June the number of visitors to the park will be limited to 500. There is currently no requirement to book in advance but this may change according to demand.
Babbacombe Model Village
Babbacombe Model Village are reopening on 4th July and recommend that people book an arrival slot in advance (they still pay at the gate by card), find out how to visit.
Sea kayak Devon
NOW OPEN! Enjoy the outdoors and escape the crowds with a Sea Kayak trip.
SOCIAL DISTANCING carefully implemented COVID 19 procedures are in place for all trips
BOOK WITH CONFIDENCE all trips are fully amendable or refundable if affected by changes in the lockdown rules.
Thelma Hulbert Gallery
Following the latest government guidance, we are delighted to announce that Thelma Hulbert Gallery will be opening their doors again on Saturday 11 July
Paignton Zoo
Paignton Zoo will be reopening from the 6th of July, with the first two days (6th and 7th) reserved for annual pass holders. From the 8th of July the zoo will be open to the general public with all visitors needing to prebook a time slot for a specific date.
Seaton Tramway
Seaton Tramway looks forward to welcoming you back from the 4th of July with measures in place to ensure safe visits.
Pennywell Farm
Pennywell Farm be will re-opening on 4th July. Initially offering morning and afternoon sessions, booking online only to control numbers.
Stuart Line Cruises
Stuart Line Cruises is reopening 4th July – with all measures in place.
Crealy Theme Park & Resort
Crealy Theme Park & Resort will partial re-open on 6th July of the Resort, the theme park will reopen from 6th July to day visitors.
Bygones
Bygones Reopening 11th July, usual opening times, Café will remain closed, reduced capacity and one way system.
Blackpool Sands
Reopened 24th May car parks, takeaway counter and toilets all reopen.
River Dart Country Park
Re-opening 4th July now confirmed
Woodland Family Theme Park
Working towards re-opening on the 6th July but still awaiting confirmation.
World of Country Life
Phased re-opening from 13th July Mon-Thurs.
Splashdown Quaywest
After being closed due to the Coronavirus lock down we will be re-opening soon with updated opening hours and operating procedures to help with social distancing and to help ensure we are a covid secure place to visit. Please note when tickets do go on sale they will ONLY be bookable through our website.
---
* The 4th July is a provisional date which is yet to be confirmed by the Government and could still be amended. Not all accommodation providers are opening on the 4th so please check when enquiring about pre-booking.
To keep up to date with all things South Devon, be sure to sign up to our e-newsletter here.
Related
0 Comments