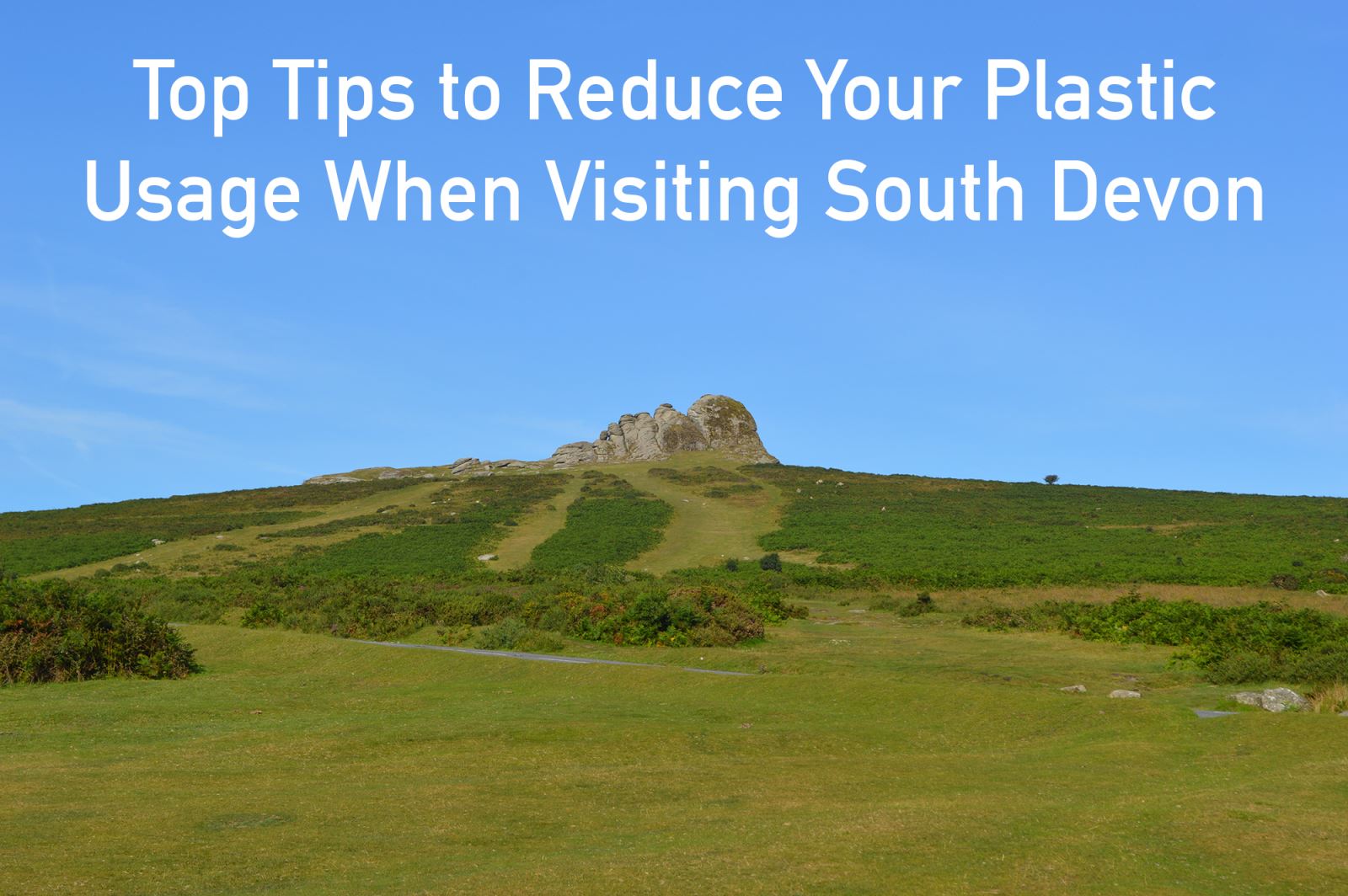 We're all trying to cut down the amount of plastic that we use and think about our impact on the environment and this shouldn't stop when you have a holiday booked to South Devon. So here are our top 10 tips for reducing and avoiding plastic usage while on a holiday, day trip or short break to the region.
Reusable Shopping Bags
When you're packing all your holiday essentials make sure you pick up your reusable and fabric bags, as we're sure that you'll do being a spot of shopping or need to carry stuff at some point. Taking your own bags with you will save the need to pick up a new one or even use plastic ones. It's not just popping to the shops that you'll need them for, if you're grabbing a takeaway with multiple items or coming back from the swimming pool with wet towels then a reusable bag will come in very handy.
Buy in Bulk & Bring Stuff From Home
One way to cut your use of plastic is to reduce what you buy. Buying in bulk and bringing things like washing powder, shampoo and tea bags with you will help cut down the amount of plastic you use. Those travel size sunscreen tubs or the posh little bottle in the hotel room might be handy, but they are just extra plastic which could be avoided by either bringing the full size bottle with you, or by decanting it into a re-usable tin or tub. If you do have to use the travel sized tub, take them home and finish them instead of throwing it away and keep the bottles to re-fill and use next time you go away.
Find a Re-fill Shop or Use Re-usable Tubs
As the country thinks more and more about what and how we're buying stuff, more and more re-fill shops are opening and we have our fair share in Devon. So if you're going on a self catering break popping to a re-fill shop will allow you to buy the amount of pasta, beans, cereal and rice that you need for your stay using your own reusable container. It's not just re-fill shops where you can use your own containers, local butchers, fruit and veg shops, independent deli's, farm shops and farmer's markets will happily put your purchases in your own tubs.
Water Bottles
If you're keen on cutting your environmental impact then you're probably already aware that not buying bottled water is one of the easiest things you can do to limit your plastic usage. When you're packing to come away make sure you pick up your water bottle and start by filling it up for your journey down, so you don't have to stop on route and buy a drink. When you're out and about you'll find plenty of places to fill up again; many attractions have water fountains or cafés and pubs will happy fill it up for you after your meal.
Shop Local & Independent
Shopping locally and independently can not only help reduce plastic, but can also help reduce transportation emissions and help the local economy by supporting local jobs and supply chains. When things are transported locally is can mean that less packaging is needed and therefore can mean less plastic.
Think About Your Souvenirs & Holiday Keepsakes
As you explore the many wonderful places in South Devon you'll find lots of fantastic gifts and mementos to buy as a reminder of your holiday. Picking up souvenirs and presents for your loved ones is always great but think about what you are picking up, will it break easily or get forgotten about as soon as you get home and end up in the bin? Is it wrapped in unnecessary plastic? Are there souvenirs made from wood, sustainable or recycled materials which you can pick up instead? Or if you're travelling home soon and don't have far to go, think about picking up edible presents which will be enjoyed and the wrapping recycled or composted.
Make Wise Choices When Getting a Takeaway
A takeaway is always a firm favourite when treating yourself to some yummy food while on holiday. But wanting to cut down your plastic usage doesn't mean a takeaway is off limits, you just need to think about what you're ordering. Ice cream in little tubs might seem fun or easy if you have kids, but having a cone means there's no waste left at the end and will also bring back memories of enjoying this yummy treat on childhood holidays. Another staple holiday treat is fish and chips, many shops now offer cardboard and biodegradable boxes and instead of picking up the plastic forks, go for the wooden option or use your hands! Another common use of plastic with takeaways is these little condiment packets you can buy, so instead of buy these bring some with you in a reusable tub, it will also save you money as well.
Look For Alternatives
Everyday more and more alternatives for products wrapped in and made of plastic are coming to the market. You can get shampoo blocks which are wrapped in paper, bamboo toothbrushes, paper and bamboo straws and even natural beeswax coated cloth wraps which can be used instead of plastic cling film. Whether you bring these items with you or pick them up while exploring South Devon just adding a few of these alternatives in to your life can make a huge different to the amount of plastic you use and the more switches you make the more plastic you'll be saving.
Don't Throw Stuff Away
If something breaks while you're away or you empty the shower gel bottle think about what you do with it. Can you find a plastic bottle bank to recycle it or if not could you take it home to where you know the recycling options? If something breaks can it be fixed if you took it home with you, saving it from ending up in the landfill? If you can't reduce or reuse make sure that you can recycle.
Plan and Pack Carefully
One great way to help cut your plastic usage is to pack carefully and make sure you don't need to buy things while in resort. We've all been there packing in a rush and when you're unpacking your suitcase finding out you've forgotten your toothpaste or need to buy a new bucket and spade when we get to the beach. In the days before you travel make a list of all the essentials you use during the day and have a think about the activities you might be doing whilst on your holiday. Use this list when you're packing and when you get to your destination you should have everything you need and there's no need to re-buy things, as well as cutting down on unnecessary plastic you'll be saving money too.
Keep up to date with all things South Devon by giving our Facebook page a like here and following us on Twitter here.
Related
0 Comments