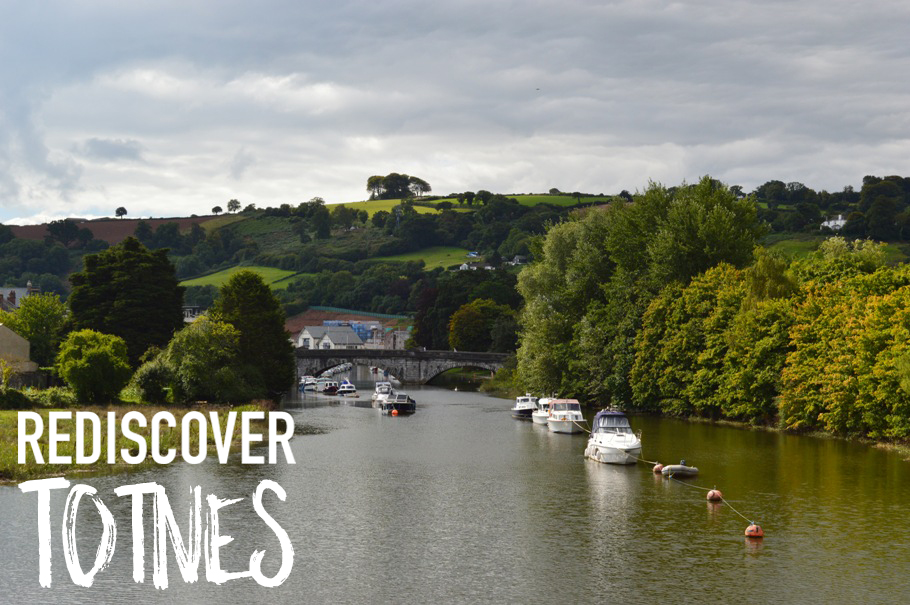 Guest Blog Post - Visit Totnes
Based on the banks of the River Dart within easy reach of Dartmoor, Exeter and Plymouth, Totnes is the perfect place for that well deserved getaway. Whether it's your first time here or you've been before, there's so much to discover in this friendly market town. Walk through the streets to discover a mix of historical buildings and independent shops, or take to the surrounding countryside for a long hike or leisurely bike ride. Whatever your plans, whatever your pace, embrace the relaxed lifestyle, lively culture and many things to see and do.
Our Top Picks for Accommodation
Whether you're staying for a night, a week or more, we have self-catering cottages in the heart of the town or apartments overlooking the river, historic hotels, friendly B&Bs and glamping or camping with the peace of the countryside.
If you want to stay near the town but have some quiet and tranquility, try The Old Forge where you'll be greeted with a warm welcome and exceptional hospitality. Housed in a 600 year old stone building with a delightful south facing walled garden, some rooms have their own garden patio or terrace. Breakfast is made from locally sourced Devon produce with an assortment of fresh seasonal fruits from the garden, Forge Granola, cereal and more, followed by a full English, all served in the relaxing dining room, sunny conservatory or garden.
If you prefer more space and self-catering facilities, the Totnes Holiday Apartments offer a choice of places to stay which overlook some of the local shops and eateries and are only a stone's throw from the historic Totnes Castle. Based at the very top of the high street in an area affectionately known as The Narrows, these well equipped, spacious residences offer lots of comfort with modern appliances and the added convenience of being in the heart of town.
Staying at the Great Grubb is like staying in a home from home. Based on the Plymouth Road, just a short walk into town, there is a selection of comfortable rooms with free wifi and parking. Guests can enjoy unlimited access to the cosy conservatory, south-facing patio and terraced garden where you can sit and relax with a good book and hot drink. Enjoy a delicious breakfast made from quality ingredients either al fresco in the milder months, or in the warm conservatory.
'Annacombe' is a picturesque 2 bedroom coach house conversion set in the grounds of a large country house just outside Totnes in the charming village of Harberton, offering an ideal base for exploring the town and the rest of the region. At the centre of the house there is a double-height, south facing living and dining room which is overlooked by the mezzanine gallery. With open roof beams, a natural stone open fireplace and cosy fixtures, you'll feel compelled to stop and relax either inside or in the beautiful enclosed garden. Ample parking for two or more cars.
Dartington Hall's Courtyard rooms offer B&B accommodation in an informal and unique setting on a 1200-acre estate amongst medieval buildings, grade 2* listed Gardens, the best in local foods, vibrant craft courses and arts events. Find respite from the everyday and immerse yourself in the beauty of this stunning estate with its many miles of river paths and woodland walks. Dartington is just a stroll away from nearby Totnes, and perfectly situated within easy reach of the South Devon coast and Dartmoor National Park.
Our Top Venues for Eating & Drinking
Totnes has a town full of independent eateries serving local food and drink in beautiful settings, from al fresco riverside terraces to cosy fireside inns, pretty courtyards and chic interiors. Whether you're here all day or just stopping for a few hours, you can choose from breakfast, lunch, hot drinks, cake, dinner or cocktails.
At Waterside Bistro, the sheltered riverside terrace is perfectly positioned to give you views of the river whilst enjoying simple, stylish bistro cuisine including fresh local seafood, pizza & homemade burgers, great steak and vegetarian dishes. This local, family business offers friendly professional service with a beautiful setting and cosy interior.
Since their establishment in 2004, Cafe Mumbai have become one of the most well known and frequently visited Indian restaurants and takeaways in the South Hams. The friendly staff and family who own the restaurant aim to make your visit as pleasant and enjoyable as possible, making dining a memorable occasion. The food is prepared in a style which blends the finest oriental spices to produce a variety of subtle and exotic flavours without over spicing.
Inspired by traditional tapas bars on the continent, Ben's Wine & Tapas will offer a warm welcome and relaxed environment with some of the finest food and wine available. The menu boasts a wealth of 'small plates' that draw on influences from cuisines all over the world made from local, seasonal ingredients which are perfect for sharing. Sourced directly from independent growers, specialising in mid-priced, moreish varieties that have been produced sustainably and catering for a range of dietary requirements, including vegan and gluten free.
The Cott Inn is a stunning 14th-century thatched pub in the peaceful village of Dartington less than 2 miles from Totnes. This family owned inn serves award winning food and local ales and ciders, and offers overnight accommodation in luxury boutique bedrooms. Come and enjoy the relaxed atmosphere with cosy log fires during the winter months and a large garden with new alfresco kitchen serving delicious food throughout the summer. Enjoy live music every Wednesday and Sunday night. Dogs and children welcome.
At the heart of the stunning 1,200 acre Dartington Estate, The White Hart pub is nestled alongside the medieval Great Hall under the bowers of ancient trees. Choose a table in the grand feasting hall under a dramatic 60 foot beamed ceiling, in the cosy snug area or out on the gorgeous Great Lawn terrace. In the summer it's the perfect spot to sit outside with a pint and let the kids run around the lawn. Choose from locally-sourced lunches and dinners or a delicious Sunday Roast.
Our Top Attractions
Steam Railways
You can leave the car behind when you visit Totnes and either roll in on a steam train from the South Devon Railway or glide down the River Dart with the Dartmouth Steam Railway and River Boat Company. Both offer a unique way to view the world, with a window into the surrounding countryside, wildlife and river life.
Kayaking
Get even closer to the wildlife along the banks of the River Dart with some kayaking, canoeing or stand up paddle boarding. We have a variety of companies who can offer individual hire or guided tours including Totnes Kayaks and Canoe Adventures. For the more adventurous, Canoe Adventures also offer overnight canoe and wild camping, or you can join them for a BBQ, wine tasting or their famous 'Pub to pub and back by moonlight' tour. (Seasonal- opens in April).
Pottery Painting
Open all year, China Blue has a beautiful shop full of fabulous items for the home, a cafe serving delicious food and a paint your own studio which is suitable for all ages. You can try your hand at ceramic painting, create a hand or foot plaque or even do some pot throwing. Take all of your creations home as special souvenirs from your stay here.
Animal Attractions
The Rare Breeds Farm is a short walk from town but will feel a million miles away in its tranquil setting across the line from the Riverside steam train station. You can get hands on with the animals in their enclosures, cuddle them in the petting corner and feed them, and then enjoy some delicious food and drink at the beautiful garden cafe. Rare Breeds is open from April - end October.
Our Favourite Undiscovered Places
Leechwell
Dating back to the 13th century, the historic Leechwell is well hidden in Totnes but well worth a detour to discover something different. These historic holy wells have flowing water which was believed to cure leprosy and other ailments, encouraging people to travel to Totnes in the hopes of being healed. There are three water streams which enter the three troughs which have slightly unusual names - Toad, Long Crippler and Snake. Today people visit the site to tie ribbons and lay candles, or just soak up a bit of local history.
Very close to the Leechwell is the Leechwell Garden, one of the many secret spaces in and around the town, with others including The Lamb, the Herb Garden and a garden outside Totnes Castle which all offer a little slice of peace and a place to sit, relax, picnic and reflect. At Leechwell Garden kids can let off steam in the natural play area and sand pit while adults relax in the beautiful surroundings. All open all year.
If you take the time to stop at St Mary's Church, the dominant red stone building at the heart of the high street, you'll not only discover a beautiful 15th century construction with some magnificent features, but also an enormous hand drawn map of Totnes on the floor. Drawn by local artist Anna Ventura this map is more than just a representation of the physical town, as it also offers a snapshot of local life with stories and characters which help to make us unique. The border was created by illustrator Claudia Schmid which features creatures making their way to Totnes.
There are many walks from and through Totnes including the Franklin Trail, a circular 6¾ mile, waymarked walk with several points of interest along the way. Starting in the town centre you can walk via the heritage station at Totnes Riverside, the pretty Fishchowter's Lane and interesting Hydropower Scheme. The average walker should take approximately 3 to 4 hours to complete it, however if time is limited there are options to shorten it.
Many people are choosing to combine their holiday or short trip with courses and workshops so that you can take home more than just memories, get hands on and develop new skills. There are a variety of centres in and around town which offer a variety of opportunities to learn everything from guitar making to glass-fusing. At the beautiful Dartington Estate they offer lessons in art, craft, ecology, gardening, music and more, including ceramics, designing & maintaining forest gardens and print-making.
Explore more about Totnes on Visit Totnes' website here.
Related
0 Comments