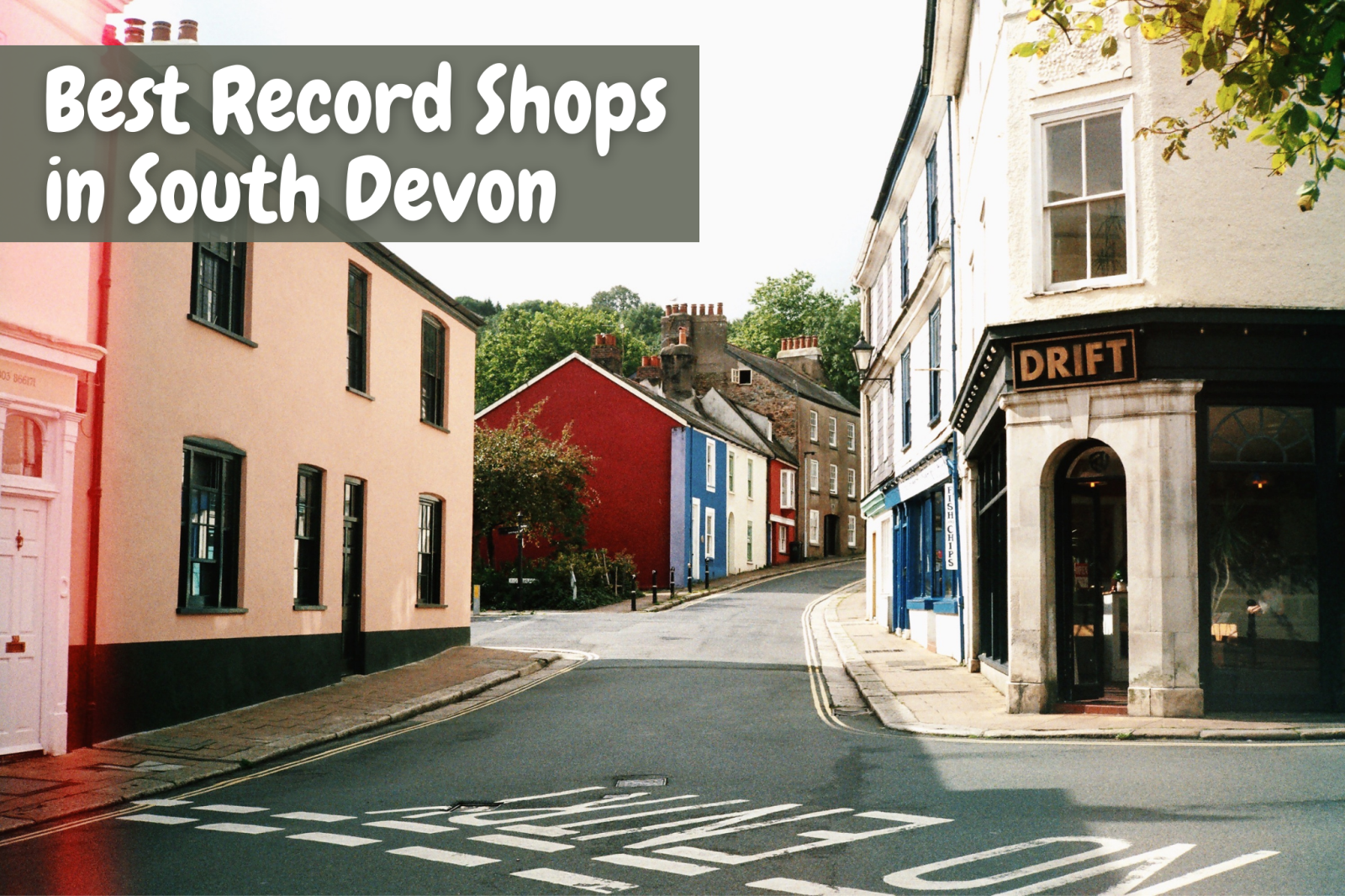 Devon is home to many excellent record shops, selling a varied selection of new, preloved, and collectable vinyl. As Record Store Day 2022 is approaching, we'd like to pay homage to these brilliant businesses!
Record Store Day (RSD) is an annual event to celebrate the culture of independently owned record stores. It's a day that brings together music lovers, creators, and sellers across the world; a chance to celebrating music, converse with like-minded people, and to get your hands on some special edition records that often come in limited numbers. If you're an early riser, you may even spot a few of the dedicated people who camp out overnight or arrive in the early hours of the morning, so they don't miss out on picking up their dream album. Festivities often include specially released pressings of records and tapes, live music, meet and greets, and DJ sets across the world. The 15th Record Store Day will be held on Saturday 23rd April and in Devon, a handful of our beloved record shops will be participating. Other record shops in Devon won't be able to officially participate in RSD due to mostly owning pre-loved records, but many of them will have lots of other great deals so it's certainly worth paying them a visit too!
Participating in Record Store Day 2022:
Situated at the top of Totnes high street, Drift Records is a lovely family-owned record shop stocking a complete range of music from a variety of genres, from post-punk to jazz, and psychedelia to rap (and everything else in between!). The business has been around for some time, initially starting out in 1994 as 'World Video & Music' – a VHS rental library just a few yards down the road, before moving onto selling vinyl, cassette tapes and CD's in their current shop in 2012. As well as stocking music, they also have an excellent range of merch and homeware goods. Drift founded the yearly Sea Change Festival (27th – 29th May), showcasing the best new musicians, artists, filmmakers, and writers. Previously the festival was hosted at Dartington Hall, but more recently it has turned into a multi-venue festival across Totnes. Alongside the festival, Drift also runs listening parties for newly released albums, signing events and live music shows at their store and partnered venues! They also release a free quarterly magazine, titled Deluxe about record shop culture, as well as co-founding Dinked Edition – a collection of independent record shops who work together to promote music they love through limited edition vinyl releases. There's so much to talk about with Drift; it's safe to say they have a lot of eggs in a lot of baskets, but they manage it perfectly! Over Record Store Day, Drift will be open from around 9am, stocking over 150 titles, with online sales starting on Friday 29th April.
Phoenix Sound has been a staple of Newton Abbot high street for many years, offering a wide selection of vinyl, CD's, and DVD's. It's your typical music shop – selling a vast range of newly-released albums, with a few collectables on offer. It's really the place to be to pick up a record or two with their reasonable pricing and friendly staff who are always up for a chat! Although there are over 400 titles released for Record Store Day, Phoenix Sound will be stocking 200+ of them, with doors opening at 8am. You can contact them beforehand to check that they'll have the record you want, but of course, as per RSD rules, they cannot reserve them!
Located in Exmouth Indoor Market, Martian are a large stall selling a selection of pre-used records as well as guitars and music/film memorabilia. They boast a wide range of genres from reggae to folk and rock as well as stocking DVD's, posters and t-shirts. Martian will be participating in RSD this year, they'll be open from 8am, with queuing by the rear entrance of Exmouth Market on Manchester Street. The shop will have a capacity of 2-3 people and any left over stock will be available until Friday 29th April if you can't make it there on RSD.
Not participating in Record Store Day:
Really Good Records, Plymouth
Established in 1994, Really Good Records has been buying and selling second-hand vinyl ever since. Located on Exeter Street, in Plymouth, opposite the newly opened Bar Code, this business is an ideal place if you're searching for a vintage vinyl or collectable. The shop sells a mixture of new and second-hand records, but the preloved vinyl is always great quality and very reasonably priced. With their large selection you'll be sure to find something on your wanted list! Really Good Records also buy vinyl so if you've got your eye on something this year for Record Store Day, why not visit them to get some money from your unused records to fund your RSD purchase!
Rooster Records, Exeter
Rooster Records first opened their doors in Exeter in 2006 but the business was actually established in 1995 in Taunton. They are located on Fore Street and have one of the largest collections of records, CD's and music DVDs in the South West. They sell new and used vinyl under a massive umbrella of genres such as reggae, electronic, heavy metal and so much more! Like Really Good Records, Rooster also buys preloved records.
RichMix Records, Brixham
RichMix Records is a unique record shop, specialising in pre-loved LP's, new vinyl's, CD's, cassettes, musical instruments, books, memorabilia, and retro HI-FI, based in Brixham. The building that houses Rich Mix was previously owned by The Cavern, another record and music store, before being taken over by Sim Rich. The Cavern was owned by Roger Stafford, a local Devonshire businessman who's owned various other record shops across the English Riviera. Unfortunately, Rich Mix won't be participating in RSD22, but a trip to Brixham would be worthwhile if you get a chance to meet Sim, he's an especially friendly character who, from past experience, loves to chat to customers about music and everything else in between!
Hussar Records, Exeter
Another Exeter-based record shop is Hussar Records, located in the Pinhoe area of Exeter. Whilst the family-ran business has been running for a few years, Hussar Records recently opened their physical store in 2020, allowing them to expand their stock and offer a comfortable atmosphere to browse and listen to music. All their second-hand records are carefully selected and purchased from individuals who like records just as much as they do, meaning their stock is in tip-top condition. They have records to suit all music tastes, from funk to blues and hip-hop to rock. Unfortunately, they can't participate in RSD this year, but have plans to do so next year!
Sound Preservation Society (SPS) Records, Teignmouth
Situated in the lovely seaside town of Teignmouth is SPS Records, a business that sells, buys and trades used vinyl, as well as highlighting indie releases from local artists. They're also no stranger to hosting live music events! They stock a wide range of genres, so there's something for everyone to enjoy here. Their creative displays are always something to be admired, so it's worth a visit just for that!
JM Records recently opened in Exeter in 2021 after owner James, felt unable to continue with his hairdressing business over the pandemic, and found music had become a safe haven for him. The store is hidden away on a small path off Gandy Street and is actually opposite James' previous salon. JM Records are unable to participate in RSD as they haven't been open for long enough just yet, however they'll still have plenty of offers, deals and discounts so you won't miss out on picking up a bargain vinyl!
Music & Bean are an all-encompassing music and coffee shop in Okehampton, located in the beautiful Victorian Arcade. They sell a huge range of musical instruments, new and preowned vinyl, as well as artisanal food and drink. The shop stocks upwards of 2000, constantly updating titles, but due to mostly carrying preowned records, they won't be participating in RSD. If you're in the area, you should definitely pop in to browse their selection, say hi to their friendly staff and try a slice of one of their tasty cakes!
If you'd like to stay up to date with Visit South Devon, please follow us on Instagram and Twitter, and like us on Facebook.
Related
0 Comments