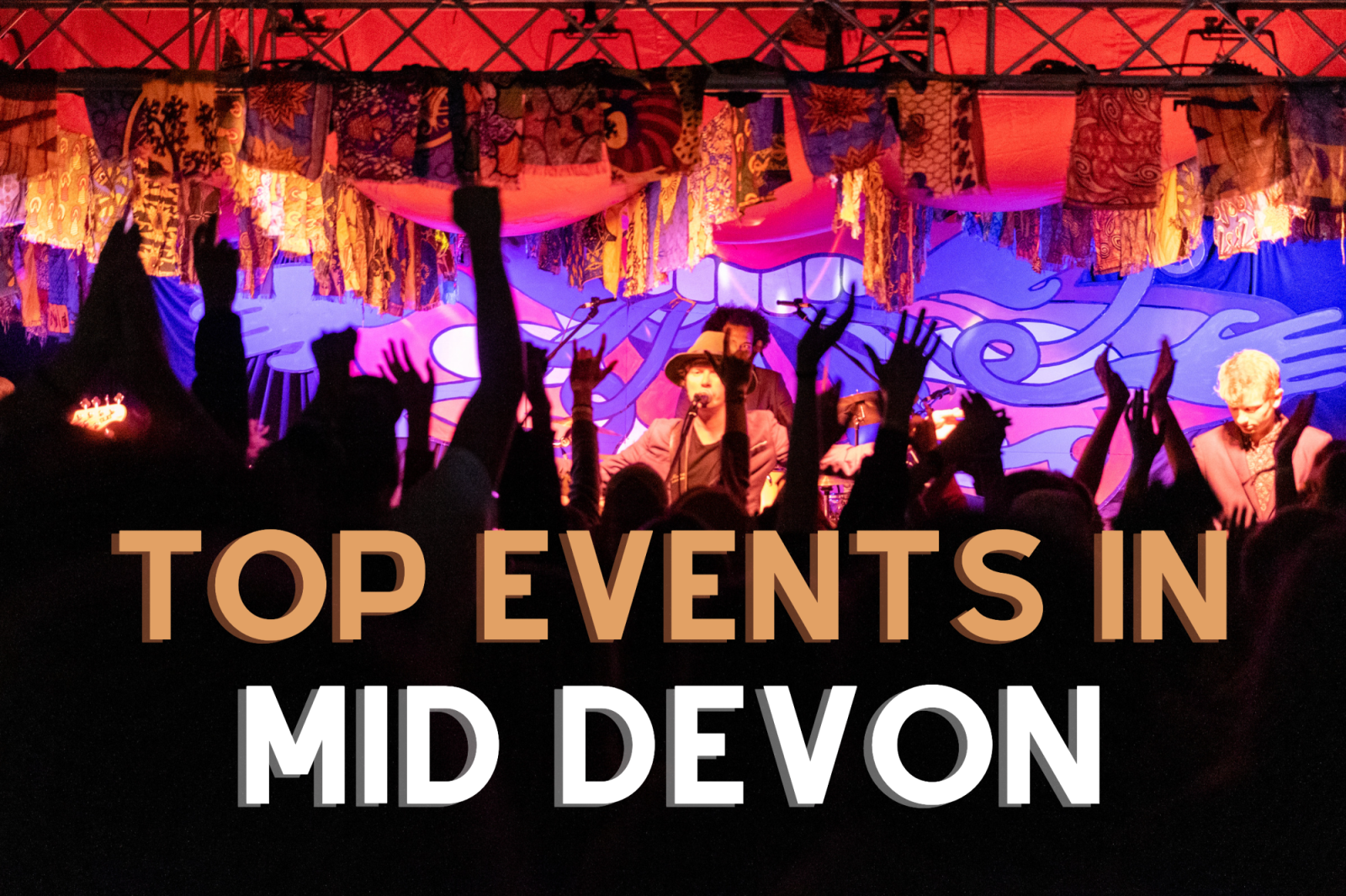 If you live in or are thinking of planning a trip to Mid Devon, you might be curious to know what events are happening around the region. Whether you're a foodie, a music lover or just want to get involved with something a little different, there's plenty of annual events and other festivities for everyone to enjoy.
Coldridge Fete, Vintage Rally, Flower Festival & Dog Show, Coldridge (25th June)
The much-loved Coldridge Village Fete, Vintage Rally, Flower Festival and Dog show returns to the village on Saturday 25th June. Located next to the church in Coldridge, the area will be transformed to include a selection of stalls, craft demonstrations, children's games and activities, and a variety of other entertainment such as dog shows and the flower festival which will take place in the Parish Church of St Matthew. If you're a fan of cars, their vintage rally will certainly not disappoint with an impressive display of classic cars, motorbikes and tractors parading around the ring. Food and drink will be available throughout the day, as well as live music from local artists.
Uffculme Music & Real Ale Festival, Uffculme (1st – 2nd July 2022)
The Uffculme Music & Real Ale Festival is the major fundraising event occurring each year to raise money for the village's Christmas lights. The venue for the event this year is Magelake Pavilion, and it will run from the 1st – 2nd July. The event hosts a range of exciting local musicians and offers real West Country ales and ciders alongside local food outlets. It's also very reasonable pricewise, costing just £10 per day or £15 for a 2-day pass, starting on Friday at 6pm – midnight on Friday and 2pm – midnight on Saturday.
The 29th anniversary Grand Western Canal 10K (GWC10K) will be taking place at the Grand Western Canal Country Park in Tiverton on the 10th July this year. The last 'in-person' GWC10K was in 2019 where they raised a huge £22, 637, but due to the pandemic, the last two years were held virtually. There will also be a festival for the runners and members of the public to raise money for Young Lives Vs Cancer. Festivities will include live music, food and drink stalls, entertainment, inflatables and special guests!
After a 3-year hiatus, Razzfest is returning to Cullompton for a festival that's bigger and better than ever! You can expect a jam-packed day of great live music, alongside some of the best food and drink providers in the South West! The event this year will be taking place on Saturday 16th July from midday to midnight at the Cullompton Rugby Club. Acts performing include Chris Standford, Radio Sunset, as well as the highly commended Elton John tribute act, Rocketman. As well as a programme of excellent acts, you can also indulge in a great selection of ales and ciders; and food-wise, they have 12 different stalls serving up a huge variety of tasty grub! Tickets for this event are only £20, and under 18s go free, but please make sure you purchase tickets prior to the event to avoid disappointment.
Mid Devon Show, Tiverton (23rd July)
The Mid Devon Show is an award-winning annual agricultural show held at Knightshayes Court in Tiverton. If you attend this event, you'll be spoilt for choice with an entire day jam-packed with entertainment, live music, shopping, and farm life! Food and drink from all over the South West will be available from numerous kiosks across the grounds and their food marquee will contain an extensive mix of traders offering delicious local cheeses, preserves and take away treats. There will also be two bars for the adults to enjoy a tipple or two!
The Great Cullompton Festival, Cullompton (23rd – 24th July)
Hosted on the 23rd – 24th July, The Great Cullomtpn Festival is certainly not an event to be missed! Prominent features of the event are live music from a diverse range of musicians, including a 'battle of the bands' competition, food and drink stalls serving street food and cocktails, local performers providing entertainment, and a large fun fair for thrill-seekers! As well as this, they have one of the largest craft fairs in the South West and will be showcasing some fantastic classic and supercars in the car zone.
Surrounded by beautiful Devon countryside, Altitude Festival is an intimate festival featuring an eclectic mix of live music and DJ's from across the UK. As well as great music, you will also find bars selling local ales and cider, street food, children's entertainers, and much more! The main festival runs from 29th – 30th July, with an optional sound check event on the 28th to get you warmed up for the weekend festivities! Another great thing about this attending this festival is that separate accommodation won't be needed for this festival as they offer overnight tent and campervan camping.
West Country Music Festival, Cullompton (13th August)
The West Country Music Festival is a day festival showcasing the best and top selling country music and artists in the UK, held in the grounds of the Muddiford Court Estate in Cullompton. The event will be hosted by Simon Birds (ARC Radio) and musicians such as Sarah Jory, Kezia Gill and Gasoline & Matches will be playing a range of excellent country music, with a late-night acoustic session for some night-time chilling. As well as music, you can expect to find a variety of stalls serving local food and drinks.
Outdoor Cinema Experience, Tiverton (2nd – 4th September)
If you're a film enthusiast, the Adventure Outdoor Cinema Experience might be the event for you! Knightshayes Court in Tiverton, a grand Victorian country house with stunning gardens, is the venue for this event. Enjoy the grounds and woodland before settling down to watch a film outside on the big screen! The screening will take place on the lawn in front of the mansion and picnics are encouraged here too, but other snacks and beverages will be available to purchase. If you want, you can bring your own blanket or camping chair to sit on, or if you buy one of their VIP tickets, you'll be given a luxury deck chair in a prime position and a free bag of popcorn! The films include Mamma Mia, Harry Potter and the Philosopher's Stone and the new West Side Story! Parking is free, with gates opening at 7:00 and the film starting at roughly 8:30pm.
Made In Tennessee, Tiverton (10th September)
Country music fans will be overjoyed at this unique production of 'Made in Tennessee – The soundtrack of American Country'. Some of the UK's finest country musicians have joined forces to take you on a musical journey of American country music throughout the decades, from its origin in the Southern states of America, to modern day country music around the world. Hosted at Tiverton Community Arts Theatre, book your tickets now to experience the best country show east of Tennessee.
Farmers Markets (Across Mid Devon)
Throughout the year various towns and villages in Mid Devon host monthly or fortnightly farmers markets where you can browse and purchase a variety of locally made and sourced products such as fresh and organic meat and veg, homemade juices, luxury cheeses and artisanal bakery items. You may also find flowers, plants, handmade clothes and local real ales and ciders. Cullompton Farmers Market runs on the second, fourth and fifth Saturday of each month, Crediton host theirs on the first and third Saturday of each month. From April to September, the Dulverton Farmers Market is held on the last Saturday of the month, whilst Tiverton's is hosted on the first Saturday of each month.
If you enjoyed reading this post, make sure you sign up to our newsletter to be notified of all the latest Visit South Devon blog posts, competitions, events and more! You can also follow us on Facebook, Twitter and Instagram.
Related
0 Comments