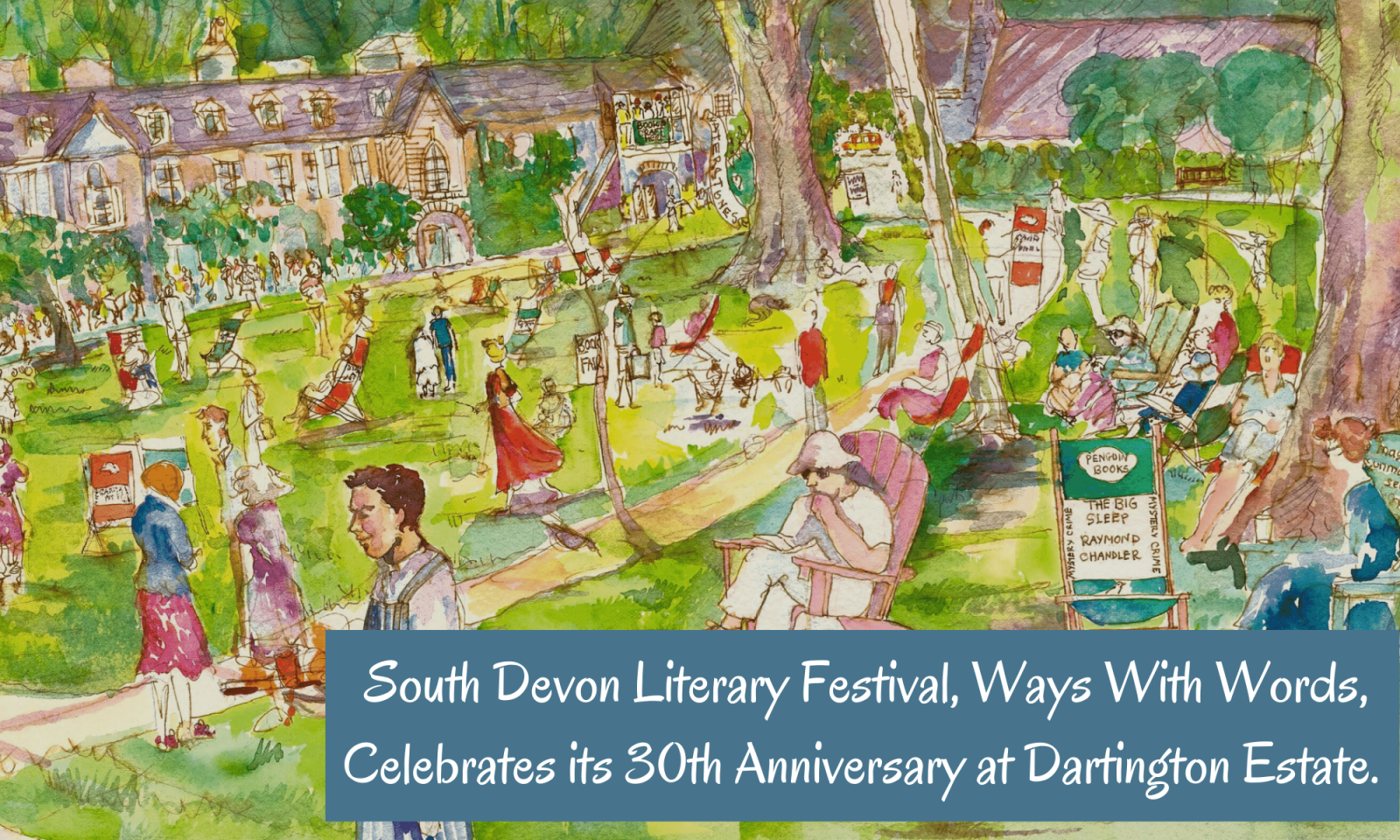 After two years of social distancing and limited capacity in festival venues, Ways With Words are excited to return to sunny Dartington for a full ten days from 8th to 17th July.
With the option to come for the full ten days and stay in accommodation within the medieval courtyard, visit for the weekend and camp in the estate's campsite, or pop in for the day to see just a handful of events, there is something to suit every budget and itinerary.
Celebrating 30 years of Ways With Words
Launched in 1992 by Kay Dunbar and Stephen Bristow, the first festival took place at Dartington Hall in Devon with David Astor as the President. Kay and Stephen wanted people to meet and debate with authors, journalists, and experts on a wealth of subjects. In those early years they organised everything from their kitchen table. Friends and family were often enlisted to stuff envelopes with programmes and tickets.
What started life as a seven-day festival at Dartington Hall in Devon has flourished into four annual festivals across the UK. Ways With Words has brought enormous joy to many people – not least Kay and Stephen.
Ways With Words has been a way of life, creating a myriad of connections which have enriched their world. Allowing guests to immerse themselves in new ideas and engage in thoughtful conversations, Kay and Stephen are thrilled to see the festival bounce back after two years of COVID-19 induced uncertainty within the arts community.
And Ways With Words are thrilled to announce that Kay Dunbar has been awarded an MBE for her contributions to literature. This is delightful news that everyone at this year's festival will be able to applaud alongside our 30th anniversary celebrations.
Ways With Words will host some of the biggest names in literature, arts, politics and entertainment.
Roger McGough, Salley Vickers and Delia Smith are just a handful highly anticipated names that will take to the Great Hall stage this July. Also returning to the festival is Natalie Haynes, classicist and comedian who writes:
"Leah Varnell and her team are unsung superheroes of the literary festival world: authors and readers are lucky to have them. They've spent years developing their festivals into fascinating, revelatory, entertaining, informative, intimate occasions. I don't know any author who isn't dying to appear at their events."
Local talent, Matt Harvey, Anna Burns and Daisy Hay will also join the vast programme of events the festival will offer this summer. And once again Ways With Words will be joined by our wonderful festival presidents, Polly Toynbee and David Walker, who are delighted to see the festival return in full force.
The festival's full programme of events can be downloaded online and tickets for the festival can be purchased here. As the cost of living rises, Ways With Words are delighted to lower their ticket prices this year and guests receiving low income support can purchase tickets for just £5 over the phone.
Related
0 Comments