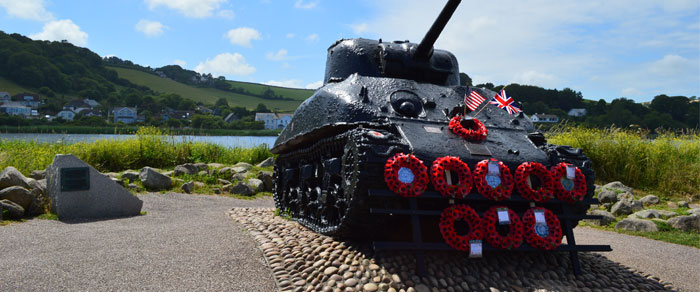 Devon has a rich and varied history and you won't have to travel far before you come across a church, country house, town brimming with history or historical attraction all waiting to take you back in time.
With your help we've put together a list of the Top 5 historical places to visit in South Devon.
Situated at the mouth of the River Dart you'll find the historical town of Dartmouth. The town has a strong maritime history and was the sailing point for the Crusades. It has had a long association with the Royal Navy, the Britannia Royal Naval College is located on the hill overlooking the town and has been training Naval Officers since 1863. At the mouth of the river estuary you'll find the 600 year old Dartmouth Castle, great views of the castle can be found on one of the many river tours that operate to and from Dartmouth.
Slapton Sands was taken over by the allied forces in 1944 and was used for Exercise Tiger, a rehearsal for the D-Day landings. A stone monument and a Sherman tank recovered from the sea now stand in Torcross as a memorial to the ill-fated military exercise.
Just along the coast toward Start Point Lighthouse, which has been guiding vessels along the English Channel for over 150 years, you'll find the ruined fishing village of Hallsands. Hallsands fell in to the sea in 1917 after the dredging of the shingle shoreline left the exposed coast open to the elements.
The South Devon Railway is a branch line of the former Great Western Railway. Enjoy a ride along the heritage line between Buckfastleigh and Totnes on a train hauled by a gleaming, historic GWR steam engine. The line passes through some of Devon's most beautiful countryside, hugging the river Dart along almost all of its length - and through countryside rich in wildlife, barely any of which is visible from the road.
Greenway House was the holiday home of Agatha Christie and her family. The house is set in gardens and romantic woodlands on the hillside overlooking the beautiful River Dart. The Grade II listed building belongs to The National Trust and is open to the public.
The rugged landscape of Dartmoor is full of history, from medieval and Bronze Age villages and ancient settlements to monuments and churches including Brentor Church and Nuns Cross. As well as hundreds of Tors and ruins waiting to be explored you should find time to take a walk along the Templer Way, an 18 mile walk tracing the historic line of the granite being taken from the quarries at Haytor to the docks at Teignmouth.
Find out about other historical attractions in South Devon here.
Related
0 Comments