Taste of the Teign is great new food festival that celebrates all the wonderful food and drink that can be found on the banks of the River Teign. To help you find out more about Taste of the Teign we asked Lori Reich from Shute Fruit and Produce why you should get involved.
What is Taste of the Teign?
Sometimes it takes an outsider to see a place for what it really is. Our farm, Shute Fruit and Produce, has been my home for 20 years. Born an American, married to a Devon Farmer, I choose to live in this amazing place, the banks of the Teign Estuary. Here the scenery changes almost with every breath—the tides, time and the weather have an amazing affect on, well, just about everything; My mood, how thickly the berries grow, how many boats are sailing by, how loudly the curlews cry. But this place is not just a poet or painter's dream. It is a working, busy environment. Food in the form of mussels and oysters, flounder and salmon, sheep and cows, vegetables and fruit all flourish in the area. Orchards and vineyards give way to lush green pasture, hedges are loaded with wild fruits for the picking.
In my experience, the Teign Estuary is an unique environment, cared for, tended and harvested by farmers, fishermen and women, and enjoyed by all. We are blessed to live amongst this abundance, that locals often take it for granted. I helped organise this festival to celebrate all this, and to share with others not so lucky to live within sight of the River Teign.
What is Taste of the Teign and when is it on?
Taste of the Teign is a new really local Estuary and Food Festival celebrating the provenance and local flavours of the magnificent Teign River Estuary. There will be plenty to eat, see and enjoy during the week of 21-27 September 2015.
What would you say are the five top things to see and do at Taste of the Teign?
1. Enjoy a meal at one of our fabulous local restaurants. Those participating in the event are putting on special menus at great prices to showcase the foods and fish that grow in or around the Teign Estuary. There are many to choose from, at prices to suit all.
2. Participate in a workshop. Learn how to crack a crab with Rob and Amanda from the Crab Shack. If cocktails are your thing, join Patrick at The Bronx Bar and Cue to learn how to mix seasonal drinks using local and some foraged ingredients.
3. Take a food tour on either side of the Estuary. Tours and Tastes of Bishopsteignton visits Old Walls Vineyards, Shute Fruit and Produce and Red Rock Brewery on Thursday 24 for tours, tastes and lunch, cream tea and a barbeque, respectively. On Sunday 27 September visit the south side to cafe ODE with its inhouse brewery on the beach, Luscombes Farm shop is having a tasting day and display of tractors and implements used in growing all their vegetables, or press your own apples at Milltop Orchard whilst imbibing American style barbeque from Slow n Low. You can visit just one, or fit in the whole trail.
4. Listen to the talk by Dr. Paul Cleave, a food historian from the University of Exeter. The fisher women of Shaldon may surprise quite a few!
5. You can't go home without tasting Red Rock Brewery's special festival beer.
What else can people enjoy when visiting Taste of the Teign?
After all that food it is a good thing the towns of Teignmouth and Shaldon, and the surrounding villages are great places to visit on foot to walk off the calories. Our historic ferry provides a fun way of travelling between Teignmouth and Shaldon, too. Join the locals on Teignmouth's back beach—the place to hang out on a sunny evening, often with a glass or pint of something interesting (and Local) to hand.
Where can we find out more information about Taste of the Teign?
We have a fabulous facebook page, tasteoftheteign. You don't have to "be" on facebook to look at it. The Teignmouth and Dawlish Tourist Information Centres are also good places for information.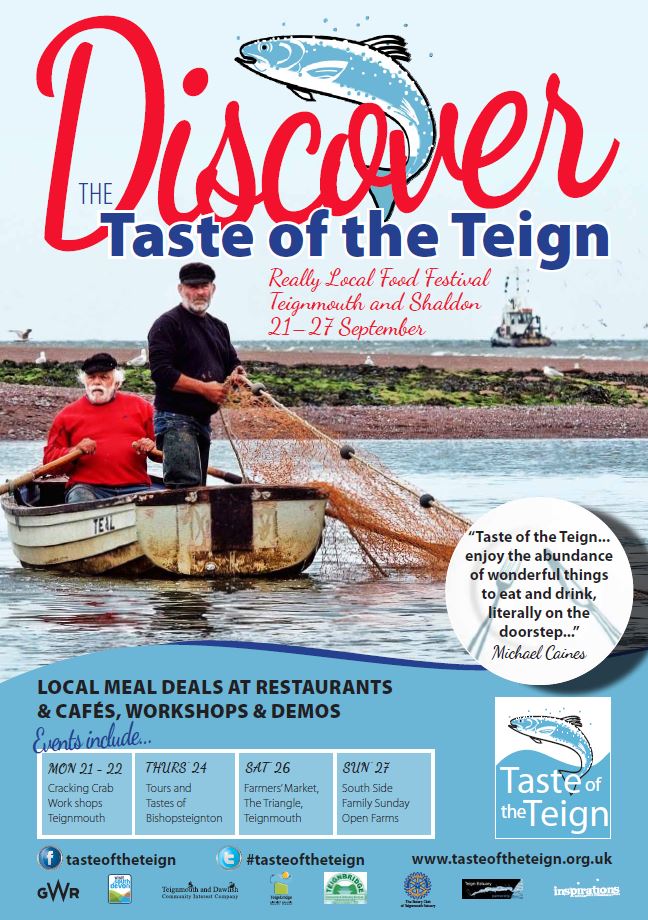 Related
0 Comments