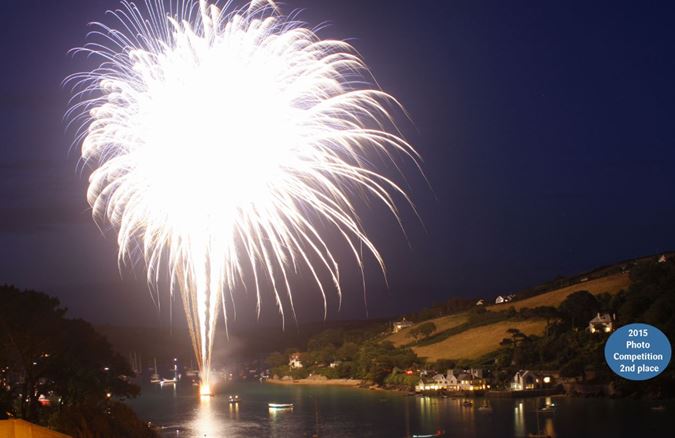 Guest Blog Post - Richard Luckett
As my prize for coming second in the 2015 South Devon Photo Competition I won the dubious honour of unleashing my thoughts in the form of a blog post. Brace yourselves. The editor may have wished she had just given me a polarising filter and be done with it.
I'm a Finance Director of a retailer based in Shropshire but have been coming to South Devon for over 20 years. I love the place - the sunshine, the people, the scenery, the beer.
For this blog I may as well write about the picture that won me the coveted second prize (my wife tells me that the X Factor runners up usually do better than the winners in the long run so stick with me readers).
Taken from a balcony on Bennett Road, Salcombe, it is the best of approximately 2 dozen photos of the Salcombe Regatta firework display. The ingredients for the photo were, in no particular order:
1) A wall to balance the camera on. Yes I do have a tripod but somewhere between trying to squeeze in our daughters travel cot and my wife's make up bag it got forgotten.
2) A Canon EOS40d camera - yes a decent camera but I maintain that decent firework photos can be taken with ordinary pocket cameras as long as the camera can remain deadly still for long enough.
3) A standard 28-80mm lens (my image stabilising lens is broken but it probably would have been unsuitable anyway).
4) Some 2 pence pieces - due to lack of tripod I needed to prop up the lens to ensure it was at the right height (sophisticated photographer, me. But the motto is be prepared and if you can't be prepared then be prepared to be resourceful).
5) A vague understanding of the manual settings of a camera. Don't be frightened of the big 'M' on the dial. Dip your toe in the water by using the P, Tv, or Av settings until you are brave enough if you want. Experiment. Get some hints on google or youtube - remember that trial and error in the digital age is free.
6) A timer switch on the camera or failing that a remote switch. This is as important as any of the above ingredients. With a long exposure any movement will blur your photo. You think you can press that button without causing any camera shake? Think again. Find that '2 second' timer switch and use it, you will instantly see an improvement.
8) Photoshop or similar photo editing software. Unless you are a genius or very lucky then cropping pictures (cutting them down to size) is usually essential to a good photo. Read up on the rule of thirds. Use the software to bring out the best colours (it may seem daunting but it can only take 10 seconds to improve the colour/contrast of any pic).

Weather and time of day are obviously vitally important but for this picture I didn't get much say over either. Luckily things worked out OK, but they usually do in South Devon.

After all that, make sure the thing is pointing in the right position and press the button. Look at the result, twiddle with the exposure/aperture setting and do it again. And again. Eventually you will get something. For the statto's out there, here my vital statistics:
ISO 320, 30 second exposure, 9.0 aperture, AutoWhite Balance, Adobe RGB colour,
But other pics were 0.8 seconds, some had 3.5 aperture, some had an ISO of 1250. Anything is possible, just experiment. And enjoy.
Related
0 Comments