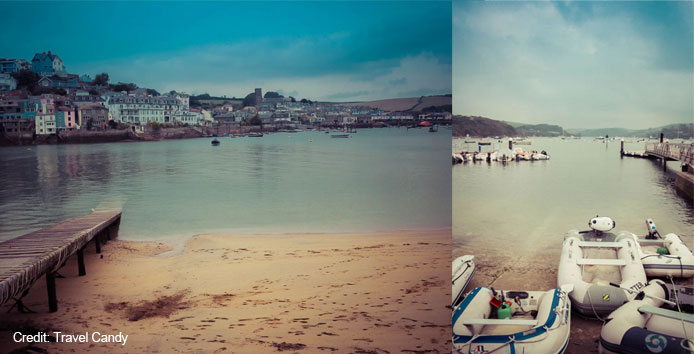 Guest Blog Post - Weekend Candy
About Salcombe
With ice-cream coloured houses, a swirl of pretty streets, and an achingly-pretty coastline lapping at its feet, Salcombe has to be one of Devon's most attractive harbour towns. Stacked daintily near the mouth of the Kingsbridge estuary, sheltered by steep emerald hills, it's the perfect escape for those tired of the crash and grim of metropolitan life. Retreat here for a day of salty chips, bracing cliff-side walks, and sea-scented air – and leave the weary world of mobiles and motorways behind.
Morning
Word on the street | 10am
Start slow. Lace up comfy deckshoes or walking boots and stroll along Salcombe's colour wheel of narrow streets. It's no surprise that the very first Jack Wills shop opened up here in Fore Street in 1999; Salcombe's sailing heritage is evident wherever you tread, and the yachtie crowd are hard to miss. Make your way along Fore Street, running through the heart of the town, window-shopping as you go. Independent boutiques and cafes mingle with a small scattering of high street brands. Whether you splash your cash or not, the walk is refreshingly pretty and the ambiance friendly.
Hello Sailor | 11am
At the top of Fore street you'll find Sailor V. Pause here for a coffee or fresh OJ in easy-going faux-baroque surroundings. The café is a popular sweet spot, especially for breakfast. On the Sunday I visited, people were hungry for Sunday broadsheets and neatly done eggs and bacon. As well as its much-lauded breakfasts, Sailor V serves home-cooked lunches comprising of a daily-changing specials board and a range of fresh dishes, including crab. Alongside the grub, the drinks list is well portioned: delicious coffee and teas, superstar smoothies and milkshakes to go or drink in. Next time, I'll order sunny side up and definitely stay for longer.
Midday
Sweet treats | 12pm

Don't leave Salcombe without a visit to Cranch's Sweetshop. This candyfloss-pink Aladdin's Cave has been thrilling Salcombe's sweet-tooths for nearly 150 years and boasts the charming mantle as 'the oldest sweetshop in Devon'. Handily positioned next to Salcombe ice-cream shop – on a sort of sugar-rush row – Cranch's Sweetshop is stocked floor to ceiling with every kind of traditional treat. Hardboiled this, dib-dab that – best of all, you order as you would've done 100 years ago: from plastic jars measured by the quarter. Your sugary quarry then comes wrapped and rolled in a pink-striped bag. I left with a bag of liquorice bullets and a very big grin on my face.
Afternoon
Ferry Along | 2pm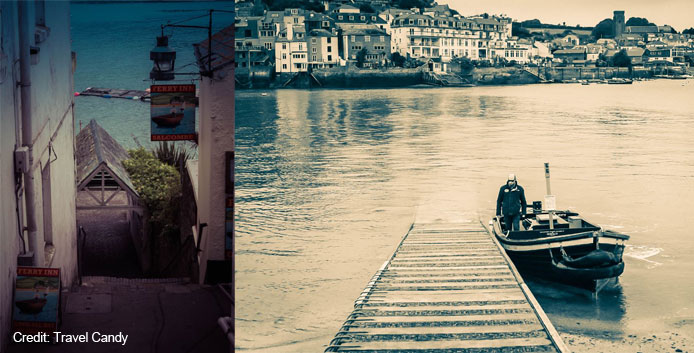 Jubilee Ferry Pier isn't the easiest to find, which means you'll be jubilant when you do. A flight of crocked steps runs next to the Ferry Inn and the pier itself sits, out of sight, at the bottom. Once here, catch the 'ferry' across the estuary to East Portlemouth – on the opposite side of the estuary to Salcombe. Note: this is 'ferry' done Devon-style. Think fishing tug-boat with a saltdog skipper and you're there. Climb aboard with help from the skipper's strong grip, pay your £2 fee, make yourself comfy on the soft-wood seats, and smile farewell to the colourful crescent of Salcombe town as it sinks into the distance. The views along the estuary, as you cut through the milky-blue, are delicious. This is one commute you won't tire of easily.
Bygone Bays | 3pm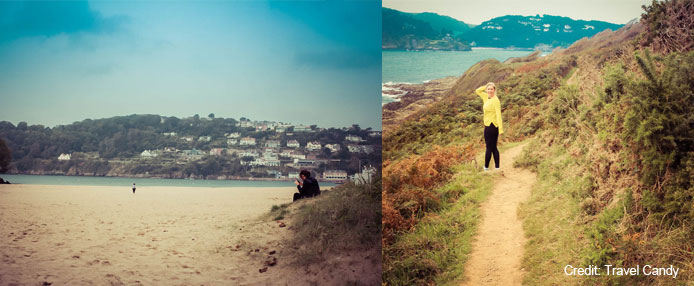 Arrive to the golden flanks of East Portlemouth, with its supermodel views back across to Salcombe. Head up the slipway onto the firmer footing, then turn right as you exit, following the concrete road until it drops gently down to become the serene sands of Mill Bay. This part of South Devon is well-known for its beautiful sandy inlets and Mill Bay is no disappointment. It's a vast triangle of beach, sown into the rock and hemmed by thick woods. There's a car park and toilets to cater for the summer crowds, who undoubtedly flock here when temperatures rise, but out of season Mill Bay is virtually empty save for the odd walker or amateur photographer.
Cliffhangers | 4pm
Follow the National Trust Coast Path from Mill Bay, up through the twists of trees to the top of East Portlemouth. The going is steep, the terrain rocky - so be careful. East Portlemouth is the Heathcliff to Salcombe's Edgar Linton (I'm a Bronte fan, sorry), so you exit the sheltered tranquillity of the woods on top of a jagged hunk of rock and bracken, with the serrated grey of the Atlantic rolling out to the horizon. The hour-long coast walk that follows is rugged, wild, and raw. In some places the paths are little more than uneven ledges with the wind trying its best to knock you off balance and the brittle gorse battling to keep you shielded from the drop. This is a walk not for the faint-hearted. Even the sheep, with their Velcro-like ability to eat whilst balancing on the knife-edge cliff, sent out bleats warning us to step carefully as we tottered past.
Evening
Rockstar dining | 6pm

The first sign of life on this wild headland, other than seagulls and sheep, is a thatched white tower announcing your arrival at Gara Rock hotel. Gara Rock started life as a string of fishermen's cottages. In 1909 they were turned into a family hotel and soon became the go-to retreat for the rich and the famous. Completely rebuilt for the 21st century, the building provides dramatic contrast to its dramatic surroundings: clean lines, white buildings, glass panoramas. Stop here at café-ODE for a late lunch or dinner (muddy paws are also welcome), taking a seat by the cinematic glass window looking out over the coastal wilds you've just left behind. Café-ODE is a masterful concept: true food, served with first-class sustainable values. Everything is locally and regionally produced, and only the finest organic fare makes it to your table. Food comes not on plates, but in recycled paper trays, which are then composted. The cutlery is also compostable. It's a wholesome experience and the food? Well, it rocks.
To read more travel blogs from Weekend Candy visit weekendcandy.com or follow her on Twitter or Facebook.
Related
0 Comments