Guest Blog - Tim Bouget, ODE - true food
Celebrating the spirit of the Teign... the "Crowhurst Fish Pie".. our ODE take on the classic Stargazy Pie.
Sustainable fish such as mullet, local mussels, shellfish the finest dairy all feature in this dish that celebrates all things river teign. The ODE take on the classic Stargazy Pie features on the menu at the award winning Cafe ODE at Ness Cove in Shaldon to coincide with the launch of the new Hollywood blockbuster filmed in Teignmouth and Shaldon called 'The Mercy' due for release this year.
Tipped to be the place to visit in 2017 Teignmouth and Shaldon visitors can admire the views and now even sample the delights of the region in one delicious dish!
Cafe ODE at Ness Cove is the highest rated sustainable restaurant in the UK and is a favourite haunt of rock legend "Muse" frontman Matt Bellamy (who is also grew up in the area...) when hes not playing sell out world tours.
Depending on the time of year we use mussels, sand eels, wild salmon, sea bass , flounder and mullet all sourced directly from the River Teign, our dairy, vegetables and meat are all sourced from the Teign Valley.

Recipe
Serves 4
Ingredients
1 onion diced
1 leek washed and sliced
2 strips of smoked bacon cut into thin strips
50g butter
50g flour
200ml ode ale/ cider or white wine
150 ml fish or vegetable stock
350ml double cream
chopped parsley
2 hard boiled eggs
1 tbsp chopped capers
salt and black pepper
400g Teign mussels in shell, 400g grey mullet fillets, white crab meat and any other sustainable fish such as river Teign wild salmon, flounder, plaice (allow 150g of fish per person)
300g puff pastry rolled out into a thin sheet
1 egg and tsp milk for eggwash
Method;
Add butter into the pan and melt, add bacon, chopped onion and leek and mussels
Add white wine and cover until the mussels steam open
Remove the mussels from the shells, set aside and cover with a cloth
Add flour to the cooking liquid and mix well ensuring no lumps
Slowly add the fish stock and cream simmering gently for 5 minutes
Add the fish and mussel meat (leave the shells for the pie top) into the sauce and add chopped parsley
Season with salt and pepper
Pour into a baking dish or individual dishes and cover with chopped egg and capers
Pre heat an oven to 190oc or gas mark 6.
Cover with puff pastry and then make a number of inch long cuts, push down the mussels shells so they poke out from the top
Brush with eggwash and bake for 30 minutes until pastry is golden brown
Serve with chunky slices of bread with butter

For more information and locations visit www.odetruefood.com
Follow us on Facebook or Twitter @ODETRUEFOOD
Instagram; cafeode and odedining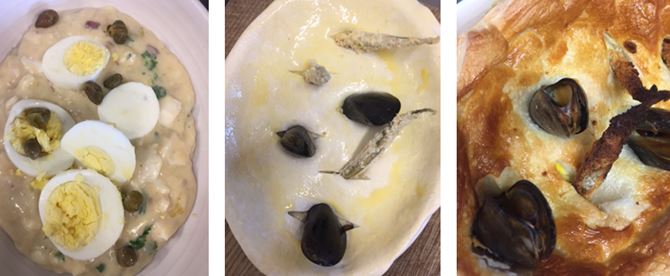 Related
0 Comments