Guest Blog Post - Phil Knowling
I'm South Devon born and bred. I don't know everything about the area by any means – but that's great, because it means there are always new places to discover and new experiences to enjoy. But I do have some favourite spots and some special things I like to do. Here are a few ideas for getting the most out of South Devon.
I've been travelling up and down the Dart valley for most of my life – It used to be on a school bus and now it's a lovely daily commute to work at Paignton Zoo. I think you get the most out of the journey by climbing on board the South Devon Railway and steaming slowly from Buckfastleigh. It's great at any time of the year, but it's glorious in the Spring and the Autumn.
You can make it a car-free day by walking into Totnes; eat and shop at China Blue, which is quite close to the station, or make your way up the hill to the castle and the handsome old High Street.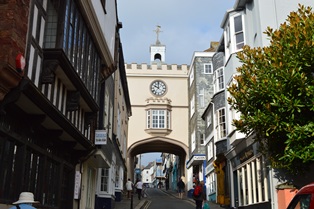 Another great ride is the Seaton Tramway in East Devon – enjoy the miniature trams, spot birds and then visit Seaton Jurassic. For a bit of fresh air and exercise, there are great walks on the Dartington estate near Totnes or along the coast at Dawlish and Exmouth. Talking of Exmouth, you can treat yourself afterwards with a meal from The Ruby Kitchen at the Grapevine Brewhouse – though you might well undo all the good healthy work of the walk!
There are plenty of famous views up on Dartmoor, but here's one that's less well-known. Head for Venford Reservoir on the Holne to Hexworthy road and park on the South side. If you strike out across country North-East from here you get to the edge of the deep, wooded Dart Gorge and the granite bones of Bench Tor – it's fairly flat walking and well worth the effort!
Although it's close to home, we have taken short breaks on the Sharpham Estate, not far from Totnes. The elegant little Bathing House sits on the most beautiful bend of the River Dart; there's not much to disturb the serenity here except the occasional boat, a rowing crew or the flash of a kingfisher. Enjoy the changing light, tides and wildlife.
Dartmouth is a lovely town in a spectacular setting. Approach it on the Dartmouth Steam Railway from Paignton, then cross the river at Kingswear by ferry. You may know the Landmark Trust, which turns old buildings into new holiday accommodation: the charity has a couple of properties in the area – sturdy Kingswear Castle and tiny Peters Tower at Lympstone. Both are about as close to the water as you can get. You may think these are ideal summer season choices, but imagine the drama of being in a shoreline fort during a winter storm!
Paignton Zoo Environmental Park is one of the country's leading zoos. It's a surprise to find it here, on the edge of a modest seaside resort, but since it was opened in 1923 by eccentric millionaire Herbert Whitley, it has evolved into a leading tourist attraction that's also a top conservation and education charity. A day isn't long enough, but you might just spot gorillas, lions, tigers, black rhino, giraffes – and more than a few surprises. Be patient, and if you don't get good views of one species, move on – there's always something happening somewhere in the park.
A few miles away is sister zoo Living Coasts, which is quite different. It's small, urban and sits on the bustling Torquay harbour side with its feet in the Bay. It's home to an array of coastal species including penguins, seals, wading birds and the mysterious – and intelligent - octopus.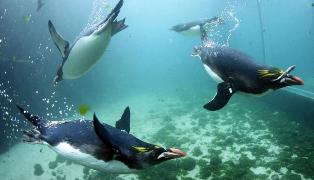 For people with limited mobility, prams or toddlers, Living Coasts is easier to get around, with a single winding route. You go from outdoors, beneath a vast net canopy, to below decks, where strange sea creatures lurk. To finish, the café has panoramic views of the Bay. But it's the penguins that steal the show; they are free-ranging, which means they can choose to come and walk with you. Regular feeds bring them down from their own personal beach and out of their private swimming pool. That's the life!
Phil Knowling works at Paignton Zoo Environmental Park.
Related
0 Comments